Sneak preview: Pilot episode of new Hawaii Five-0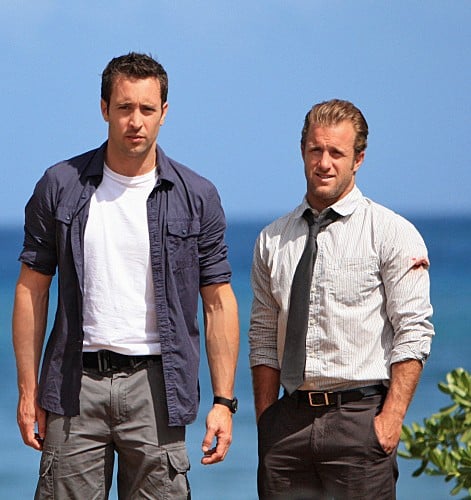 Yesterday, in the posh Orchid Suite of Waikiki's Halekulani hotel, a select group of Hawaii media were treated to French press coffee, popovers and a sneak preview of the pilot episode of the newly reborn Hawaii Five-0, debuting on CBS this fall.
Our verdict: Oh Yeah!
The contemporary cinematography brought a whole new dimension to the re-imagined series. The classic series had McGarrett and Co. racing around Oahu streets and highways (often starting in Waikiki and ending up a few seconds later halfway across the island).
The new CBS series uses aerial photography to establish place. We have to admit, Hawaii never looked better on TV. Some of the scenics brought gasps of "Oooh!" from the audience, and it was all people who live here.
There's far sharper and faster-paced action than the classic series (terrorists, car crashes, gunshots, semiautomatic weapons, explosions, stuff we actually seldom see in Hawaii).
What really surprised us: There's more and deeper characterization. In the original, the James MacArthur character, Det. Danny "Danno" Williams, was absurdly subservient to Det. Steve McGarrett. In the new series, Scott Caan as Danno looks likely to steal the show.
As the series progresses, we're looking forward to even bigger roles from Hawaii's own Daniel Dae Kim as Chin Ho Kelly and Grace Park as Kono (yes, through the magic of TV writing, Kono gets a sex change and becomes the attractive young former Battlestar Galactica star).
The new series' fifth actor, Taryn Manning playing McGarrett's sister, will debut in a later episode.
The pilot was all shot in Hawaii, even the prologue, supposedly taking place in Korea, with Kaaawa Valley standing in. The Five-0 headquarters exterior is still downtown Honolulu's Iolani Palace, but the headquarters interior? The recently vacated Honolulu Advertiser newspaper newsroom.
CBS will debut the Hawaii Five-0 pilot episode in Waikiki at a "red carpet" Sunset on the Beach screening, with the cast in attendance, on September 13. (We'll give you a screening time as soon as we get one.)
It debuts on the CBS network, September 20, 10 p.m. (Eastern time) and 9 p.m. (Hawaii time).
That's the 42nd anniversary of the show's original air date, Sept. 20, 1968. Very sentimental. But is CBS nuts? Why slot the show against the opening week of ESPN's Monday Night Football?
Stay tuned.
**Click here for a extended preview of the Hawaii Five-O pilot, and here for a listen to the newly-recorded opening theme.