Spectacular Spam Musubi: Our Favorite Hawaiʻi Places to Get It
Trust us. You haven't truly sampled everything Hawaiʻi residents love to eat until you've had a Spam musubi.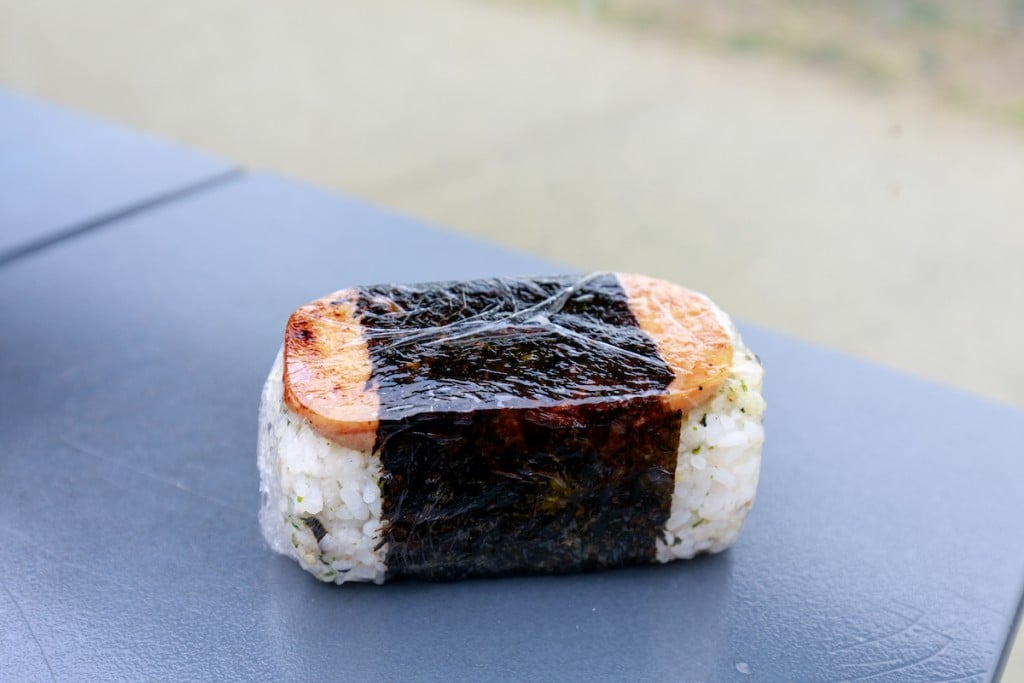 Trust us. You haven't truly sampled everything Hawaii residents love to eat until you've had a Spam musubi.
It's the perfectly portable Hawaii snack—a slice of fried Spam over a compacted block of sticky white rice, and all of it wrapped with a ribbon of dried nori (seaweed).
There are dozens of versions of this iconic local treat—from musubi topped with deep-fried Spam to teriyaki-marinated Spam and the breakfast combination of Spam and scrambled eggs. In Hawaii, you can find Spam musubi everywhere, from sushi shops and okazu-ya (lunch shops) to convenience stores and beverage carts at golf courses.
How in the world did Spam become part of the Islands' culinary landscape?
It turns out that Hawaii residents were first introduced to the pink canned meat product during World War II when fresh meat was scarce in our isolated islands. In the years that followed, residents would come up with countless homestyle recipes utilizing Spam, but Spam musubi is the most enduring.
Since 1937, Minnesota-based Hormel Foods has sold 7 billion cans of Spam worldwide. Currently, 100 million cans are sold in the U.S. every year. Where does Hawaii figure in? Try an average of about six cans per person annually, the equivalent of 5 million pounds a year.
While you can grab a Spam musubi at practically any convenience store in the state, we thought we'd share a few of our favorite places that are well worth the extra effort to find.
Hungry for Spam yet? We are.
OAHU
• Tanioka's Seafood and Catering is a bit out of the way if you reside in, or are visiting, Honolulu. You'll have to head about 16 miles west of Waikiki to the Oahu town of Waipahu to find it. But, oh, is Tanioka's Spam musubi good. A well-seasoned cut of Spam on a generous stack of white rice, barely contained by nori. You can make a meal out of it. Bonus? While you're there, sample Tanioka's more than two dozen kinds of poke.
Tanioka's Seafood and Catering, 94-903 Farrington Highway, Waipahu, (808) 671-3779, www.taniokas.com
• Hidden in the Kaimuki area of Honolulu—a couple of miles from Waikiki near Kapiolani Community College—is a little mini-mart that serves up some of the best poke and chicken long rice around. But don't miss grabbing a couple of Fort Ruger Market's tasty Spam musubi while there. If you're not in the mood for Spam, you'll also find musubi with Portuguese sausage, bacon and egg, mochiko chicken, teriyaki beef or sliced hot dogs. You can even choose your rice: plain white, seasoned with furikake (a Japanese rice condiment), or fried.
Fort Ruger Market, 3585 Alohea Ave., Honolulu, (808) 737-4531
MAUI
• Upcountry Maui residents know that the island's best food isn't always served at trendy restaurants, or even restaurants, period. You'll also find great eats at places like Pukalani Superette, a neighborhood mom-and-pop—nicknamed "Puk Sup" by regulars. Pukalani Superette offers a great selection of prepared foods—lumpia (filled spring rolls), fried tako (octopus) and chili chicken drumettes, among them—that lures patrons from all over Maui. Its fried Spam musubi is a favorite among residents and visitors to nearby Kula and Haleakala.
Pukalani Superette, 15 Makawao Ave., Pukalani, (808) 572-7616, www.pukalanisuperette.com
BIG ISLAND
• You'll find vendors at the Hilo Farmers Market (locted at the corner of Mamo Street and Kamehameha Avenue in downtown Hilo) that sell every kind of musubi, from salmon to hot dog to, of course, Spam. But we recommend heading to Kawamoto Store. The store is a hole-in-the-wall okazu-ya that serves everything from cone sushi to shrimp tempura and Korean chicken. But Kawamoto Store also sells one of the best tasting Spam musubis on the Big Island. So good, in fact, that Kawamoto Store often sells out all its Spam musubi before noon. Go early. Go hungry.
Kawamoto Store, 784 Kilauea Ave., Hilo, (808) 935-8209
KAUAI
Believe it or not, one of the best Spam musubis on the Garden Island is found in a large grocery store—Hawaii-based Foodland Super Market's Kapaa store. The nori on this one is wrapped entirely around the Spam musubi—not just a ribbon of seaweed across the middle. It's big. It's tasty. And it's less than $2 each.
Foodland Super Market Kapaa, Waipouli Town Center, Kapaa, (808) 822-7271