St. Regis Princeville reopens on Kauai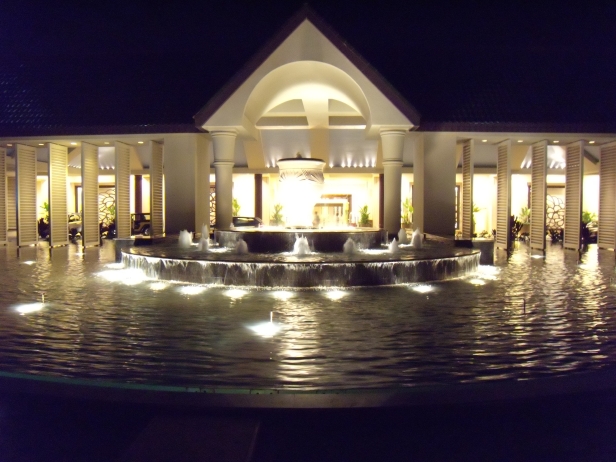 After a year and $100 million renovation, Kauai's luxury Princeville Resort has reopened.
Now branded as a St. Regis, the hotel began receiving guests Oct. 1 and last night threw itself an opening gala.
The resort looks spectacular for a night arrival, as you can see from the picture above.
HAWAII Magazine flew over the event, which was attended by hundreds of invited guests, assorted dignitaries and people involved in the project.
Among them was the designer responsible for the hotel's new look, Rhonda Rasmussen of Wimberly Allison Tong and Goo.
Rasmussen was still working, staying up late to do last-minute tweaks on the décor when most guests were asleep. She also has a few major suites to finish.


We congratulated her on the warmth she'd brought to the property. We never liked its former expanses of marble, grand but hardly welcoming. "Ah, that was the style in the '80s," she said. "We wanted more of a Hawaiian residential feel." Now there's plenty of wood, bamboo flooring, koa furniture, warm earth tones.
Which is not to say there aren't luxury touches, including Italian gold leaf on the walls of the entry and a chandelier, meant to mimic the area's waterfalls, made from 4,225 hand blown pieces of Murano glass.
The rooms are as spacious and comfortable as ever, now filled with Hawaiian-style materials, but they keep one notable feature of the old Princeville Resort. The shower has a large picture window, through which you can look out across the room to the large windows on the hotel's spectacular view of Hanalei Bay and the mountains beyond. (If you're feeling modest, flick a switch and the shower window clouds up.)
Of course, it wouldn't have been a grand opening without a gala five-course banquet.
Over the mushrooms with gnocchi and truffle sauce and chili-glazed prawns, we ran into friends: slack-key legend Cyril Pahinui and his wife Chelle, and equally esteemed guitarist Dennis Kamakahi, who, since he was in formal wear, wore his Grammy award on a ribbon round his neck.
Kauai mayor Bernard Carvalho stopped by the table. He'd phoned his friend, Big Island mayor, Billy Kenoi and said, "You don't have a St. Regis, so I guess if you're going to see one, you're going to have to come to Kauai."
The guest of honor was actress and singer Mitzi Gaynor, who had not been back on Kaua'i since filming South Pacific there in 1958. Introduced by a chorus line singing "There's Nothing Like a Dame," Gaynor, charming and vivacious at 78, entertained the crowd with her memories of Kauai and South Pacific, had the whole room laughing and clapping.
We had no idea what to expect from Ms. Gaynor, but earlier in the day we got a chance to sit down and talk to her. Since she's remarkably friendly and easy to talk to, we felt we made a new friend.
What did we talk about? Everything from Kauai to the Beatles. It was so interesting, we gave her own post, Five Questions with Mitzi Gaynor on Kauai.