Starbucks serving up world-class cups of Hawaii joe from Big Island's Kau district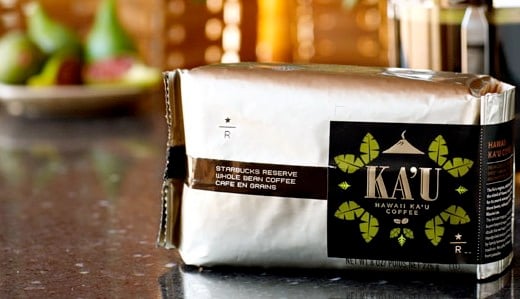 Now through mid-November, the Big Island's top-notch Kau coffee — cultivated on small family farms on the southeast flanks of Mauna Loa — will be featured in the Starbucks Reserve lineup.
It is reportedly being served at select Starbucks coffeehouses in the U.S. mainland (not in Hawaii), Canada and Japan. The Big Island's more established Kona coffee is also on the Starbucks Reserve list, which features beans from fewer than two dozen locales ranging from Sumatra and Brazil to Jamaica and Peru.

Farmers say coffee grown in the Kau district — known for fertile volcanic soils, morning sun and gentle afternoon rains — is handpicked, processed in small batches and dried by the Hawaiian sun.
Several decades ago, the area was primarily used for growing sugar cane. With the demise of that crop, farmers found the soil well suited to grow coffee. With over 2,000 acres of prime land in the district there are about 280 acres planted and worked by about 40 farmers, according to a Starbucks announcement.
In an online statement, a Starbucks "green coffee specialist" said: "We were smitten instantly with this lovely little coffee and lucky enough to buy five tiny micro lots."
In a news release issued by Kau Local Products, the group's president, Chris Manfredi, said: "We are pleased to see that customers are discovering the fresh coconut flavors with sweet caramel and citrus notes that are distinct characteristics of the Kau cup." He added, "This is another important step on Kau's journey to establish itself as a premium coffee growing origin."
A coffee from Kau was the lone contestant among those from United States to make the cut for the lineup of the world's top 10 coffees at the 2011 Specialty Coffee Association of America and Roasters Guild's international cupping competition, held on May 1 in Houston. More than 120 specialty coffee entries, representing 17 countries, competed in the event.
Coffees from the Kau have earned both the SCAA Coffee of the Year Award and Grand Champion of Hawaiian Coffee recognition in 2010 and 2011. For additional information about the Kau district and the annual Kau Coffee Festival, click here.