Stunning photos of Hawaii's rare species on exhibit on Kauai
Following two years in the field, botanists and a photographer exhibit photos of Hawaii's rare species at the National Tropical Botanical Garden.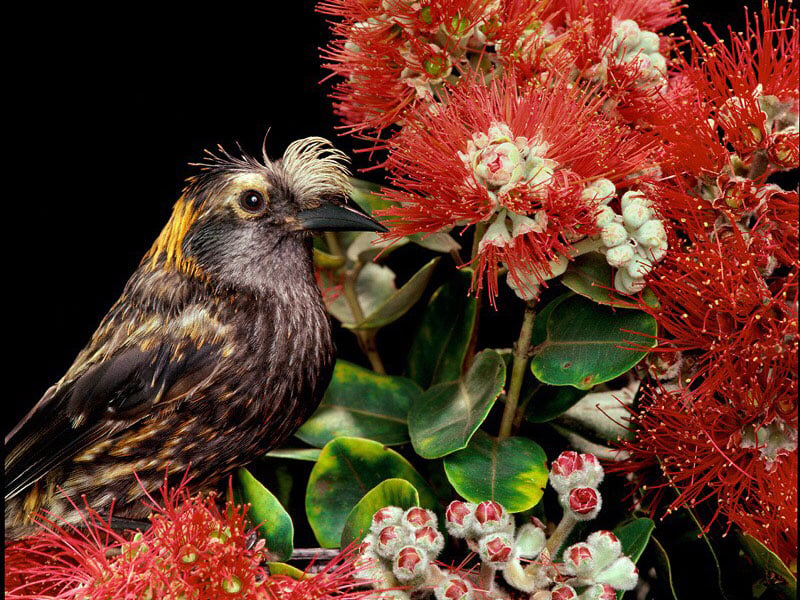 Plants have stories. That point was made clear during the last week of September on Kauai when two famed botanists sat down with award-winning photographer Susan Middleton to talk about the plants featured in a new exhibit at the National Tropical Botanical Garden (NTBG) in Kalaheo titled Remains of a Rainbow: Rare Plants and Animals of Hawaii.
"Working with Steve and Ken was like a dream," Middleton says of Steve Perlman and Ken Wood, a duo of botany superstars. They're famous for dangling from helicopters and rappelling down vertical cliff faces to hand-pollinate and collect seeds from Hawaii's native plants, a good number of which were unknown to science before Perlman and Wood discovered them. "I knew that was going to be the best way to accomplish the field work, but I wasn't sure it was possible."
Yet when Middleton reached out to Perlman for help, he agreed. "I knew it was going to be hard work, but I was really into it," he says. He went about planning their itinerary around times when plants would (hopefully) be flowering or fruiting.
The audacious project, which required field trips atop mountain ridges only accessible by helicopter, included Middleton's photographic partner David Liittschwager, who was not present at the talk story. Perlman estimates he invested 50 field days over two years on the project that resulted in 140 images of Hawaii's native flora and fauna intended to illustrate Hawaii's rich biodiversity. The National Geographic Society first published the photographs in a stunning, oversized book in 2001. Last year, for the IUCN World Conservation Congress, Middleton exhibited 32 large-format prints from the collection. Now, those prints are on display at the NTBG Juliet Rice Wichman Botanical Research Center through November.
The three colleagues sat in a semicircle inside the research facility, surrounded by more than 20,000 books, journals, botanical prints, and an herbarium of almost 80,000 specimens. Reminiscing about their time together, one would start a story and another would interject with details. They called each other by nicknames. It was a bit like college roommates reminiscing about the good old days.
While technically a photo shoot to compile an anthology of images—what Middleton calls portraits—of the rare native plants and animals of Hawaii, the team's auspicious time together at the close of the 20th century included some unique botanical results, including the discovery of unknown plant populations (Melicope degeneri), the re-discovery of plants unseen in the wild for decades (the Hidden-Petaled Abutilon, Abutilon eremitopetalum), and even the discovery of an insect (Kauai Tree Cricket, Hoonene Paliku, Prognathogryllus).
Middleton starts the story. "We were photographing this plant [the recently discovered Cyrtandra paliku], and it was not easy at all," Middleton recounts. The team was on Kekoiki, the summit peak of Mount Namahana on Kauai. "We had to fly by helicopter and there was hardly any space on this razorback ridge to set anything up. Kenny was rappelling off a vertical cliff, and when he was coming up with the specimen of the plant, he said, 'Do you want to see the most beautiful cricket I've ever seen? It just jumped on my sleeve.'"
Naturally, Middleton and Liittschwager photographed the cricket. It turned out to be a new species previously unknown to science—a flightless cricket.
"That's the serendipity of the work we do," Wood adds.
During the nearly two decades since the two photographers and two botanists have worked together, some of the rare plants they photographed have gone extinct in the wild (Kanaloa, Kanaloa kahoolawensis), some (Cyanea pinnatifida) have been propagated and hundreds of its clones outplanted in the wild, while one has become a hit in cultivation in Europe (Alula, Brighamia insignis). So there are both sad and happy endings to these stories.
Open weekdays through November 30, 2017 from 10 a.m. to 4 p.m. excluding Veterans Day and the Thanksgiving holiday. The exhibit will also be open on Saturday, October 21 from 10 a.m. to 4 p.m. National Tropical Botanical Garden, 3530 Papalina Rd., Kalaheo, Kauai, ntbg.org.