Sweet or salty? Annual Maui Onion Festival and Waikiki Spam Jam return this weekend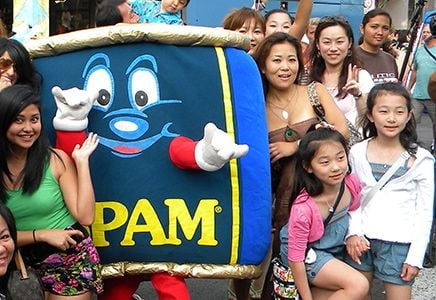 Two of Hawaii's favorite edibles—Spam and Maui onions—are being celebrated in all their collective glory this weekend via a couple of popular annual food events on Oahu and Maui.
On Sat. May 3, the 12th annual Waikiki Spam Jam festival will shut down a sizable portion of Waikiki main drag Kalakaua Avenue for a block party of sorts to celebrate the 50th state's beloved canned pink, salty luncheon meat.
More than 25,000 festival-goers are expected to gather in Waikiki from 4 to 10 p.m. to feast on local restaurateur-crafted culinary delicacies and oddities such as Spam street tacos (Gordon Biersch), Spam loco moco (Duke's Waikiki), Spam pancake sliders (Eggs 'N Things), Spam lo mein (P.F. Chang's), truffle Spam ramen (MAC 24/7), candied Spam caramel crème brulee (Hard Rock Café) and peanut butter ice cream with candied Spam (Ono Pops).
Joining in this year's Spam Jam will be Chef Adam Tabura, his brother Lanai, and Shawn Felipe—the team that won it all on Food Network's Great Food Truck Race with their Aloha Plate food truck. While the truck won't make it to the event, the trio will. And together, they'll be serving up their own very unique Spam dishes.
According to Minnesota-based Hormel Foods, longtime producers of Spam since 1937, Hawaii residents collectively inhale nearly 7 million cans of Spam a year—more than any other state across the nation. That's a lot of pink meat keeping Hormel in the pink.
Admission to Spam Jam is free. In addition to more food booths serving up Spam than there are shave ice shops on Oahu, expect entertainment stages and merchandise booths stocked with T-shirts, shorts and other Spam paraphernalia. In addition, volunteers will be on hand to collect donations of Spam products for the Hawaii Foodbank, the largest nonprofit in Hawaii that feeds the needy. Since 2004, more than 10,000 pounds of Spam have been donated to the foodbank, thanks to the festival.
That's a lot of Spam, man.
Photo: Maui Onion Festival
Over on the lovely Valley Isle, the 25th annual Maui Onion Festival also happens this weekend, with recipe contests, onion-eating contests and food booths dedicated to the island's world famously sweet member of the genus Allium.
Among the Hawaii celebrity chefs offering culinary demonstrations centered on Maui's celebrated top bulb will be Bravo TV Top Chef finalist Sheldon Simeon (MiGRANT), Mark "Gooch" Noguchi (Pili Group), Chris Kulis (Capische?), James McDonald (Aina Gourmet Market), Jojo Vasquez (The Plantation House), and Nick Mastracusa (Kukio).
In past years, Maui Onion fest attendees have enjoyed more than 1,000 pounds of fried, grilled and otherwise prepped Maui Kula onions, which are known for a mild, crunchy bite and rated among the sweetest bulbs in the world.
Staged at the Whalers Village shopping center in West Maui's Kaanapali Resort, the fest gets under way with a welcome at 9:45 a.m. and wraps up at about 7 p.m. This year's fest will also feature Tahitian and Polynesian dance performances as well as live music, with the lineup ranging from jazz to island-vibe tunes that go into the late evening.
Not enough Maui onion for you in that last paragraph? This year's fest will feature a cocktail contest featuring the sweet onion.
At 4:30 p.m., the fest chefs will assemble at center stage to compete for the title of "Best Maui Onion Recipe." Two rounds of raw-onion eating competition will precede the contest—one for adults, one for kids.
Stock up on breath mints now.