Swing into Heyday, a Hidden Bamboo Bar in Waikīkī
Slinging continental cuisine and refreshing cocktails in a vintage-inspired setting.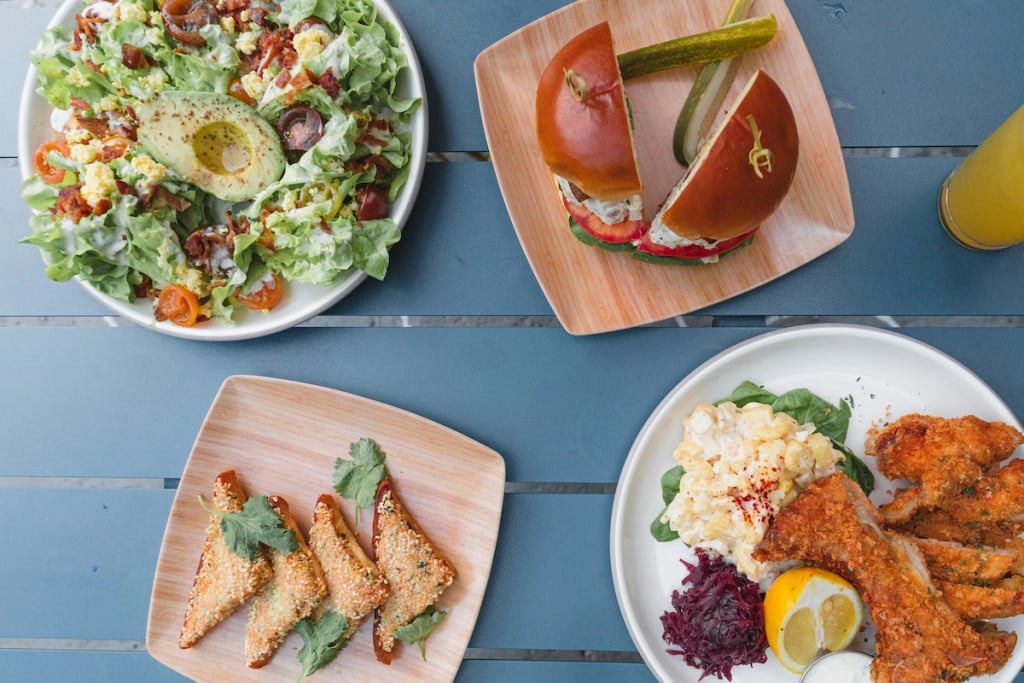 Take a trip back to the 1960s and '70s, when you visit Heyday, Waikīkī's newest hangout spot. Located in the newly renovated White Sands Hotel, the bar and open-air restaurant is the brainchild of the team behind Chinatown's popular restaurant, Fête.
Along with its retro vibe, Heyday offers a circular poolside bar with swings—yes, swings—that'll make for an even more playful pau hana.
"The laidback atmosphere and chill outdoor vibes at White Sands Hotel perfectly complement my values and style of cuisine, making the hotel an ideal partner for my second restaurant in Hawai'i," says executive chef Robynne Maiʻi. "I look forward to sharing with guests and the local community a menu that celebrates the nostalgia of Hawai'i."
The menu focuses on a new continental cuisine, highlighting farm-to-table dishes and paying homage to Maiʻi's Hawaiian heritage. There are even Fête favorites found on the bar—the Mai'i Tai ($17) and Fête 75 ($13)—and restaurant menu.
Heyday's cocktails are creative—and hilariously named, like the Poolicidal Tendencies ($16) or Banana Hammock ($15). Some are crafted with a touch of magic—the Ala Wai Seahorse ($13)—or happiness—the Chaise Dreams ($13)—so it's nothing but good vibes all around.
For pūpū, there are hearty and light choices to choose from. Kalbi-glazed meatballs ($16) are served with a refreshing, crunchy cucumber namul. Another carryover from Fête's menu is the ever-popular foie gyoza ($18). But what stole the show was the gooey cheesy toast ($11)—the perfect bar menu item. Toasted baguette topped with a tangy and melty blend of gruyere, smoked mozzarella and Fontina. We were obsessed.
There are also salads and sandwiches, including the employee favorite B.O.L.T. ($15), which combines all the elements of a BLT—bacon, butter lettuce and sliced tomatoes— with smoked ʻono (wahoo) salad on a toasted brioche bun.
Main entrées include a pork schnitzel ($29), steak Diane ($38), kampachi meuniere ($31) and Heyday primavera ($24). The steak Diane is a 12 oz. New York Strip sliced and served with sautéed mushrooms and a demi-glace sauce. Our server shares that the Heyday primavera is a top option that's often overlooked. There's a beautiful array of vegetables—roasted and blistered cherry tomatoes, zucchini, haricots verts, king oyster mushrooms—and a bright kale pesto with farfalle pasta.
There's also a slew of "Da Kine Sides" that you can add to your order: steak fries, sautéed mushrooms, local veggies, vichy carrots and potato mac salad—all priced at $8 each.
As far as desserts go, there are three choices on the menu, for $12 apiece. Caramelized pineapple turnover and haupia cheese flan sounded wonderful, but we were in the mood for the Kewpie chocolate layered cake. Decadent, yet light, a slice of this stacked cake is served with Fête's house-made vanilla ice cream.
At Heyday, guests are encouraged to "sip, swing and swap stories," and they definitely did. I watched as patrons ordered up fresh cocktails and chatted with their neighbors, all while swinging in their seats. It looked like so much fun—hopefully you'll get your chance to swing on by. Reservations are available on OpenTable.
The three-story White Sands Hotel was recently reimagined to embody a vintage Hawai'i feel. The 94 rooms are situated to overlook the pool, bar and restaurant. Parking is for hotel guests only, so utilizing Lyft or Uber or finding street parking is your best bet when visiting Heyday; however, if you plan to spend more than two hours at the bar, you'll have to reload the meter. Or, you can park down the street at the International Market Place. All you have to do is spend $10 at one of its shops for validation.
Heyday restaurant in the White Sands Hotel, 431 Nohonani St., Waikīkī, (808)-440-9610, whitesandshotel.com/dining, @heydayhawaii