Taimane Gardner's Video Medley Celebrates Beach Life and Surf Culture
Honolulu's talented ukulele virtuosa gets back to her roots with this lively surf medley.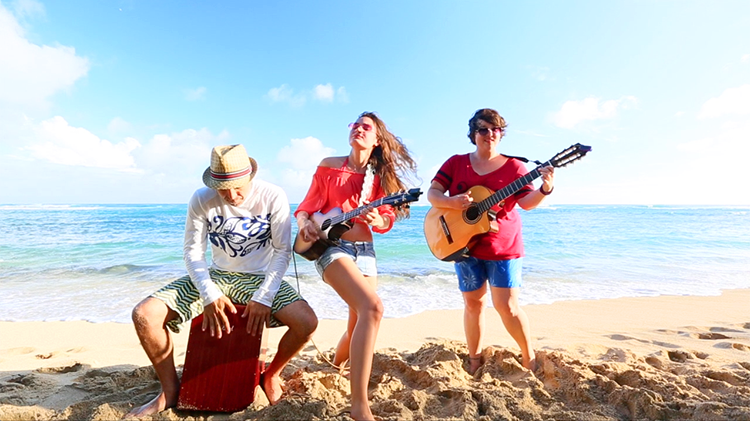 Hawaii ukulele virtuosa Taimane Gardner is a music prodigy who began playing at the age of 5, was discovered as a teenager by music legend Don Ho and has studied with modern ukulele superstar and island boy Jake Shimabukuro. She entrances audiences the world over with her fiercely passionate playing style and impressive mastery of the ukulele, whether she's delicately picking her way through a classical piece or rocking out to a Led Zeppelin cover.
Gardner recently released a new music video, partly to celebrate her birthday, with some very recognizable surf rock classics that pay tribute to her roots on Waikiki Beach, and we think it perfectly captures the essence of beach life.
"The medley in this music video includes songs I grew up playing with beach boys in Waikiki," Gardner said in her introduction to the video. "It's also what I performed on Don Ho's stage—the man who launched my career. Releasing this on my birthday is a musical celebration of where I come from and what I'm doing."
Gardner's story reads like a fairy tale: One day while she was playing with a group of street buskers, a performer from Don Ho's famous show at the Waikiki Beachcomber spotted her and was impressed by her talent.
"He told Don about me and I was immediately sent to Uncle Don himself," Gardner says. "I played for him and he invited me to perform in his show every week. He gave me my first professional gig at the age of 13 and changed my passion into a career. I will forever be thankful for him and his family."
Taimane says she wouldn't be who she is without Hawaii.
"Being born and raised in Hawaii, I'm lucky to live a life filled with mochi, surfing, and watching beautiful sunsets with beautiful people," she says. "Hawaii has given me the gift of ukulele and a path that I love. When you're surrounded by incredible nature, you understand how important the land is, and surfing is a huge reminder of how nature can give you satisfaction—and noodle arms from paddling!"
Here's her new "Surf Medley" video, shot by Amber Crago and recorded live at Tongs, an Oahu surf spot between Waikiki and Diamond Head. The video features Taimane on ukulele, guitarist Jazzy Jazz, and rhythm player Jonathan Heraux, doing renditions of "Miserlou," "Pipeline," "Hawaii 5-0" and "Wipeout."