Take a botanical tour at Haiku Mill, an enchanting Maui relic
With wayward vines draping its 150-year-old ruins, Haiku Mill looks like a setting straight out of a storybook.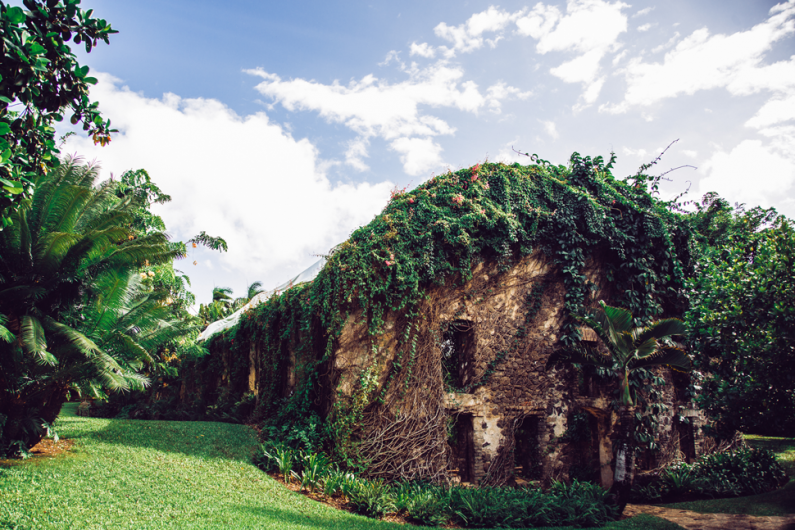 With its wayward vines climbing up every which way, draping its 150-year-old ruins and relics, Haiku Mill looks like a setting straight out of a storybook.
This symbiotic artistry of horticulture and history is on full display with a botanical tour of this enchanting piece of property, a historic sugar mill in Wailuku dating back to the mid-1800s. Visitors will stroll through the 2.5-acre grounds to view the tropical flora that are grown on site (55 plant species found through the Hawaiian Islands, along with an bountiful orchard), but its really the mill that takes center stage.
Part of this botanical tour includes a reflection on the mill's, and to a broader extent Hawaii's, storied history in regards to sugar production. Now is an especially prescient time to learn about the Islands' plantation roots with the Hawaiian Commercial & Sugar Company on Maui—the last sugar plantation in Hawaii—phasing out farming their sugarcane crops at the end of 2016.
Once Maui's leading producer of sugar for almost 20 years, Haiku Mill was abandoned in 1879 and left in disrepair for nearly 100. After being added to the National Register of Historic Places in 1986, owner Sylvia Hamilton Kerr decided to restore and transform the ruins and its grounds in 1996 to its current state.
"Haiku Mill's property is a microcosm of Maui's history and botanical diversity," says Kimiko Hosaki, director of business development, in a statement. "Nowhere else will visitors experience so much of what defines Maui in such a small and intimate setting. We're thrilled to share it with residents and visitors."
What Kerr has done with the property aesthetically is quite stunning—a mix of French-inspired decor and Hawaii foliage, some manicured, some running wild. Inside the mill, a blanket of orange flowers from hanging trumpet vines just partly obscure a waterfall. In the front yard, a chandelier of candles hangs from a splendid mango tree. Rustic European staircases line each side of the mill's interior. It's easy to see why Haiku Mill has been chosen by many celebrities in the past as an outdoor wedding venue or party.
The tour includes a complimentary refreshment, a Q&A session and plenty of time to photograph the property. It's really difficult to leave without a dozen elegant Instagram photos.
---
Tours offered Tuesdays and Wednesdays at 10:30 a.m. and Thursdays at 4 p.m. (Tour dates and times are subject to change.) $20 per person, $18 per person when booked online, Kamaaina (resident) rates, group bookings and private tours also available, haikumill.com/tours.