Taste Hawaii-brewed beers for a good cause at Grace in Growlers
At this Kailua tasting room, profits go to help the homeless.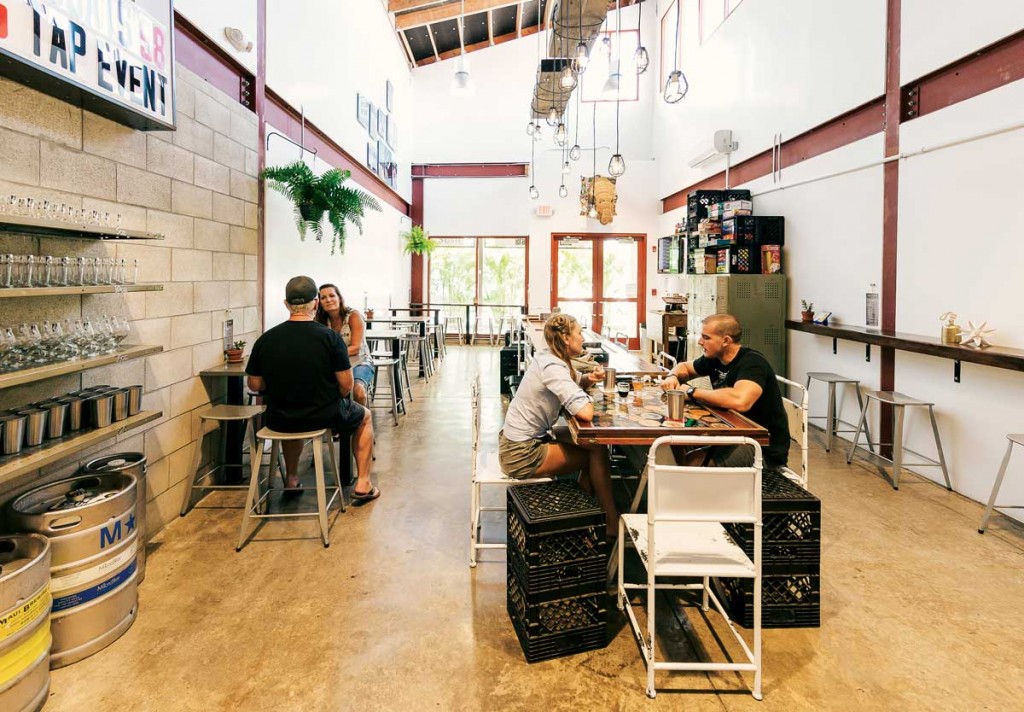 Tim Veling is giving me the quick lowdown on bartending. Or rather, how to serve myself beer. It's 6:30 on a Monday night and already the small bar is filling up.
Tim and his wife, Holly, are the owners of Grace in Growlers, a beer tasting room in Kailua on Oahu's Windward Side.
Grace in Growlers is different from other tasting rooms in that it utilizes a state-of-the-art electronic pouring system, meaning there are no bartenders: You pour your beers yourself. Tim sets me up with a wristband, connected to the electronic pour system and my credit card. You're charged by the ounce, with beers varying between 40 and 75 cents per ounce. It should be noted that Grace in Growlers' policy limits each customer to 36 ounces of beer. So choose wisely.
We head back to the wall of beers. It's organized from heavy to light beers, with porters, stouts and IPAs on the right and lagers on the left, as well as nonalcoholic drinks. I choose a glass. Since this is a tasting room, 5-ounce, 10-ounce and 16-ounce glasses are available. "I recommend the 16-ounce glass," says Tim. "You don't have to fill it all the way, but the beer breathes better."
After I choose the beer I want to sample, I hold up my black wristband's Grace in Growlers' logo to the corresponding logo on the tap. It lights up green. I tilt my glass, pull the tap and a cold, refreshing glass of amber beer awaits me.
Grace in Growlers, which celebrated its one-year anniversary in October, is part of Hawaii's craft-beer boom. In the past few years, the brewing scene in the Islands has erupted and the quality of local-made beers and quantity of bars serving them have grown significantly.
The Velings' tasting room supports Hawaii's talented brewmasters, as well as select mainland craft beers, with its 13 weekly rotating taps plus two taps reserved for nonalcoholic beverages such as cold-brewed coffee, cider and kombucha. It's a win-win for Hawaii craft beer and its drinkers.
"I'm specific on the beer allowed here," says Tim. "It has to be independently owned—no 'big beers' here—and we're heavy on the local beers, too. We've become not only partners (with Hawaii brewers) but also friends."
You'll find local beers from Waikiki Brewing Co., Lanikai Brewing Co., Honolulu Beerworks, Beer Lab Hawaii, Big Island Brewhaus, Maui Brewing Co. and new-to-the-scene Stewbum & Stonewall and Inu Island Ales. During my visit, I sampled Beer Lab Hawaii's limited-release sour (made specially for Grace in Growlers' anniversary party) and Inu Island Ales' IPA, two totally different beers, both of which I enjoyed.
The couple has also built relationships with the bar's neighboring restaurants. Beer is best enjoyed with food, after all. Grace in Growlers doesn't have its own kitchen but encourages patrons to bring food from nearby Kailua restaurants. In fact, while you're drinking at Grace in Growlers, you can order food next door from Kono's, a barbecue joint serving all things pork, including sliders, hard shell tacos and burritos—and they'll deliver. Pizza places Pieology and Prima also deliver, or you can bring in the pies yourself.
"BYOF was a strategic decision," says Tim. "We wanted to be good neighbors and allow them to bring in their good food here."
In addition to Grace in Growlers' unique setup—it's the only Hawaii bar with a self-serve beer system—there's another thing that sets it apart: All of its profits go to charity.
"Holly and I have always been community service-oriented," says Tim, "specifically about helping homeless people." That's why Tim says they instituted their 36-ounce policy. "We wanted to limit consumption. We didn't want to look like we're doing good things, but also getting people drunk in the process."
The couple moved to Oahu from San Diego. Like others, they fell in love with the Islands when they honeymooned on Maui and wanted to make Hawaii home. Tim says they had the crazy idea to marry their two longtime passions: craft beer and community service. In fall 2016, Grace in Growlers opened.
After paying for the beer, rent, utilities and payroll for four employees, profits go to the Oneninetynine Initiative, a nonprofit the Velings started to help homeless people in Windward Oahu. Tim works full time at Hawaiian Airlines and says he and Holly don't profit from Grace in Growlers.
"Every other Saturday we take over a Kaneohe laundromat," says Holly, elaborating on their nonprofit work. "Our guests are homeless people. They're family now to us." She says the profits from the bar fund the money and laundry supplies needed to wash the clothes of dozens of families, as well as provide them food for the day.
"A lot of our patrons (from Grace in Growlers) have volunteered with us at the laundromat," adds Tim. "We love it."
During my visit to Grace in Growlers, it's obvious the bar has created a sense of community. There was a short line of people waiting to sample beers, couples on dates, even groups of friends playing board games. Grace in Growlers has games such as Jenga, Scrabble and others on hand, or you can bring your own. The games tie in perfectly with the bar's school-like theme, complete with a row of used metal lockers, classroom desks and plastic milk crates for chairs.
I get up to pour myself another tasting and observe a friendly game of Sorry! It's nice to know there's a bar on the island supporting local brewers and the community.
Grace in Growlers
Open Mon. through Thu. noon–9 p.m.; Fri. and Sat. noon–10 p.m.; Sun. noon–8 p.m. 143 Hekili St., Kailua, (808) 975-9317, oneninetynine.org/graceingrowlers.