Taste of Marukai annual Japanese food and sake benefit today on Oahu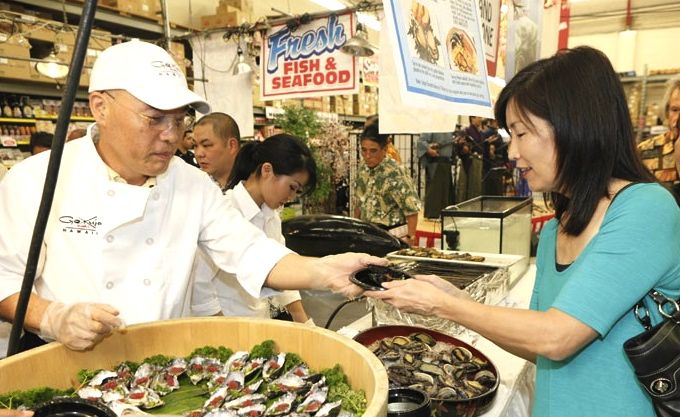 Feel like enjoying some great Japanese cuisine tonight—and lots of it?
If you're on Oahu today, check out the 6th annual Taste of Marukai, an annual food and sake event benefiting community organizations that perpetuate the Japanese heritage in Hawaii.
The event, which runs from 6 to 9 p.m. at Marukai Wholesale Mart in Honolulu entices more than 900 attendees each year with its sake tastings, cooking demonstrations and live music.
Highlights for this year's Taste of Marukai include innovative dishes prepared on-site by Nobu Waikiki chef Robin Lee, more than 50 sakes to sample—including a brew from the 340-year-old Otokoyama Brewery in Asahikawa, Hokkaido, Japan—and the ever-popular traditional sake barrel-breaking ceremony (called kagami biraki)
Chefs from Marukai will also be preparing Japanese and Okinawan dishes, including Alaskan king crab legs, Kona abalone and fresh-cut sashimi.
Over the past five years, Marukai has donated more than $135,000 from the event to support local community groups including the Japanese Cultural Center of Hawaii and the Hawaii United Okinawa Association. In light of the recent earthquake and tsunami in Japan, donations will be collected for the Aloha For Japan fund.
The cost to attend the event is $95 per ticket. For more information, visit Marukai Hawaii's website.
6th Annual Taste of Marukai food and sake benefit event, at Marukai Wholesale Mart, located at 2310 Kamehameha Highway (just after Dillingham Boulevard merges onto the highway), (808) 845-5051.