Taste of Waialua set for this Saturday at historic sugar mill on Oahu's North Shore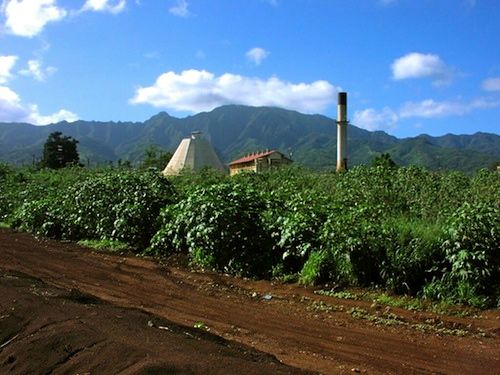 The fifth annual Taste of Waialua is set for Sat., April 7, 8:30 a.m. to 3 p.m., at the historic Old Waialua Sugar Mill on Oahu's North Shore.

Waialua, a once-bustling sugar mill town that produced what locals lauded as the "world's best sugar," is now known for its thriving entrepreneur and artisan efforts, which are producing everything from world-class surfboards and silkscreen fashions to handmade soaps, chocolate and island-style soda pop. The Waialua Sugar Mill closed its gates in 1996, after more than 100 years of operation. The mill (pictured, right) now serves as the processing site of Waialua Coffee and Cacao/Dole.
Here are some of the Taste of Waialua highlights.
• Waialua Farmers Co-op Market — Waialua-grown fruits and veggies. The market will open at 8:30 a.m. The Co-op is made up of former sugar workers, now growing produce on land previously reserved for the sugar crop. For a list of co-op members, click here.
• A history of coffee in Hawaii — The Hawaii Coffee Association in tandem with coffee expert Shawn Steiman (owner of Coffea Consulting and author of The Hawaii Coffee Book: A Gourmet's Guide from Kona to Kauai) will present a seminar about the history of coffee in Hawaii and the emergence of Waialua Coffee and Cacao. The presentation is slated for 9:30 a.m. at Island X Hawaii. After the talk, Steiman will discuss and demonstrate (with Waialua coffees) issues tied to "coffee strength."
• Area tours — Two free "Waialua Historical and Agricultural tours" will be hosted by the North Shore Chamber of Commerce. Both bus tours will feature a narration highlighting the area's agricultural history. Plus, there will be visits to local farms, ranging from a taro farm to a cacao farm. Tours will depart at depart at 10:30 a.m. and at 1 p.m. Call 808-779-7439 to pre-register for a tour.
Taste of Waialua will also spotlight live Hawaii music, with performances scheduled from 10 a.m. until 3 p.m. Plus, more than 50 vendors/exhibitors will be selling island-style food and art at the historic mill. For additional information about Taste of Waialua, click here.