"Tattoo Honolulu" art exhibition spotlights Hawaii's standing as tattoo Mecca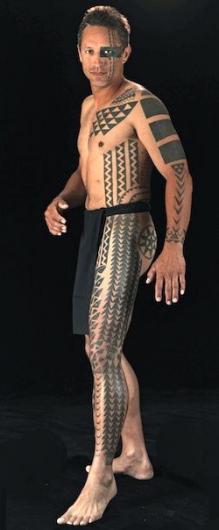 The Tattoo Honolulu exhibition at the Honolulu Museum of Art focuses on Hawaii's high quality of tattoo art and its origins in the islands' mix of cultures rich with tattoo traditions.
In a news release issued by the museum, its director, Stephan Jost said: "Most artists believe that the basis of great art is drawing." He continued, "And tattoo artists in Hawaii are incredible draftsmen. They use this skill to create extraordinary tattoos. Add to that Polynesian, Asian, and military cultures, and the result is that Honolulu is now recognized as one of the world's tattoo meccas."
The museum is in a position to draw upon its world-class collection to place contemporary tattooing within an art historical context. By linking the past — through works such as 19th-century prints by Jacques Arago depicting tattooed Hawaiians — with the present, the museum hopes to expand cultural awareness not only about the art of the tattoo, but also the rich cultural traditions it is based on.
The exhibition, which opened last week and will wrap up in January, 2013, presents 10 tattoo masters as contemporary artists, revealing their skills, ideas and sensibilities through photographs of the bodies on which they have drawn.
Also, the exhibition highlights tattooing's foundation of rich and diverse cultural traditions found in Hawaii today, featuring Hawaiian, American, Japanese and Polynesian cultures. For example, on view will be 19th-century Japanese woodblock prints that are the source of many contemporary tattoos. The curators also focus on military and mariner tattoo traditions, 18th-century western drawings depicting Pacific Islanders bearing tattoos, textiles and their rich link to Polynesian tattoos, and the tools used by the artists.
For additional information about the exhibit and others at the Honolulu Museum of Art, click here.