T&C/Surfer Magazine Grom Contest brings pint-sized shredders to Waikiki this weekend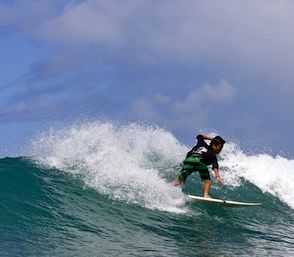 If you're near Waikiki's shoreline this weekend, expect to see stoked surfboard-toting groms.

Wondering what a grom is, exactly?
Should we consult Websters? Wikipedia? No, dude. For this definition, we're turning to the surfologists at Riptionary. According to their ever-evolving surfer lexicon — under the category of "Surf Culture" — grom is explained as a term "usually used in a positive way to describe a young local surfer who really rips."
By mid-morning tomorrow, there will be scores of 'em scampering around in the Waikiki sand, waxing boards and scoping waves during the 15th Annual T&C Surf/Surfer Magazine Grom Contest at Queen's surf break.

The two-day contest, which will wrap up on Sunday, is open to surfers age 12 and younger who want a taste of competitive surfing in a fairly mellow setting. Kids already competing in National Scholastic Surfing Association and Hawaii Amateur Surfing Association events will have to watch from the beach.
In a media release issued by the events organizers, Craig Sugihara, president and founder of T&C Surf, said: "We are stoked to focus our event on providing a fun introduction to competitive surfing." He added, "Our goal as always is to share the stoke of surfing with as many people as possible and bring family and friends together for a fun weekend of surfing."
Boys and girls will compete in shortboard, longboard and bodyboard heats. Also, returning to the contest is a kokua division added last year for kids ages 3 to 6. (Adults will be permitted into this division's heat lineups to help little ones catch waves.)
Finally, even adults will have a chance to catch some waves during an "Expression Session," which is open only to grownups and kids under age 5.
For additional details about contest and competition schedules, click here.