The 5 Best Botanical Gardens on O'ahu in 2023
You voted! Here are the top five botanical gardens on O'ahu in 2023.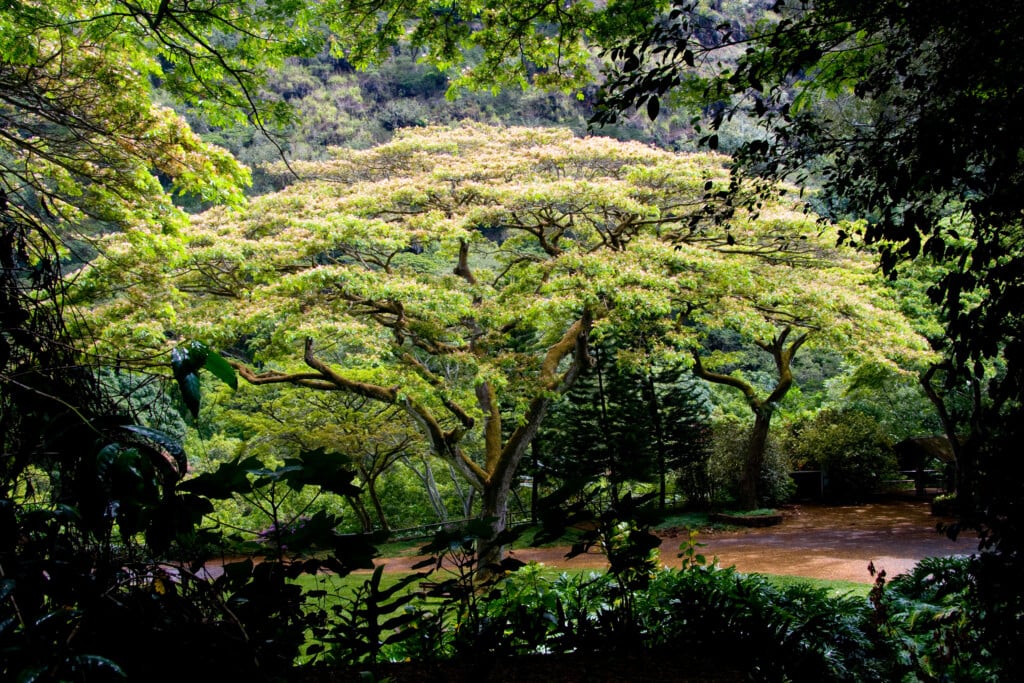 Exploring the various flora and fauna of O'ahu is always a welcome getaway. Our readers shared their favorite botanical gardens on the island—and they are our favorites, too.
1. Waimea Valley
A site rich in history and culture, Waimea Valley is home to a 45-foot-tall waterfall—and call ahead to see if conditions are right for a refreshing dip into the swimming hole. The winding walk to the cascading waterfall is beautiful as there are ample opportunities to explore 52 themed gardens, home to more than 5000 types of tropical and subtropical plants. You'll see heiau (religious placed of worship) and ancient hale (homes) along the way. 59-864 Kamehameha Highway, Haleʻiwa, (808) 638-7766, waimeavalley.net
2. Ho'omaluhia Botanical Garden
Even the drive to Ho'omaluhia Botanical Garden is a treat, with majestic views of the regal Ko'olau mountain range and its Insta-worthy, palm-lined entrance. There are multiple places to explore at the 400-acre garden, but the most popular spot would be the partly paved trail that leads through a mini garden and then a grassy downhill trek to a gorgeous lake where you can feed the ducks and fish. 45-680 Luluku Road, Kāne'ohe, (808) 233-7323, honolulu.gov/parks/hbg
3. Foster Botanical Garden
Tucked away on Vineyard Boulevard, this 14-acre botanical garden is reopening this June after undergoing renovations to make the site more accessible with concrete paths, a new drinking fountain and various upgrades throughout the garden. Check out the outdoor butterfly garden, see the endangered Corpse Flower and let the little ones enjoy a picnic under majestic trees. 180 N. Vineyard Blvd., Honolulu, (808) 768-7135, honolulu.gov/cms-dpr-menu/site-dpr-sitearticles/568-foster-botanical-garden.html
4. Wahiawā Botanical Garden
Nestled between the Waianae and Koʻolau Range, this 27-acre botanical garden is home to a sprawling tropical forest. A perfect oasis getaway, visitors can walk on an overgrown bridge and see native plants and birds that are home to Hawaiʻi at this central Oʻahu botanical garden, including the blue ginger. Some areas are steep, so wear comfortable shoes and be sure to bring bug spray. 396 California Ave., Wahiawā, (808) 621-7321, friendsofhonolulubotanicalgardens.com/Wahiawa.htm
5. Koko Crater Botanical Garden
This botanical garden is known for growing and cultivating rare and endangered dryland plants. Be sure to check out the grove of beautiful melia (plumeria) trees with flowers of every shade. Another attraction is the cactus and succulent garden. There's also an easy two-mile loop trail that begins at the entrance of the botanical garden—and you can pack a lunch to eat at picnic tables located on the path. It can get dry and hot, so be sure to bring sun protection and plenty of water.
7491 Kokonani St., Honolulu, (808) 768-713, honolulu.gov/parks/hbg/honolulu-botanical-gardens/182-site-dpr-cat/572-koko-crater-botanical-garden.html
See all of the winners of our 2023 Readers' Choice Awards in our latest issue, which you can buy here. Better yet, subscribe and get HAWAIʻI Magazine delivered to right to your mailbox.