The 5 Best Cheap Eats on Maui
Our editor's picks for great Maui grinds on a budget.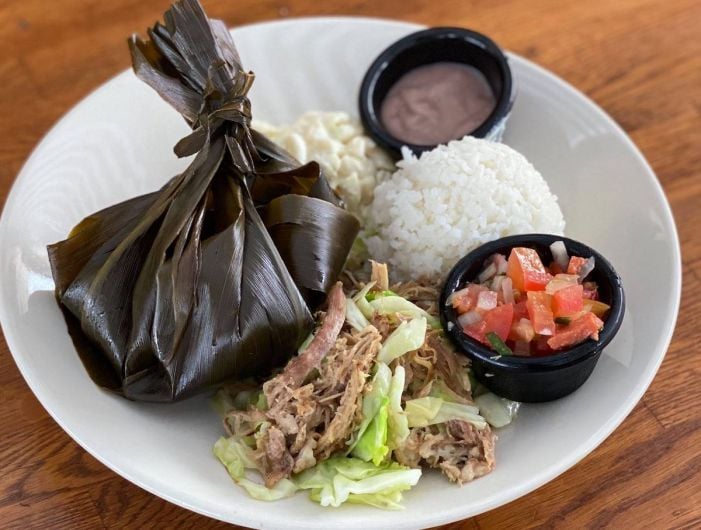 Looking for great Maui eateries that won't break the bank? You won't have to look very far on this island full of ʻono discoveries. Here are some of our editors' favorites for an affordable, filling island meal.
1. Aloha Mixed Plate
Oceanfront dining without the price tag that usually comes with it? Aloha Mixed Plate on Front Street, Lahaina, proves that it's possible, with classic local favorites like shoyu chicken, kalbi ribs, saimin and loco moco. You can also find traditional Hawaiian fare, a locally-sourced salad made with produce from the company's nearby Hoaloha Farms, and fresh island fish. The open-air, casual setting, friendly service and delicious food all combine to make this Maui favorite a winner in our book. 1285 Front St., Lahaina, (808) 661-3322, alohamixedplate.com
2. Cool Cat Café
[video:https://www.instagram.com/p/B56IBt2nVXa/]
This retro 1950s-style family-style diner is known for its burgers, pulled pork, blackened chicken, fish tacos and great balcony views of Lahaina. Try the Burger of the Month for a delicious mouthful of 100% Angus beef, gussied up in a variety of different styles, or pick one off its extensive menu. Vegetarian options available. 3rd floor, 658 Front St., #160, Lahaina, (808) 667-0908, coolcatcafe.com
3. Sunrise Café
[video:https://www.instagram.com/p/BtUKq1phoxv/]
Despite its location in trendy Lahaina, the casual Sunrise Café, which opens at 7 a.m. for the surfers and early risers, is a friendly, no-frills, open-air eatery with a patio garden that serves breakfast, brunch and lunch, with menu options that range from filling (think loco moco or huge breakfast burritos) to lighter fare, including a pineapple boat filled with fresh fruit. 693A Front St., Lahaina, (808) 661-8558
4. 808 Deli
[video:https://www.instagram.com/p/B501fJRlB44/]
Grab lunch to go and take it to the beach or dine in at this welcoming little family-run deli that offers sandwiches, paninis, salads and gourmet hot dogs. Try the Porkie panini with kālua pork, mango salsa and pepper jack cheese on rye bread, or go for the Kula Strawberry salad with chicken, feta, strawberries and candied pecans, drizzled with a balsamic vinaigrette. 2511 S Kīhei Road, Kīhei, (808) 879-1111, 808deli.com
5. Sam Sato's
This classic old-timey hole-in-the-wall restaurant that specializes in noodles is a must-go when you're on Maui. The most popular dish here is dry mein, a soup-less bowl of seasoned, chewy saimin-like noodles mixed with char siu pork, bean sprouts and green onions, with dipping soup on the side. While dozens of restaurants serve dry mein, none do it quite like Sam Sato's, and lots of people make the pilgrimage to this Wailuku restaurant that has become nearly synonymous with the dish. Grab a side of its stellar manju (Japanese bean pastry) and grilled teri beef skewers, too. 1750 Wili Pa Loop, Wailuku, (808) 244-7124.