The 5 Best Loco Moco in Hawaiʻi in 2023
Find out which loco moco topped our 2023 Readers' Choice Awards.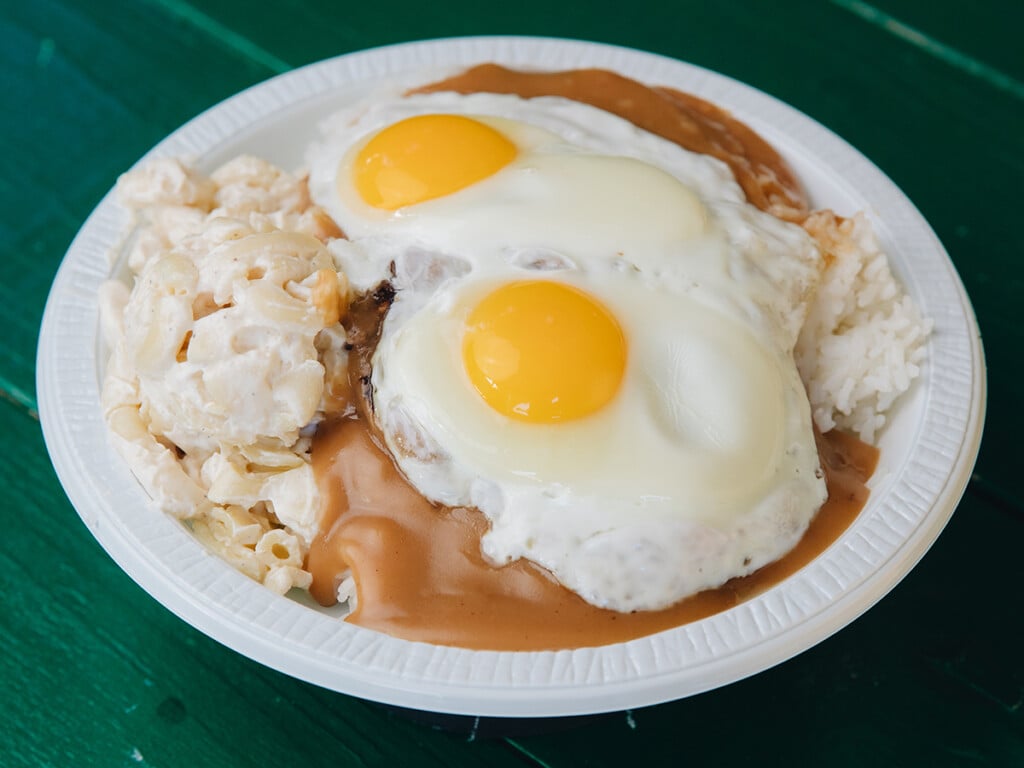 There's something so simple yet so scrumptious about the humble loco moco, a dish that consists of white rice, hamburger patty and sunny eggs smothered in brown gravy. This iconic dish can be found everywhere in the Islands, from high-end restaurants to mom-and-pop shops. Here are the restaurants that our readers picked as serving their favorite versions in the 2023 Readers' Choice Awards.
1. Rainbow Drive-In, Oʻahu
It's no surprise that Rainbow Drive-In has taken the top spot (yet again) on this list. The family-run restaurant—which has locations in Kapahulu (the original), Kalihi and Pearlridge Center on Oʻahu—uses breadcrumbs in its hamburger to help them hold their shape and covers them with house-made gravy. It's long been one of the drive-in's most popular plates. "We always feel honored to be recognized as one of the best loco mocos in Hawaiʻi," says third-generation owner Chris Iwamura. "For us, it's all about consistency—we want customers, especially our returning customers, to know that they are getting the same great plate at every visit. There are no frills to our loco moco. Just simple, local style comfort food that we all grew up eating together." Various locations, rainbowdrivein.com
2. Zippy's, Oʻahu, Maui, Hawaiʻi Island
Since opening on Oʻahu in the 1960s, Zippy's has become the go-to place to get local-kine grinds, from bowls of saimin to plates of its famous chili and rice. The loco moco is also a favorite, with its hearty combination of hamburger patties over a bed of white rice and topped with thick gravy and two eggs—locally sourced! And if you're really hungry, get all of that topped with Zippy's signature chili. Various locations, zippys.com.
3. Hawaiian

Style Café,

Hawaiʻi Island
View this post on Instagram
If you're looking for a hearty, filling loco moco on the Big Island, head to Hawaiian Style Café, which has two locations (Waimea and Hilo). These loco mocos are legit, with variations including one with chicken cutlet instead of beef patties and another with Spam, Portuguese sausage, link sausage and an egg over fried rice. Talk about kanak attack! Waimea and Hilo, Hawaiʻi Island, hawaiianstylecafe.us.
4. Koko

Head Café,

Oʻahu
View this post on Instagram
Helmed by "Top Chef" alum Lee Anne Wong, Koko Head Café—now in a bigger location in Kaimukī—is known for its inventive twists on local breakfast classics, including the loco moco. The Koko Moko comes in a signature skillet, creating a crispy bottom-layer of rice. The hamburger patty is made with local beef and topped with mushroom gravy and tempura kimchi. It's a unique version you won't find anywhere else. 1120 12th Ave., Honolulu, Oʻahu, (808) 732-8920, kokoheadcafe.com.
5. Café 100, Hawaiʻi Island
Hilo on Hawaiʻi Island is the birthplace of the loco moco—and there's no better place to get one than Café 100. Opened in 1949, the old-school drive-in is a Hilo fixture and is also known for offering more than 30 varieties of loco mocos. From Spam and chorizo to ʻahi and garden burgers, the list of loco moco is extensive. There's definitely something for everyone here. 969 Kīlauea Ave., Hilo, Hawaiʻi Island, (808) 935-8683, cafe100.com.
See all of the winners of our 2023 Readers' Choice Awards in our latest issue, which you can buy here. Better yet, subscribe and get HAWAIʻI Magazine delivered to right to your mailbox.