The 5 Best National Parks in Hawaiʻi in 2021
There's no better way to celebrate National Park Week than at these five national parks, voted as the best in our 2021 Readers' Choice Awards.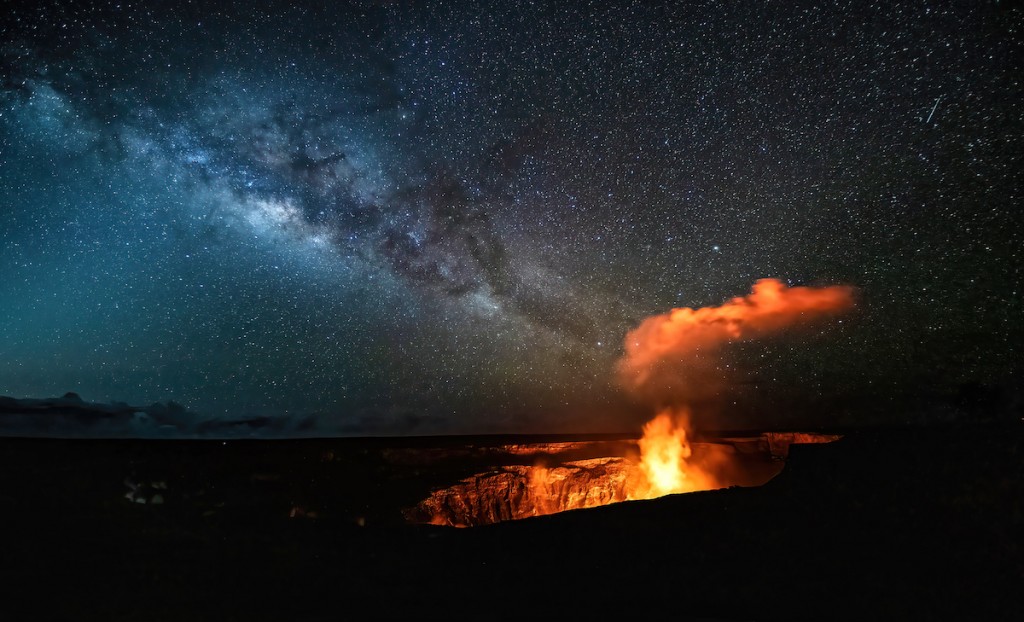 Hawaiʻi boasts nine national parks, from the site of an attack that launched the U.S. into World War II to areas sacred to Native Hawaiians. These important sites are great places for visitors to explore and learn more about Hawaiʻi's unique history and culture. (And it's great week to do it—it's National Park Week!) Here are the Top 5 national parks in the Hawaiian Islands in 2021, according to our readers.
1. Hawaiʻi Volcanoes National Park, Hawaiʻi Island
It's no surprise Hawaiʻi Volcanoes National Park returns in the No. 1—especially this year. In December 2020, Kīlauea, the world's most active volcano, started erupting again after two years of inactivity. Visitors have been flocking to the 323,431-acre national park to witness it—and we can't blame them. But the park has more than just an active volcano. It boasts more than 150 miles of trails along diverse landscapes and is home to some of the state's unique birds, from the 'i'iwi (scarlet honeycreeper) to the 'io (Hawaiian hawk).
2. Haleakalā National Park, Maui
The otherworldly vistas of Haleakalā National Park make it a popular stop for visitors to Maui. The massive shield volcano forms more than 75% of the island and reaches a height of 10,023 feet. Haleakalā means "house of the sun" in ʻōlelo Hawaiʻi (Hawaiian language) and legend goes that the demigod Maui lassoed the sun from its journey across the sky as he stood on the volcano's summit, slowing its descent to make the day last longer. Sunrise is the best time to visit—you have to make reservations—but sunset is equally stunning (and far less crowded).
3. World War II Valor in the Pacific National Monument (including the USS Arizona Memorial), Oʻahu
Pearl Harbor is one of the top visitor attractions in Hawaiʻi. Pre-pandemic, millions of people from around the world visited this historic site, where World War II started for the United States on Dec. 7, 2041. Its visitor center recently underwent a $65 million upgrade. Other popular stops here include the Pearl Harbor Aviation Museum, the massive Battleship Missouri Memorial and the USS Bowfin Submarine Museum & Park.
4. Kalaupapa National Historical Park, Molokaʻi
This historic site on the northern tip of Molokaʻi, Kalaupapa National Historical Park is one of the remote settlements in Hawaiʻi. This area served as an isolation settlement for those with Hansen's disease (leprosy) and home to Belgian missionary Father Damien and Saint Marianne Cope. (A handful of residents still live here.) Today, the serene national park is a place of preservation and education and is only accessible by mule ride, hiking tour or airplane from the small commuter Kalaupapa Airport. Kalaupapa cannot be reached by car.
5. Puʻuhonua O Hōnaunau National Historical Park, Hawai'i Island
Puʻuhonua o Hōnaunau on Hawaiʻi Island was once a place of refuge for kanaka maoli (Native Hawaiians). Until the early 19th century, Hawaiians who broke kapu (taboo, sacred laws) could avoid execution by fleeing to a place of refuge, or puʻuhonua (sanctuary, asylum, place of peace and safety). Here the offender could be absolved by one of the sanctuary's priests and then be free to leave. Now the site serves as a place of refuge for the Hawaiian culture itself, featuring reconstructed hale (traditional Hawaiian houses), temple platforms, royal fishponds, sledding tracks and coastal village sites.