The 5 Best New Restaurants in Hawaiʻi in 2021
Our 2021 Readers' Choice Awards reveals the top new restaurants in Hawaiʻi.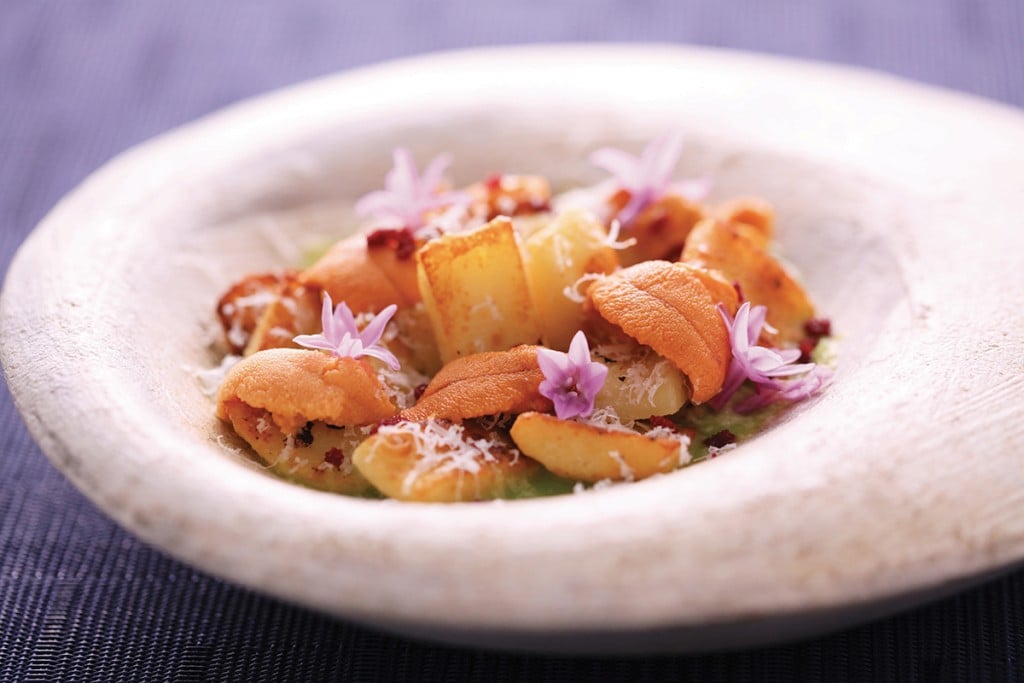 The food scene in Hawaiʻi has changed since COVID-19. Some of the state's most popular restaurants—Alan Wong's Honolulu on Oʻahu, Da Kitchen on Maui—have closed for good. And others have had to change course, ditching fussy menus for simpler dishes that work as takeout and delivery options. And despite the economic turmoil this global pandemic has had on restaurants everywhere—not just Hawaiʻi—eateries opened and, more importantly, stayed open. Here are the Top 5 Best New Restaurants in Hawaiʻi, voted by you, in our 2021 Readers' Choice Awards.
1. Hana Koa Brewing Co., Oʻahu
While it's all about the craft beer here—oh, and sparkling seltzer!—Hana Koa Brewing Co. in Kakaʻako on Oʻahu boasts an impressive line-up of food, too. Shareable plates include house-made spicy pickles, smoked eggplant bruschetta and pickled onion rings battered in Hana Koa's Breaktime Blonde. The menu has a variety of sandwiches, salads and other pub-friendly fare, including mac 'n' cheese, garlic shrimp and tonkotsu ramen. And if beer's not your thing, the brewery's got speciality beverages—we love the Dole Whip mimosa!—and a great selection of wine, spirits and cocktails. 962 Kawaiaha'o St., Honolulu, Oʻahu, hanakoabrewing.com
2. Redfish Poke by Foodland, Oʻahu
Foodland, Hawaiʻi's iconic locally owned grocery store chain, has long been known for its poke. (It places in the Top 5 in the category in our Readers' Choice Awards every year.) So why not open a poke-centric restaurant? That's exactly what Redfish Poke Bar by Foodland is. The poke counter and bar, located at Salt at Our Kakaʻako on Oʻahu, is focused on variations of the popular local dish. Find classic flavors such as shoyu (soy sauce) and limu (seaweed) alongside innovative creations such as the ginger-scallion hamachi (yellowtail) poke or beet—yes, beet!—poke. But the restaurant also serves non-poke dishes: oysters on a half shell, ʻahi panzanella, garlic noodles, lechon kawali, crispy pork belly, sake-steamed clams and a house burger featuring local beef. Redfish Poke Bar by Foodland, 685 Auahi St., Honolulu, Oʻahu, redfishpoke.com
3. Chopchop Rotisserie, Oʻahu
View this post on Instagram
The husband-and-wife team behind the popular 12th Ave Grill and Koko Head Café on Oʻahu came up with this new fast-casual concept that focuses on spit-roasted meats like smoked beef brisket, glazed whole duck, roasted short ribs and St. Louis-style baby back ribs. Plates come with your choice of meat plus rice or potatoes and a side salad; bowls are served with rice, kim chee peanuts and veggies. The restaurant has temporarily closed due to COVID-19 but plans to reopen soon. 438 Hobron Lane, Honolulu, Oʻahu, chopchoprotisserie.com
4. Miro Kaimukī, Oʻahu
View this post on Instagram
For 25 years Café Miro brought French-inspired cuisine to the laid-back neighborhood of Kaimukī—people loved it. But owner-chef Shigeru Kobayashi decided to sell the restaurant and fans were worried what would happen to this hidden gem. Well, new owners—notable chefs Chris Kajioka and Mourad Lahlou—took the humble French restaurant to another level. Miro Kaimukī offers seasonal prix fixe menus that are impeccably plated and showcase high-quality ingredients from Hawaiʻi and around the world. A recent menu featured charred cabbage dusted with moringa powder, angolotti with clams and peas in moringa pesto, a simple charcoal-grilled chicken with beans and almonds, and asparagus served with preserved lemon and egg mousse. Elegant and sophisticated—and delicious. It serves brunch, too. 3446 Waiʻalae Ave, Honolulu, Oʻahu, (808) 734-2737, mirokaimuki.com
5. Mugen, Oʻahu
View this post on Instagram
When Mugen opened just before COVID-19 hit Oʻahu, the restaurant in the super-luxe Espacio Waikīkī enjoyed buzz from local foodies and earned a spot on USA Today's Best New Restaurant list. (Mugen was No. 6 and the only Hawai'i restaurant to make the list.) Fans raved about its menu, which highlights locally sourced ingredients—Kona lobster, Big Island honeycomb, local goat cheese—and high-end products including caviar and fish flown in from Toyosu Fish Market in Japan. The pandemic forced the restaurant to close, and Mugen pivoted, selling bento meals prepared to order and available for pick-up curbside, before reopening again in 2021.
2452 Kalākaua Ave., (808) 377-2247, espaciowaikiki.com