The 5 Best New Restaurants in Hawaiʻi in 2022
Make your reservations now at these restaurants, voted as the best new eateries in our 2022 Readers' Choice Awards.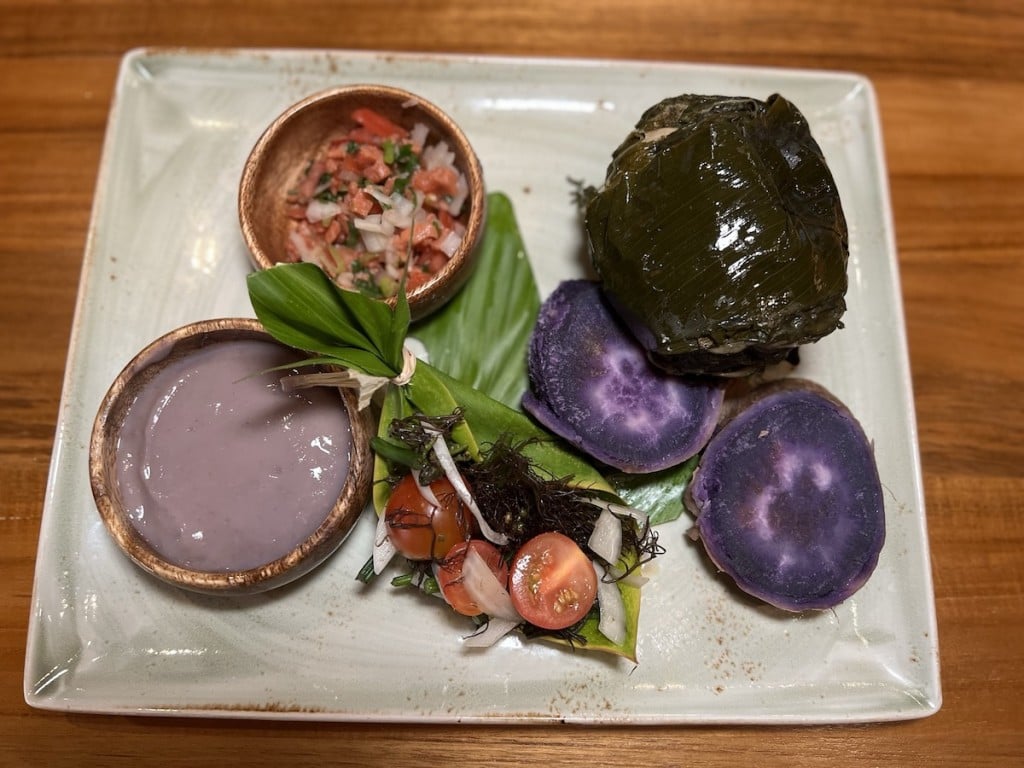 There were many beloved restaurants in Hawaiʻi—Alan Wong's Honolulu, 12th Ave Grill, Da Kitchen—that didn't survive the pandemic. And then there are ones that opened during this unprecedented time, offering unique dishes and focusing on local ingredients in unexpected ways. Here are the Top 5 Best New Restaurants in Hawaiʻi, voted by you, in our 2022 Readers' Choice Awards.
1. Huihui, Maui
When the beloved Kāʻanapali Beach Hotel unveiled its $75 million property-wide renovation last year, it also opened a new signature restaurant. And already, in less than a year, Huihui has topped our Best New Restaurants list. This oceanfront restaurant offers modern Hawaiian cuisine using traditional cooking methods and regional ingredients. And we love the inventiveness of its dishes: ʻahi mac 'n' cheese and poke using Molokaʻi venison and pickled ogo (seaweed). The Chef's Laulau is spectacular, with lau lau stuffed with pork, chicken and cod, kāmano lomi (salted salmon, mixed with onions and tomato), poi (mashed taro), Molokaʻi sweet potato and a pohole (fiddle fern) ogo (seaweed) salad. Huihui's new cocktail menu also features local spirits and ingredients, including an Old Fashioned with māmaki tea and a mojito with lilikoʻi (passion fruit) syrup. Kāʻanapali Beach Hotel, 2525 Kāʻanapali Parkway, Lahaina, Maui, huihuirestaurant.com
2. Bourbon Street, Oʻahu
View this post on Instagram
One of the newest restaurants in Downtown Honolulu, Bourbon Street brings New Orleans-style food to Oʻahu. Think shrimp and grits, crawfish étouffé and fried catfish. The restaurant also features live performances, family-style dishes, an oyster bar and signature drinks. 1055 Alakea St., Honolulu, Oʻahu, bourbonstreethi.com
3. Kalo Hawaiian Food by Chai's, Oʻahu
View this post on Instagram
Before local chef and restaurateur Chai Chaowasaree opened Kalo Hawaiian Food by Chai's in Waikīkī, there really wasn't any restaurant in the neighborhood that served upscale and authentic Hawaiian food. And definitely not the way Chaowasaree was doing it. His restaurant, located in the Courtyard by Marriott Waikīkī Beach, serves a mix of traditional dishes—ʻahi limu poke, short ribs pipi kaula and kālua pig—with local-centric ones like Kahuku corn chowder, oxtail soup and pineapple curry with jumbo tiger prawns. So good even power couple John Legend and Chrissy Teigen dined here in April 2022—and loved it. 400 Royal Hawaiian Ave., Honolulu, Oʻahu, kalohawaiianfood.com
4. Pizza Mamo, Oʻahu
This pizzeria in Chinatown on Oʻahu specializes in Detroit- and Brooklyn-style pizzas, topped with high-quality ingredients, some of which you can't find anywhere else in the Islands. Like California vine-ripened tomatoes grown on a small family farm in Napa and picked and canned within a six-hour window. Or artisanal cheese made in Wisconsin and shipped to Oʻahu directly so it's truly farm fresh. 16 N. Hotel St., Chinatown, eatpizzamamo.com
5. Spice Up, Oʻahu
View this post on Instagram
There aren't many Indian eateries in Hawaiʻi, and when one opens—a really good one—word spreads quickly. Spice Up offers Indian favorites like butter chicken, chicken tandoori and a variety of coconut curries. But it also serves other delicious surprises like Himalayan momo (Nepalese-style dumplings), lemon fried rice and chukandar chicken with a red sauce made from beetroot. 1289 S. King St. Unit 101, Honolulu, Oʻahu, @spice_up1289
See all of the winners of our 2022 Readers' Choice Awards in our latest issue, which you can buy here. Better yet, subscribe and get HAWAIʻI Magazine delivered to right to your mailbox.