Get Brooklyn- and Detroit-Style Pizza at This New Pizzeria in Honolulu
Pizza Mamo opened recently in Oʻahu's historic Chinatown, with a focus on authentic pies and local ingredients.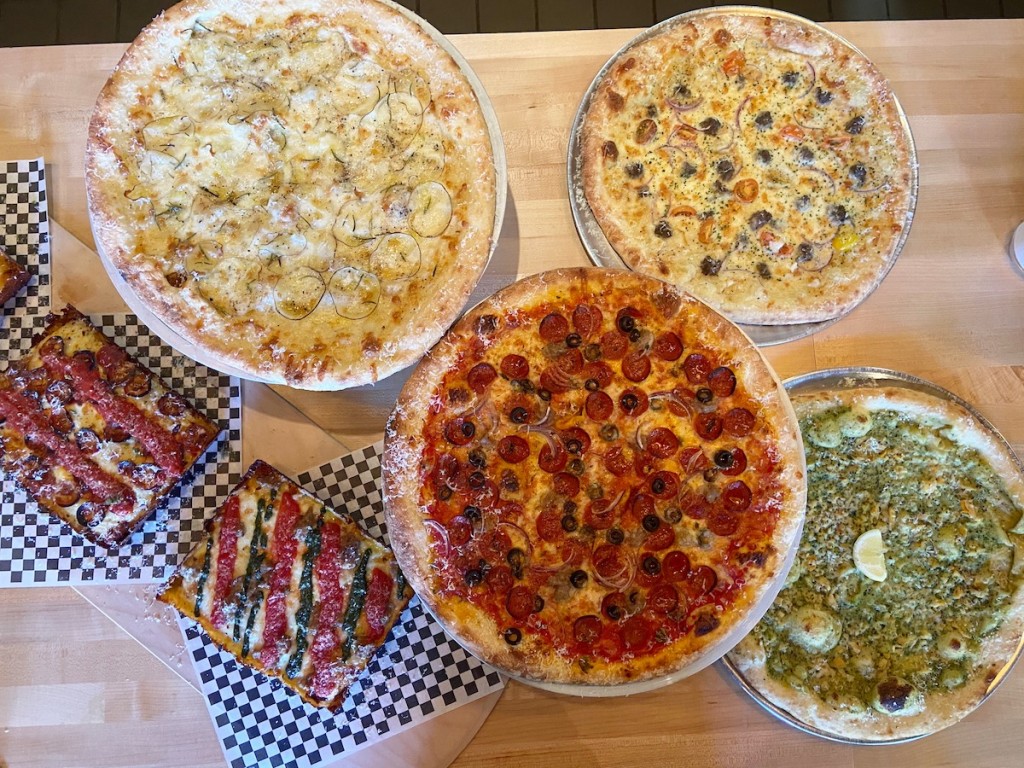 Matthew Resich is more than a pizza aficionado. He's like a pizza scientist.
The owner of Brick Fire Tavern, Hawaiʻi's only Vera Pizza Napoletana certified pizzeria in Kaimukī on Oʻahu, has spent a lot of time crafting his pies, from figuring out the perfect fermentation for the dough (96 hours) to importing fresh curds to make house-pulled mozzarella. All with the goal of creating the perfect pizza—and one that would still be good if you couldn't eat it right away. (Thanks, COVID.)
"Good pizza starts with good ingredients," he says.
Resich, along with partners and fellow restaurateurs Danny Kaaialii and Jonny Vasquez, launched a new pizza concept called Pizza Mamo. It quietly opened in December 2020 but has been gaining a loyal following seeking authentic, hand-crafted pizzas found no where else.
Meaning you won't find a Hawaiian pizza here.
So what can you get at Pizza Mamo? The shop specializes in Detroit- and Brooklyn-style pizzas, topped with high-quality ingredients, some of which you can't find anywhere else in the Islands. Like California vine-ripened tomatoes grown on a small family farm in Napa and picked and canned within a six-hour window. Or artisanal cheese made in Wisconsin and shipped to Oʻahu directly so it's truly farm fresh.
A word about the style of pizzas.
Detroit-style pizza is distinguished by its thick, cheesy, chewy crust, which runs all the way up the edges of the rectangular pan it's baked in. This focaccia-like crust is fluffy and chewy on the inside with crispy, almost-burnt cheese edges. Buddy's Pizza in Detroit is credited for inventing this style of pizza in 1946. Founder Gus Guerra used industrial metal trays—which were originally used by local auto workers to hold spare parts—to bake the pies. (Incidentally, this style of pizza has seen a surge in popularity in the U.S. during the pandemic. Total comfort food!)
The Brooklyn-style pizza is a 16-inch hybrid of New York and Napolitano pies—thin crust, cooked perfectly in a brick oven and loaded with toppings right up to the edge.
Let's talk about those toppings.
Resich is a firm believer in quality toppings. He uses Ezzo natural casing pepperoni, local Pono Pork sausage, Big Island Lamb sausage, California vine-ripened tomatoes, house-made pesto, Wisconsin farm-fresh cheese, house-pulled mozzarella, wild oregano from Sicily, russet potatoes, rosemary, cremini mushrooms, and California natural olives. Even the flour is uses is artisan milled organic.
"We wanted to give people something that's actually good and healthy," Resich says.
The shop, which will start neighborhood deliveries soon, offers eight different Brooklyn pizzas and three kinds of Detroits. Pies range from $21 to $28. Brooklyn style individual slices are available from $5.50 per slice.
Wondering about the name?
The name Pizza Mamo was inspired by the swift mamo bird, representing how the pizzeria's pizza travels well, maintaining its integrity and deliciousness. Endemic to the islands, the mamo honeycreeper—now extinct—was once the most honored birds in ancient Hawaiʻi. Its yellow feathers were carefully plucked and woven together to create capes and hats for Hawaiian royalty, including the famous cloak of King Kamehameha The Great.
16 N. Hotel St., Chinatown, eatpizzamamo.com.