The 5 Best Poke Shops on Hawaiʻi Island
Pick up a pound or two of poke at one of these shops, voted as the best places for poke on Hawaiʻi Island in our 2022 Readers' Choice Awards.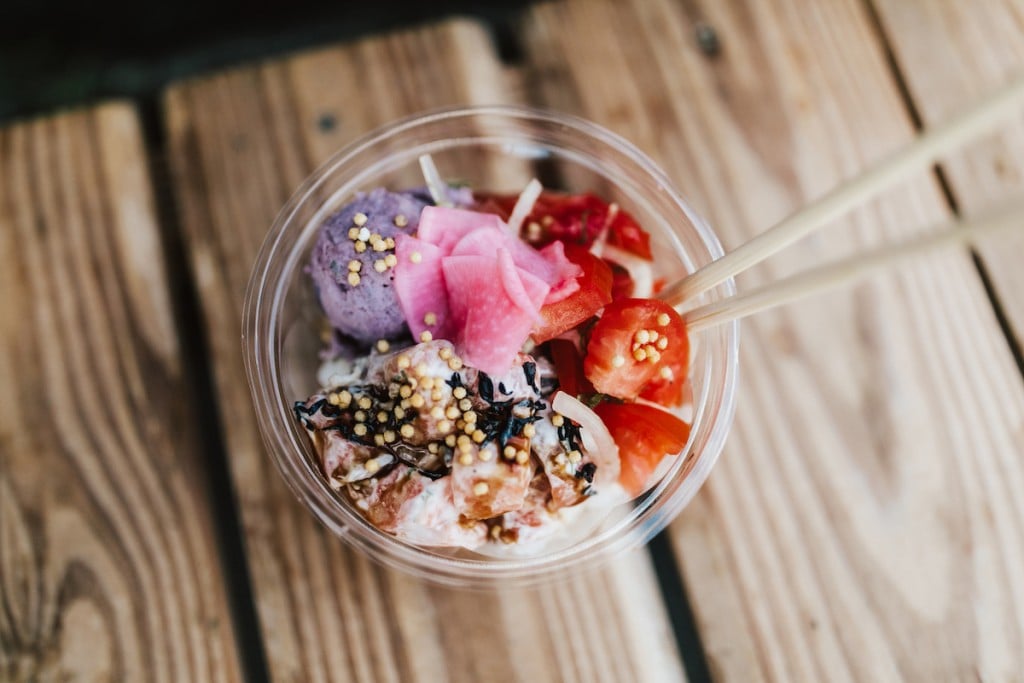 Raw seafood salad known as poke (pronounced poh-kay) has been around since ancient Hawaiians feasted on freshly caught fish they seasoned with seaweed, sea salt and kukui nuts. Today, poke can be found throughout the U.S., but when you're looking for the best poke around, there's no place like Hawaiʻi.
1. Da Poke Shack
View this post on Instagram
This takeout-style shop features a variety of poke made with locally caught ʻahi (yellowfin tuna). Though Da Poke Shack specializes in poke bowls and plates, customers will also find shrimp, tako (octopus), and taegu (seasoned cuttlefish) here. Vegetarian and gluten-free options are also available but be sure to arrive early—poke typically sells out daily. 76-6246 Ali'i Dr., Ste. 101, Kailua-Kona, Hawaiʻi Island, dapokeshack.com
2. 'Umeke's Fish Market Bar and Grill
View this post on Instagram
As "'umeke" is the Hawaiian word for "bowl," most of the dishes at 'Umeke's Fish Market Bar and Grill are designed to be served in bowls. Guests can custom create their own meal by choosing from a variety of Hawaiian-inspired entrée items—such as house poke, grilled Kona shrimp or Korean chicken—which are served with a selection of sides. 74-5599 Pawai Pl., Kailua-Kona, Hawaiʻi Island, umekesrestaurants.com
3. Suisan Fish Market
View this post on Instagram
Suisan Co. has been serving Hawaiʻi for more than a century. Today, Suisan Fish Market honors the Hawaiian fishing tradition and community by providing both wholesale and retail customers with fresh seafood six days a week. In addition to serving a variety of pelagic species, the company is known for offering the largest variety of reef fish around. 93 Lihiwai St., Hilo, Hawaiʻi Island, suisan.com
4. Poke Market
Poke Market strives to recognize the tradition of poke by utilizing elevated ingredients in dishes that are crafted with the same amount of care typical of a fine sushi establishment—and served in a bowl. Try the Local Favorite, a combination of sushi rice, spicy ʻahi poke, imitation crab salad and sweet potato salad with a drizzle of truffle unagi sauce. 41 Waianuenue Ave. Hilo, Hawaiʻi Island, pokemarkethi.com
5. Kona Grill House (formerly known as Sun Dried Specialties)
View this post on Instagram
Founded in 2000, Sun Dried Specialties began when its owner and his family began drying fresh fish in a traditional manner, using only Hawaiian salt and the heat of the sun. The company has since evolved into Kona Gill House, serving up everything from poke bowls and plate lunches to burgers and Hawaiian-inspired desserts. 81-951 Halekiʻi St., Kealakekua, Hawaiʻi Island, konagrillhouse.com
See all of the winners of our 2022 Readers' Choice Awards in our latest issue, which you can buy here. Better yet, subscribe and get HAWAIʻI Magazine delivered to right to your mailbox.