The 5 Best Poke Shops on Kauaʻi
Find out where your favorite cubed raw fish dish on the Garden Isle ranked in our 2020 Readers' Choice Awards.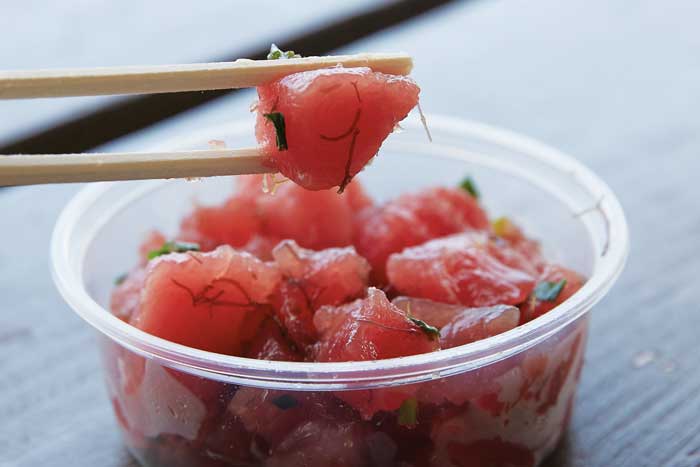 Early Hawaiians caught and diced fresh fish, marinating it with sea salt, limu (seaweed) and ʻinamona (roasted kukui nuts). They called the dish poke, which means to slice, or cut. As emigrants from China and Japan landed in the Islands to work on sugar plantations, they brought ingredients such as shoyu (soy sauce), sesame oil, wasabi and kim chee, transforming the simple dish into a multicultural celebration of rich flavors and fresh seafood. If you're in search of a poke fix on Kauaʻi, here are the five best poke shops on the island, according to our readers.
1. Foodland
With 33 locations across four islands, Foodland is the largest locally owned grocery retailer in the state. Voted Hawaiʻi's Best Poke for nearly a decade, Foodland poke is made fresh daily and is beloved by locals for its quality, taste and convenience. In addition to classic combinations such as shoyu ʻahi (tuna) and limu ʻahi, flavors such as Secret Spicy ʻahi and California Roll ʻahi are also worth a try. Poke is available by the pound, in a bowl with steamed white or brown rice, and in a bento (boxed lunch) paired with Foodland's signature crispy fried chicken. Open daily from 6 a.m. to 11 p.m. Foodland Princeville, 5-4280 Kūhiō Highway, Princeville, (808) 826-9880; Foodland Waipouli, 4-771 Kūhiō Highway #101, Kapaʻa, (808) 822-7271; foodland.com.
2. Kōloa Fish Market
View this post on Instagram

The Matsuoka family founded Kōloa Fish Market soon after Hurricane Iniki devastated Kauaʻi in 1992. Known for its friendly service, simple walk-up counter and ever-changing selection, it's no wonder that locals tout the fish market as an essential stop on the island. With frequently rotating poke choices, seafood chowders, local favorites such as kālua pork, shoyu chicken and lomi salmon, and handmade desserts, no two visits to Kōloa Fish Market are ever the same. Open weekdays from 10 a.m. to 6 p.m. and Saturdays from 10 a.m. to 5 p.m. 3390 Poʻipū Road, Kōloa, (808) 742-6199.
3. Hanalei Poke
View this post on Instagram
Jeremy Burwell, the chef-owner of Hanalei Poke, knows for a fact that his fish is fresh. He catches it himself! Burwell's unassuming food truck parked in Hanalei Town near Big Save Market serves up custom-made poke bowls and poke salads. Each bowl or salad comes with five complimentary toppings: red onion, white onion, green onion, limu and tobiko (flying fish roe). Try the creative Kealia bowl—ʻahi poke mixed with mango, watermelon, avocado, inamona, macadamia nuts and a combination of fresh mint, basil and cilantro for a refreshing take on the traditional poke bowl. Open daily from 11:30 a.m. to 5 p.m. or until it sells out. Cash only. 5-5190 Kūhiō Highway, Hanalei, (808) 855-5574.
4. Ishihara Market
View this post on Instagram
Shoko Ishihara came from Japan in the early 1900s to work on Kauaʻi's Kekaha Sugar Mill. After finding success selling meat out of his truck on Kauaʻi's west side, Ishihara and his son, Charles, opened a meat market in 1934 on the same corner of the sugar mill. They moved the store to Waimea during World War II. Then, after Hurricane Iniki destroyed the place, the Ishihara family built a new market and reopened in 1996 with a larger team of employees. At the end of 2018, the family sold its operating assets to the locally owned Kalama Beach Corp., which kept the Ishihara name. Customers love the poke selections such as tako (octopus) poke and wasabi ʻahi, the ready-made-foods at the deli counter and the fast service. Open daily at 6 a.m., closing hours vary. 9894 Kaumualiʻi Highway, Waimea, (808) 338-1751.
5. Pono Market
View this post on Instagram
This humble market boasts reasonably priced poke bowls, plate lunches and daily specials. In addition to the ʻahi, tako, salmon and shrimp poke, customers rave about the crispy fried chicken, lau lau (pork wrapped in steamed taro leaves), Spam musubi and sushi selection. Open Monday to Saturday from 6 a.m. to 2 p.m. 4-1300 Kūhiō Highway, Kapaʻa, (808) 822-4581.