The 5 Best Shave Ice Stands on Maui in 2021
The best way to stay cool? A heaping cone of Hawaiian-style shave ice.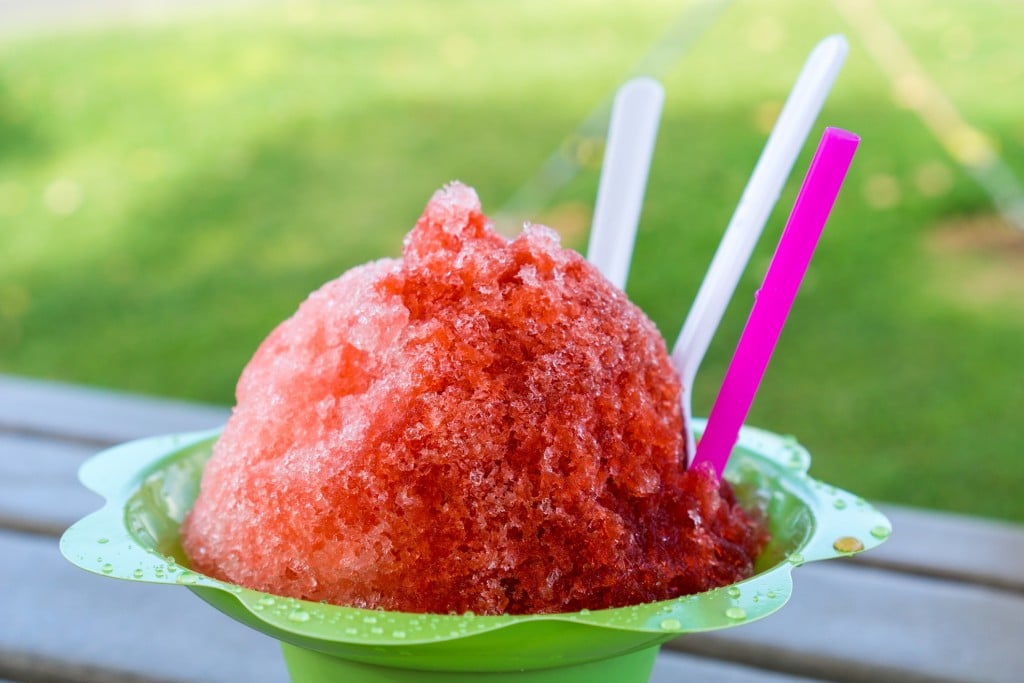 Shave ice—or ice shave as it's known on Hawaiʻi Island—is a staple treat here in the Hawaiʻi. Those powdery snowcones drenched with syrups in a smattering of flavors—strawberry, coconut, vanilla and more—all topped with condensed milk, fresh fruits and even mochi balls have become a go-to cure to hot summer days for visitors and locals alike. And every island, from Oʻahu to Kauaʻi, has got its own shave ice stands. Here are the five on Maui that our readers have voted on as their favorites.
1. Ululani's Hawaiian Shave Ice
View this post on Instagram
Opening its first location in Lahaina, Maui in 2008, Ulalani's Hawaiian Shave Ice has since grown to seven—seven!—locations across Maui, from Kahului to Kīhei and Pāʻia. With the slogan, "All shave ice is not created equal," Ululani takes pride in its specialty syrups, ultra-pure ice and gourmet add-ons. From vegan haupia cream to fresh mochi and li hing mui powder, it's easy to make your shave ice as personalized as you'd like, and with over 55 flavors—from mango to wedding cake—you can definitely find the cone that best fits your taste buds.
Multiple locations, (808) 877-3700, ululanishawaiianshaveice.com.
2. Local Boys Shave Ice Maui
View this post on Instagram
In Hawaiʻi, showing aloha is important. From holding the door open for someone or picking up trash at the beach, it's the small human efforts that give the Islands that warm, caring touch. And with Local Boys Shave Ice, they show aloha by providing a free extra, from Roselani ice cream to licorice, gummi bears and homemade azuki bean. Started by a local father-son duo, Local Boys also offers flavors made with real fruit, like papaya, pineapple and strawberry. Now that's what we'd call ʻono (delicious).
1941 S Kīhei Road, Kīhei, (808) 344-9779, localboysshaveice.com.
3. Halfway to Hāna
Always a welcome sight, Halfway to Hāna provides an excellent rest stop for travelers tired from the long, but beautiful, drive to Hāna. The stand has been up since 1982, located right at the mile marker 17 and just past the Keʻanae Arboretum, and sells a variety of snacks and meals to keep you going on your tropical road trip. And aside from its locally-famous banana bread, the shave ice sold here is—on its own—worth the drive. Choose from 13 tropical flavors and, if you're needing a little extra, get some shave ice on the bottom for a cool and refreshing treat.
13710 Hāna Highway, Haʻikū, (808) 248-7037, halfwaytohanamaui.com. 
4. Surfing Monkey Hawaiian Shave Ice
View this post on Instagram
After visiting Matsumoto Shave Ice on Oʻahu's North Shore for the first time, Surfing Monkey Shave Ice owner Paul Davies was inspired to provide that same level of deliciousness on his home island of Maui. And after over a decade, Davies opened Surfing Monkey Hawaiian Shave Ice in 2008, making his own all-natural flavors using fruit purées, including a coffee flavor made with 100% Kona coffee. With two shops now open—one in Kīhei and another in Wailea—the Surfing Monkey has become an island favorite, and differentiates itself from the competition by selling root beer floats, ice cream and providing the option to douse your shave ice in chocolate syrup, which you won't find at many other shave ice stands.
Multiple locations, (808) 359-9282, surfingmonkeyshaveice.com. 
5. Breakwall Shave Ice Co.
View this post on Instagram
It's a four-step process to perfection at Breakwall Shave Ice Co. Customers choose the size of their cone, from small to massive, add sweet add ons like ice cream, macadamia nuts, vanilla cookies or haupia, pick three flavors—with some of the most unique names you can think of, like Hello Kitty and Incredible Hulk—then top off their shave ice with a creamy cap of condensed milk, mouthwatering li hing mui powder or a strawberry lava drizzle. Adults can even make their shave ice a little tipsy by adding liquor to their cone, so don't make it taste too good or you may end up having one too many!
658 Front St. #104, Lahaina, (808) 661-4900, dthmaui.com.