The 64-year-old story of Kauai's Festival of Lights
Josie and Joe Chansky started the tradition in their Kapaa home.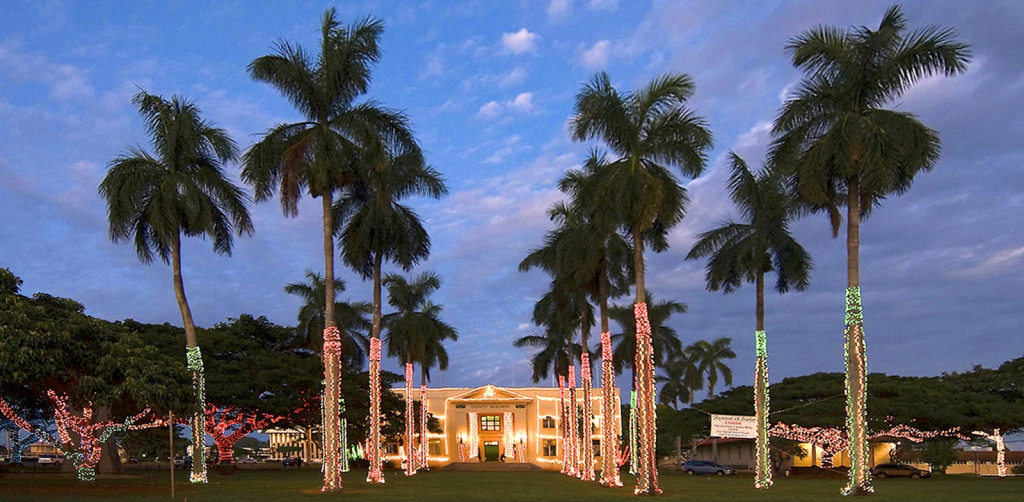 Since 1997, Kauai's Historic County Building illuminates from the inside out during the holidays for its Festival of Lights. And although the current display is a sight to see, the history of how the tradition started—in the front yard of a local resident's house in 1954—is a testament to holiday spirit and goodwill.
"I love lights," wrote Josie Chansky, locally known as Auntie Josie, in a letter dated June 8, 2000. Starting off small in 1954, Auntie Josie, and her husband, Joe, had strewn lights on their shrubs, trees and hedges. Thinking that the decorations looked nice, Auntie Josie decided to decorate the interior of her home with her own creations, made from recycled materials. "I used egg cartons, pine cones, flip top can rings, flash cubes, and beer and soda cans," the letter continues. "I made chandeliers with clothes hangers and a Christmas tree made of 7,000 green toothpicks."
Kauai residents were so wowed by Auntie Josie's infectious holiday spirit and crafty light displays that they nicknamed her place the Kapaa Christmas House. Soon after, the Chansky's began inviting people and families into their home to see the lights up close. Year after year, Auntie Josie and Joe added more and more decorations to their already glowing living room. As word spread, people began traveling to Kauai just to see the Christmas House, with one season seeing roughly 20,000 visitors walking through the Chansky's home.
In 1996, Joe passed away and Auntie Josie put up her decorations for sale. However, artist and designer Elizabeth Freeman didn't want to see the timeworn tradition go away. "I went to the garage sale. Spending $3,000, I bought everything I could." says Freeman. After calling the former mayor of Kauai, Maryanne Kusaka, Freeman was given the entire Historic County Building to display Auntie Josie's ornaments and lights.
Now, 64 years since Auntie Josie and husband Joe first decorated their yard, Kauai's Festival of Lights is shining brighter than ever. Freeman has continued the tradition, making sure that all new ornaments are constructed with recycled materials just like Auntie Josie's originals, which are still displayed. In November, Freeman also hosts a Santa's Workshop, where members of the community come together and help create ornaments for the festival. "They never disappoint," Freeman says. "I treat them like they are fabulous trained designers, and they always come through just like that."
Although Auntie Josie passed away in 2009, the holiday miracle she created lives on through the Kauai Festival of Lights. "I love to see the look of wonder on people's faces when they enter the Historic County Building and see the dazzling display," Freeman says. Thanks to the help of the community, this holiday tradition can continue to be passed down from generation to generation.
The Kauai Festival of Lights is open every Friday, Saturday and Sunday in December, from 6 to 8 p.m. Historic County Building, 4396 Rice St., Lihue, (808) 639-8564, kauaifestivaloflights.com.