The Banyan Bunch
The row of banyan trees planted by local, state and national celebrities has come to be known as Hilo's Living Hall of Fame.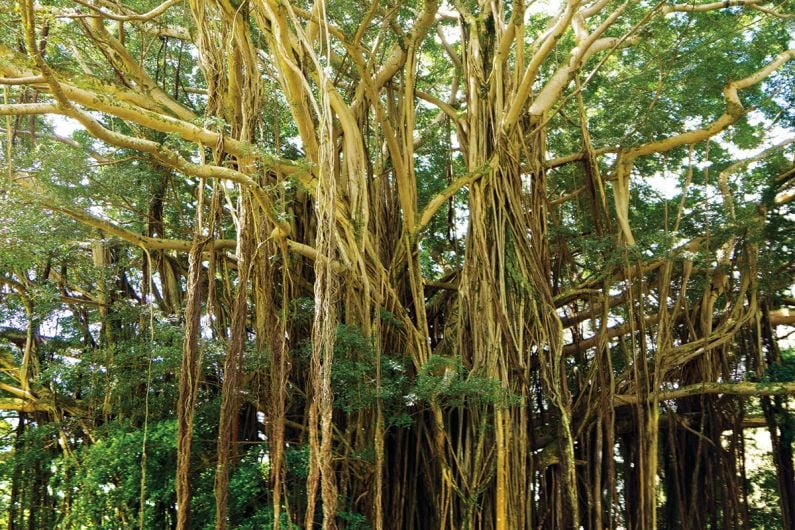 On the southeast coast of Hilo Bay, the Waiakea Peninsula is home to 50 banyan trees along Banyan Drive, near Liliuokalani Gardens and Hilo's most popular hotels, the Grand Naniloa and the Hilo Hawaiian. In an attempt to beautify the waterfront, the banyan trees were planted by local, state and national celebrities in the early to mid-20th century, and has come to be known as Hilo's Living Hall of Fame.
The first set of trees was planted by director Cecil B. DeMille and his cast of movie stars in October 1933, while filming "Four Frightened People," and the last tree was planted in 1964 by Big Island politician Helene Hale, who was the first woman to hold an executive position in Hawaii government. Other notable planters include Hawaii volcanologist Dr. T.A. Jaggar; president and founder of the Filipino Federation of America, Dr. Hilario C. Moncado; and Presidents Franklin D. Roosevelt and Richard Nixon.
"There are so many characters down there that once I started reading about them, I couldn't stop until I found out about them all," says Jane Hoff, author of The Trees of Banyan Drive, an easy-to-read guide to locating the trees with short bios about the people who planted them.
"Roosevelt definitely came and planted the tree and that's the reason that Banyan Drive was cleared as a road, because he couldn't walk. … He got his cars as close as he could to the area," says Hoff. "Nixon's is a different story. He came and planted a tree right when he was running as Eisenhower's vice president, but then that tree got knocked down by a loose cabin cruiser in a tsunami. Pat, Nixon's wife, came back and planted another tree for him and one for herself, but Watergate happened and people were so angry at him that they began to abuse the tree [with his name on it]." The original sign that lets visitors know who planted the banyan was taken down, "and some people believe the tree was either killed, moved or a cow ate it." There are a lot of stories about what happened to Nixon's tree, but Hoff believes the tree that currently has his name on it was planted by his wife.
The mysteries surrounding a few missing signs and trees (which also include trumpeter Louis Armstrong's and radio and TV personality Arthur Godfrey's) add to the intrigue, but the stories behind all of the planters is what makes exploring Banyan Drive a fascinating stroll.
Copies of The Trees of Banyan Drive are available at Basically Books in Hilo and on Amazon.