The Beloved Hau Tree Restaurant on Oʻahu Gets a New Look and Menu
The best part of this oceanfront restaurant in Waikīkī—the view—remains unchanged.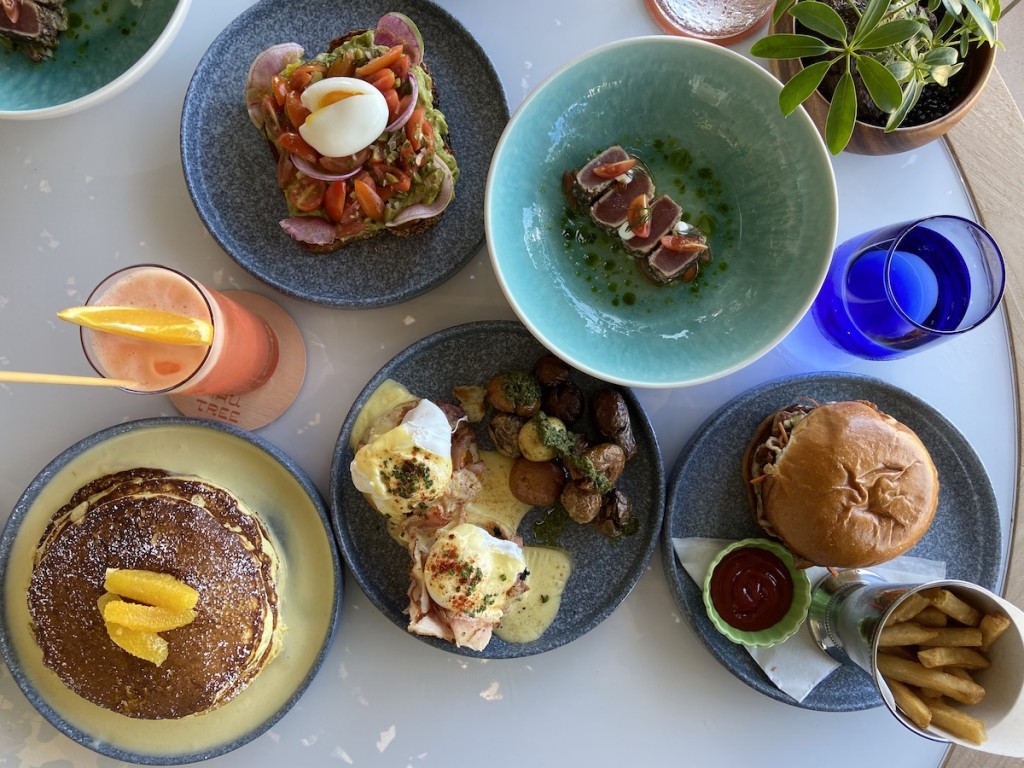 It was called the Hau Tree Lānai when I was growing up, an open-air, oceanfront restaurant right on Kaimana Beach in Waikīkī.
It was the spot for bridal showers and brunch with friends.
And because of its location—on the ground floor of the iconic New Otani Kaimana Beach Hotel—many visitors to Oʻahu have fond memories of the restaurant, too. (Remember those pink tablecloths?)
In December the hotel was sold to Hawaiʻi-based BlackSands Capital. Its named changed to simply Kaimana Beach Hotel and the 122-room hotel and signature restaurant got a much-needed refresh. (The hotel rooms were extensively renovated in 2018.
But it's the new vibe of the restaurant, now run by James Beard-nominated chef Chris Kajioka, that has people talking.
Or, eating.
Kajioka, who grew up on Oʻahu and runs some of the state's top restaurants, was excited about updating the beloved restaurant.
"This place is meaningful to a lot of people," says Kajioka, who also operates Senia, Miro Kaimukī and Papa Kurt's all on Oʻahu and The Restaurant at Hotel Wailea on Maui. "That's why it intrigued me so much."
The restaurant currently serves brunch and dinner every day. Dinner features a range of dishes, from baked oysters with a house-made herb butter to seared Maine scallops with pickled grapes to the popular Kurobuta pork chops with a black-garlic-honey glaze.
But the buzz is brunch.
The morning menu boasts creative cocktails, sweet treats and savory plates showcasing local ingredients and flavors. Some highlights include the ʻahi burger stopped with Asian slaw and spicy aioli, fluffy lemon ricotta pancakes with house-made lemon curd and fresh oysters on the half shell with yuzu-kosho mignonette.
The star—at least to me—is the avocado toast.
What? Avocado toast? That's so Millennial!
I've had my share of avo toasts. Boring. But not this one. Kajioka uses a thick slice of semolina bread from Kaimukī-based Breadshop, grilled and slathered with tomato jam and smashed avocado, fresh tomatoes and sliced radishes. (Get the soft-boiled egg on top.) So many dimensions to it. Out of all the plates crowding our table, I ate this one in its entirety.
"The tomato jam is what really elevates it," Kajioka says.
Most folks who have eaten at the old Hau Tree Lānai may remember its popular eggs Benedict. Good news: It's still on the menu—only better.
Kajioka's version features a locally made English muffin, ham and two poached eggs topped with a tarragon béarnaise and paired with super delicious crispy potatoes. It's still the most popular dish on the brunch menu.
Brunch also features specialty cocktails crafted by local mixologist Jen Ackrill: the refreshing Garibaldi with Campari and orange and grapefruit juices, the Island Mimosa with sparkling wine and tropical juices, and the Buena Vista Irish Coffee that features Kona coffee. All perfectly sipped with an ocean view.
Kajioka is planning to unveil more dishes soon, particularly for lunch. Think salads, sandwiches and pasta.
Not that he really needs to. I would be perfectly happy with avocado toast and a mimosa.
And that view.
Kaimana Beach Hotel, 2863 Kalākaua Ave., (808) 921-7066, kaimana.com/dining