The Beloved Musubi Finally Gets a Cookbook of its Own
It features more than 80 variations of the iconic snack.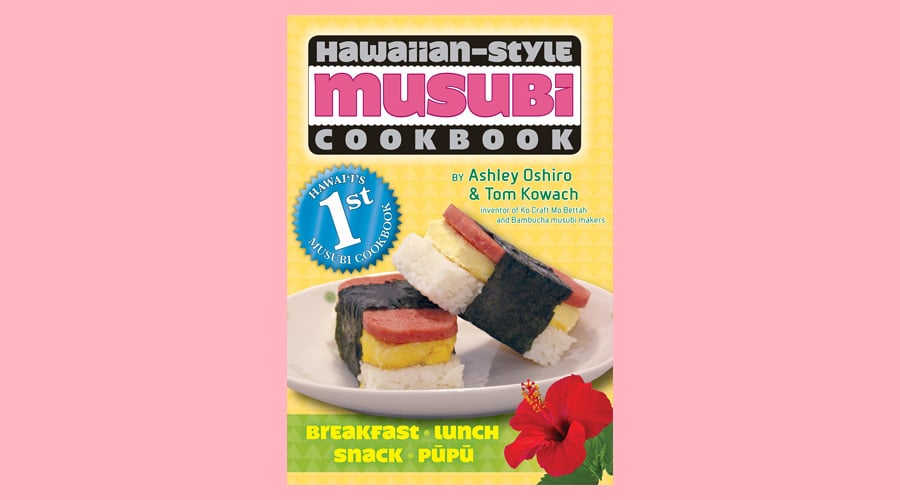 A musubi—traditionally Spam on a fitted, rectangular bed of rice and wrapped with a piece of nori (seaweed)—is found in grocery stores, gas stations and snack stands all around the Islands. Of course, any Hawaii resident knows there are other possible musubi combinations, such as, the also popular, hot dog or chicken katsu musubis. But, now you can take your love for musubi even further.
Last November, Ashley Oshiro and her husband Tom Kowach published the "Hawaiian-Style Musubi Cookbook," the very first cookbook of its kind devoted solely to everything musubi.
Originally from the island of Kauai, Oshiro brought her love of musubi with her to Southern California, where it gained popularity around them in the form of PTA meetings and school bake sales. To fill this popular demand, Kowach invented the Mo Bettah Musubi Maker, an acrylic or stainless-steel mold that uses a hand press to mold up to nine musubi at a time.
The inspiration for the book followed, when they realized that there was such a lack of actual musubi recipes out there. In their book,  Kowach and Oshiro have included a huge assortment of musubi templates ranging from the familiar Spam musubi to exciting new wave creations, such as the macadamia nut musubi and the loco moco musubi.
Both the "Hawaiian-Style Musubi Cookbook" ($13.95) and the Mo Bettah Musubi Maker (starting from $34.99) are available for purchase on their website, musubimaker.com.
Recipe: Cheese Burger Musubi
Serves 9
Ingredients
3 cups rice
1 pound ground beef (< 20 percent fat)
Salty Wahine's Guava Garlic Salt, to taste
Black pepper
9 slices American cheese
9 sheets nori cut in half
Ketchup
Directions
Prepare rice in rice cooker according to instructions.
Make nine bars of ground meat, season with Guava Garlic Salt and black pepper and cook thoroughly.
At the final stage of cooking, fold a slice of American cheese in half and place on burger.
Assemble the musubi by adding a layer of rice to the bottom of a musubi maker and flatten with press. Add the burger with cheese, and finally a top layer of rice. Press to flatten; remove from mold.
Wrap the prepared musubi block in a sheet of nori.
Seal the edge of the nori with a small amount of water.
Serve warm or at room temperature.
Ketchup can be used as a dipping sauce.
Notes
If you do not have a musubi mold, you may use a piece of plastic wrap and shape with your hands.
If you do not have Salty Wahine's Guava Garlic Salt, substitute with garlic salt.
To size the hamburger, you can roll out the hamburger in a 1/4- to 3/8-inch patty, then place a can of Spam on the meat to mark an outline to cut with a knife.
It is helpful to only partially melt the cheese. Over-melted cheese will stick to the mold during assembly.
Musubi Making Tips and Tricks
Musubi magic all begins with the rice. In order to keep a musubi together, you'll need to use a sticky kind of rice. Sushi rice (Japanese-style short grain) is pretty typical, but Calrose medium grain does the job just as well.
If you're making a Spam musubi, it takes about three cups of rice to go with one whole can of Spam. Simply cook your rice as directed. When choosing your nori (seaweed) the best pick would be unseasoned, toasted sheets. One sheet of nori makes two regular sized musubi. To cover the whole thing cut the sheet in half. If you want to display your ingredients, cut it into fourths (about 2 inches) and wrap it around the middle.
The best time to mold your musubi is when the rice is still hot or warm. Make sure your musubi mold or your hands are wet so the rice doesn't stick to them. If you're using your hands, you can also use a piece of plastic wrap to keep your hands clean.