The Best Bakeries on Hawaiʻi Island in 2023
Here are the winners for the best bakeries on Hawaiʻi Island from our 2023 Readers' Choice Awards.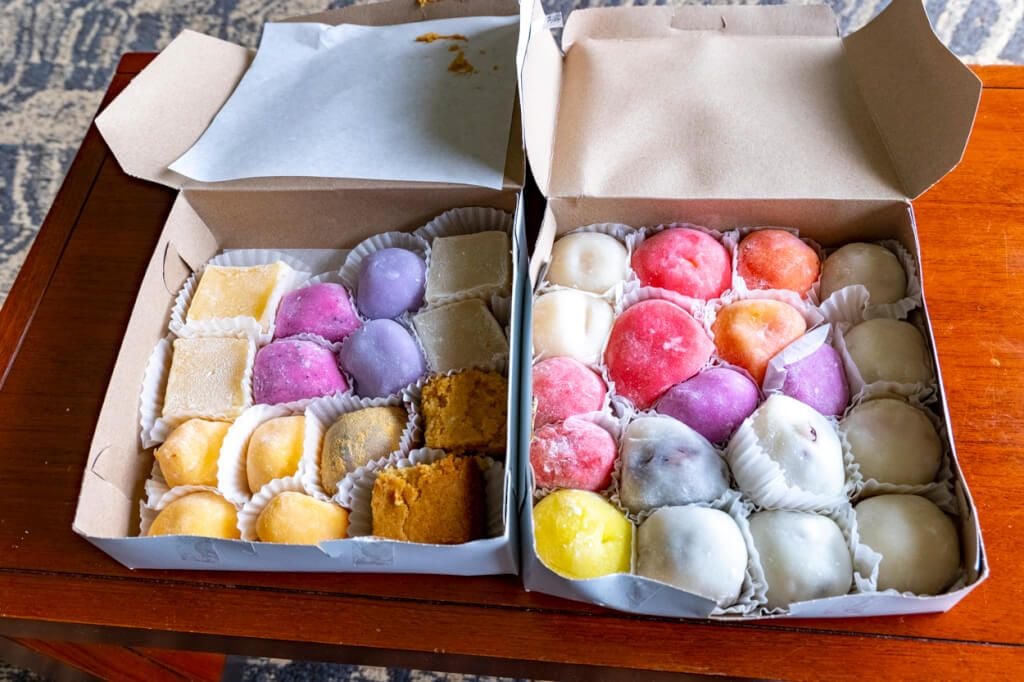 Satisfy your sweet tooth at these famous bakeries that make decadent treats on Hawaiʻi Island. From soft mochi to piping hot malasada, here's how HAWAIʻI Magazine's readers ranked the best bakeries they've enjoyed in 2023.
Punaluʻu Bake Shop
Located in Nā'ālehu, this bakery was once located inside a restaurant where it became famous for its heavenly sweet bread that hails from a secret family recipe. Today, you can enjoy goodies such as taro sweet bread, dinner rolls, pineapple fruit cake and macadamia nut shortbread cookies.
Highway 11, Nā'ālehu, (808) 929-7343, bakeshophawaii.com
Two Ladies Kitchen
It's practically an unspoken rule: locals know if they visit Hawaiʻi Island, they gotta bring home mochi from Two Ladies as omiyage (gifts)! This tiny shop in the heart of downtown Hilo is famous for its handmade mochi. Their most popular order is the strawberry mochi—a whole strawberry tucked into soft handmade mochi together with decadent sweet azuki bean. They are in popular demand, so be sure to pre-order online or via phone. Along with mochi, they also offer manju, which are sweet Japanese pastry.
274 Kīlauea Ave., Hilo, (808) 961-4766, @twoladieskitchen
Tex Drive-In
Tex Drive-In in Honoka'a makes fresh malasada (Portuguese fried doughnuts) every day. Folks can come by and watch staff making these malasadas by hand. Fillings include guava, mango, pineapple, chocolate and Bavarian cream. Besides malasada, this eatery also offers bowls of saimin, loco moco and a mean grilled mahi mahi plate.
45-690 Pakalana St., Honoka'a, (808) 775-0598, texdriveinhawaii.com
Short N Sweet Bakery & Café
View this post on Instagram
Family-owned business Short N Sweet Bakery & Café in downtown Hilo made waves for its fresh pastries, custom cakes and unique desserts. You may recognize Maria Short, owner and pastry chef, as a former contestant on season six of Food Network's "Holiday Baking Championship." Short's handcrafted macarons, Kohala crunch bars and liliko'i (passionfruit) cheesecake are exquisitely made and worth a return visit to Hawai'i Island.
374 Kinoʻole St., Hilo, (808) 935-4446, shortnsweet.biz
Island Lava Java
Inside the restaurant Island Lava Java, there's an on-site bakery famous for making giant cinnamon rolls fresh daily. They also make muffins, pastries, bread and even pizza dough. The restaurant's breakfast menu doesn't miss—try their eggs benedict, French toast or the waffles. The luau scramble with eggs, Kalua pork and pineapple is another popular meal.
75-5801 Aliʻi Drive, Bldg 1, Kailua Kona, (808) 327-2161
68-1845 Waikoloa Rd., Waikoloa, (808) 329-4668, @islandlavajava
See all of the winners of our 2023 Readers' Choice Awards in our latest issue, which you can buy here. Better yet, subscribe and get HAWAIʻI Magazine delivered to right to your mailbox.