The best boutique hotels in Hawaii
In our 2017 Readers' Choice Awards, travelers weighed in on their favorite stays at boutiques on three islands: Oahu, Maui and Kauai.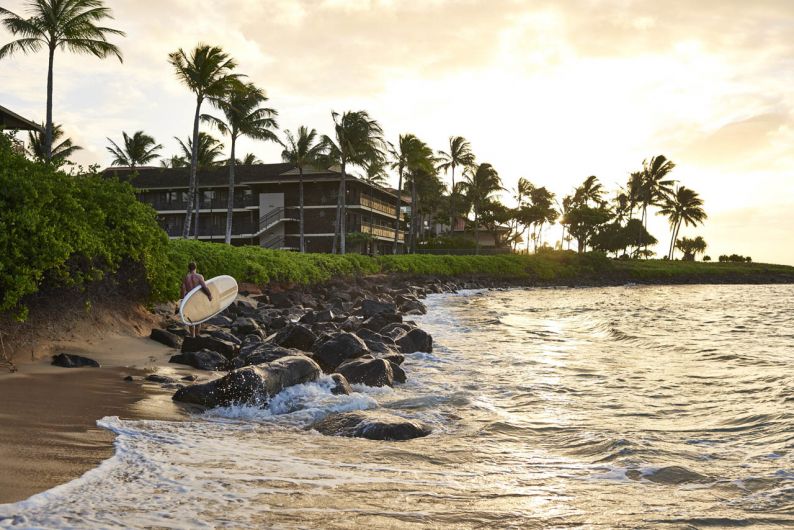 Not every vacation has to be at a large, multi-wing hotel with over-the-top amenities (though we do understand those can be fun, too.) Sometimes nights away means wanting to stay at a more intimate and quiet getaway with less people around and more personalized service. Boutique hotels, in many instances, give these unique experiences. Whether they're luxury or hidden budget oases, themed destinations in the city or just incredibly stylish, there are quite a few to choose from in Hawaii to truly get away from it all.
In our 2017 Readers' Choice Awards, here's how you ranked your favorite boutique hotels.
Oahu
1.   The Modern Honolulu
Waikiki • A full-service lifestyle hotel with a great atmosphere, The Modern lives up to its name with sleek, fresh décor, comfortable rooms and a host of custom, artistic touches, like the modern surfboard art hanging behind the check-in counter, hand-painted wall coverings and bright sarongs hanging in each guest room. The property, tucked away at the edge of Waikiki near the Ala Wai Boat Harbor (a stunning vista during sunset, trust us), is one of the only boutiques on this list to also operate a nightclub, Addiction.
Some of its most surprising design features? A library wall of books that rotates to reveal a lobby bar called The Study and two gorgeous pools overlooking popular south shore surf breaks and the marina.
1775 Ala Moana Blvd., Waikiki, (808) 943-5800, themodernhonolulu.com
2. The Royal Hawaiian (2259 Kalakaua Ave., Waikiki, (808) 923-7311, royal-hawaiian.com)
3. The Surfjack Hotel & Swim Club (412 Lewers St., Waikiki, (808) 923-8882, surfjack.com)
4. Halekulani (2199 Kalia Rd., Waikiki, (808) 923-2311, halekulani.com)
5.  Moana Surfrider (2365 Kalakaua Ave., Waikiki,  (808) 922-3111, moana-surfrider.com)
Maui
1.         Andaz Maui at Wailea Resort
Wailea • Readers love the Andaz's outdoor infinity pools, spacious guestrooms and luxury villas. From the moment they step out of their cars at valet and are led through its distinctive walkway to the lobby, guests know immediately they've found a modern oasis on Maui. Unique personalized touches like sunset yoga sessions, a gourmet breakfast spread every morning at Kaana Kitchen and a personable staff make this boutique, opened in 2013, an outstanding favorite. The 15-acre beachfront hotel's perch atop the perfect white sands and clear blue water of popular Wailea Beach just adds to the appeal of this beautiful property, the only Andaz by Hyatt in Hawaii.
550 Wailea Alanui Dr.,  (808) 573-1234, maui.andaz.hyatt.com
2. Kaanapali Beach Hotel (2525 Kaanapali Pkwy., Lahaina, (808) 661-0011, kbhmaui.com)
3. Travaasa Hana (5031 Hana Hwy., Hana, (808) 359-2401, http://travaasa.com/hana)
4. Paia Inn (93 Hana Hwy., Paia, (808) 579-6000, paiainn.com)
5. Napili Kai Beach Resort (5900 Lower Honoapiilani Rd., Lahaina, (808) 669-6271,  napilikai.com)
Kauai
1.         Koa Kea Hotel & Resort at Poipu Beach
Poipu • With great views of the ocean and sunsets, this small (only 121 rooms), semi-secluded getaway on picturesque Poipu Beach holds its own against the larger brand-name resorts nearby. It offers an urban-chic, intimate experience with an attentive, welcoming staff that will call you by name and offer more personalized service than you'd get elsewhere. There are private lanai (balconies) attached to every room, high-speed internet, a lagoon-style saltwater swimming pool and first-rate food at the only on-site restaurant, Red Salt—named as a homage to the red-colored salt harvested on Kauai. Fresh sushi and sashimi are served with a side of sake in the Red Salt Lounge Tuesday through Saturday. With all these things going for it, it's no wonder that Koa Kea is your favorite exclusive-but-unpretentious getaway on Kauai.
251 Poipu Rd., Koloa, (844) 236-3817,  meritagecollection.com/koakea
2. Hotel Coral Reef (4-1516 Kuhio Hwy., Kapaa, (808) 822-4481,  hotelcoralreefresort.com)
3. Garden Island Inn (3445 Wilcox Rd., Lihue,  (808) 245-7227, gardenislandinn.com)
4. Hanalei Bay Resort (5380 Honoiki Rd., Princeville, (808) 826-6522, hanaleibayresort.com)
5. Waimea Plantation Cottages (9400 Kaumualii Hwy., Waimea,  (808) 338-1625, coasthotels.com/hotels/hawaii/waimea/waimea-plantation-cottages)