The best national or state park in Hawaii
After exploring these natural gems, you voted for your favorites in our 2017 Readers' Choice Awards.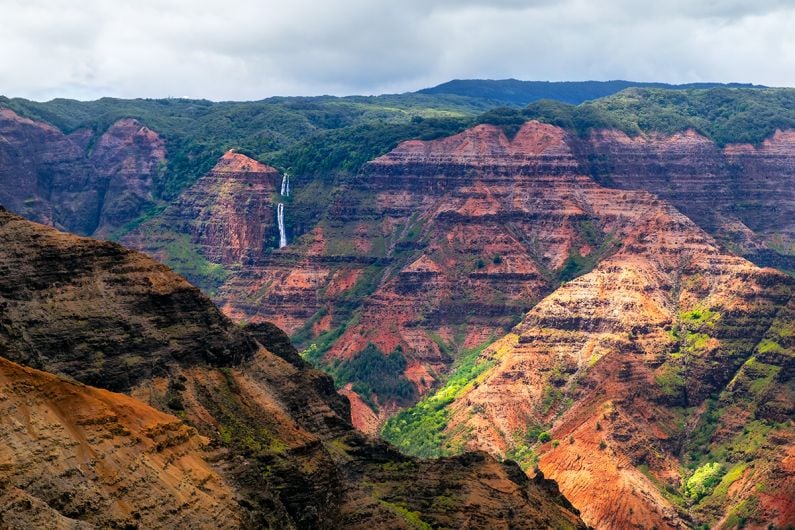 Black-sand beaches, breathtaking canyons, awe-inspiring volcanoes, lush rain forests—there's so much beauty across the Islands it's hard to pick a favorite place. Fortunately, the national and state parks system has designated and protected some of the most stunning of Hawaii's natural wonders. Between Hawaii Island, Maui, Molokai, Oahu and Kauai, there are eight national parks and 50 state parks. Here are the five you ranked as the best in 2017.
1. Waimea Canyon State Park, Kauai
If the view from the top of Waimea Canyon Road isn't enough to make you gasp in wonder, we don't know what will. The Grand Canyon of the Pacific, a deep, colorful gorge with alternating bands of green and red, is accented by waterfalls, a riverbed, frequent rainbows and hiking trails. It has some of the most dramatic views of all Hawaii's parks, which is probably why it was ranked at No. 1.
2. Waianapanapa State Park, Maui
The exotic appeal of a black-sand beach doesn't fully sink in until you're standing on it, digging your toes into the sparkling dark grains and marveling as you let it run through your fingers. While the black-sand beach at Waianapanapa is what this park is best known for, don't forget the stunning coastline with its jagged black lava rocks, natural sea arches, vibrant turquoise waters, freshwater caves, native hala forests and Hawaiian ruins, all easily marveled at from the Kipapa O Kihapiilani Trail.
3. Hawaii Volcanoes National Park, Hawaii Island
A must-visit destination on Hawaii Island, this 323,000-acre's diverse landscape is Hawaii's largest national park, and is home to Kilauea volcano, Thurston Lava Tube, Haakulamanu Sulfur Banks and the impressive, glowing Halemaumau Crater. Plus, it's the only place in the United States where you can view active lava.

4. Diamond Head State Monument, Oahu
Perhaps the most easily distinguished of all Hawaii's natural landmarks, Diamond Head, or Leahi (named in Hawaiiian after its resemblance to the dorsal fin of a tuna fish), is a monolithic 300,000-year-old extinct volcanic crater. The accessible 1.6-mile jaunt up the famous summit is the state's most popular trail, offering a stunning bird's-eye view of Waikiki, Honolulu and West Oahu.
5. Haleakala National Park, Maui
From the top of Maui's highest peak, you'll find breathtaking views of three neighbor islands on a clear day, as well as spectacular sunrises (so popular you have to make a reservation to watch them) and sunsets. The park encompasses nearly 30,000 acres of public land across Maui's southern and eastern coast areas, and is home to numerous hiking trails over incredibly diverse microclimates, ranging from volcanic cinder cones to cloud forests lush with native ferns.