The best restaurants in Hawaii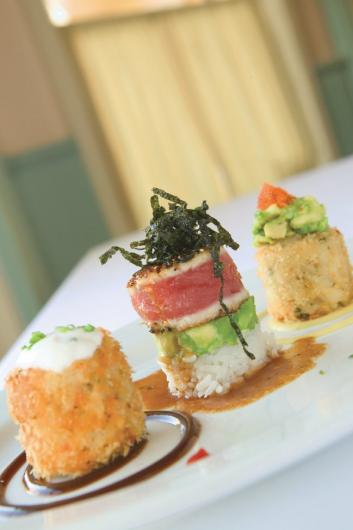 We get a lot of reader e-mails asking for our personal recommendations on the best places to eat in the Islands.
Where would we go for dinner if we were staying near Kamuela on the Big Island? What's our favorite Honolulu neighborhood eatery with a great menu and affordable prices? Do we think Alan Wong's Restaurant is really as good as people say it is?
We always direct them to the same source: our sister publication Honolulu Magazine's annual Hale Aina Award list.
Hale Aina is Hawaiian for "eating place." Each year, Honolulu asks its readers to vote on the best restaurants on all the Islands. They've been doing the list for the past 25 years; it's pretty comprehensive—categories include everything from best little restaurant you love and best bar to best hotel restaurant and best place for visitors.
The 2009 list of Hale Aina award-winning restaurants in 25 categories was published in Honolulu's January issue. HAWAII Magazine editor John Heckathorn—who had a hand in launching the first-ever Hale Aina Awards and a couple decades worth of 'em thereafter—writes about the awards in the January issues of HAWAII and Honolulu.
But we assume what you want right now is the actual list. So here it is … the 2009 Hale Aina Award winners (with links to Web sites, if they've got one).
Oh, and the picture above? That's The Cake Walk appetizer—a Kona lobster crab cake, seared ahi cake and sweet Louisiana rock shrimp cake—from Hale Aina Award winner Lahaina Grill.
Bon appetit!
BEST OAHU RESTAURANT
GOLD
Roy's Restaurant
6600 Kalanianaole Highway
(808) 396-7697

SILVER
Le Bistro
5730 Kalanianaole Highway, Hawaii Kai
(808) 373-7990
BRONZE
Hoku's
The Kahala Hotel and Resort
5000 Kahala Ave.
(808) 739-8780
FINALISTS
Chef Mavro
(808) 944-4714
Nobu Waikiki
(808) 237-6999
BEST NEW NEIGHBOR ISLAND RESTAURANT
GOLD
Merriman's Kapalua
1 Bay Club Place
Kapalua, Maui
(808) 669-6400
SILVER
Sansei Waikoloa
69-201 Waikoloa Beach Drive #H
Waikoloa, Big Island
(808) 886-6286
BRONZE
Mala Wailea
3700 Wailea Alanui Drive
Kihei, Maui
(808) 875-9394
FINALISTS
Lanai City Grille
(808) 565-7211
The Melting Pot of Lahaina
(808) 661-6181
BEST WINE PROGRAM
GOLD
Formaggio Wine Bar
2919 Kapiolani Blvd.
(808) 739-7719
SILVER
Vino
500 Ala Moana Blvd., Suite 6D-1
(808) 524-8466
BRONZE
Chef Mavro
1969 S. King St.
(808) 944-4714
FINALISTS
Amuse
(808) 237-5428
Lahaina Grill
(808) 667-5117
BEST BAR
GOLD
Mai Tai Bar
Ala Moana Center, 1450 Ala Moana Blvd., Third Level
(808) 947-2900
SILVER
Ryan's Grill
1200 Ala Moana Blvd.
(808) 591-9132
BRONZE
Duke's Waikiki
2335 Kalakaua Ave. #116
(808) 922-2268

FINALISTS
Side Street Inn
(808) 591-0253
RumFire
(808) 922-4422
BEST PLACE TO TAKE VISITORS
GOLD
Duke's Waikiki
2335 Kalakaua Ave. #116
(808) 922-2268
SILVER
Hau Tree Lanai
Address: 2863 Kalakaua Ave.
(808) 921-7066
BRONZE
Roy's Restaurant
6600 Kalanianaole Highway
(808) 396-7697
FINALISTS
Alan Wong's
(808) 949-2526
Chai's Island Bistro
(808) 585-0011
BEST ROMANTIC DINING
GOLD
Michel's
2895 Kalakaua Ave.
(808) 923-6552
SILVER
La Mer
Halekulani Hotel
2199 Kalia Road
(808) 923-2311
BRONZE
Hoku's
The Kahala Hotel and Resort
5000 Kahala Ave.
(808) 739-8780
FINALISTS
Aaron's
(808) 955-4466
Hy's Steakhouse
(808) 922-5555
BEST BISTRO/NEW AMERICAN CUISINE
GOLD
Le Bistro
5730 Kalanianaole Highway
(808) 373-7990
SILVER
Town
3435 Waialae Ave.
(808) 735-5900
BRONZE
Chai's Island Bistro
1 Aloha Tower Market Place
(808) 585-0011
FINALISTS
Lahaina Grill
(808) 667-5117
12th Ave. Grill
(808) 732-9469
BEST CHINESE RESTAURANT
GOLD
Little Village Noodle House
1113 Smith St.
(808) 545-3008
SILVER
Fook Yuen Chinese Seafood Restaurant
1960 Kapiolani Blvd., Suite 200
(808) 973-0168
BRONZE
PF Chang's China Bistro
1288 Ala Moana Blvd.
(808) 596-4710
FINALISTS
Pah Ke's
(808) 235-4505
Legend Seafood Restaurant
Beretania (808) 532-1868 or Waikiki Trade Center (808) 926-8999
BEST HAWAIIAN RESTAURANT
GOLD
Ono Hawaiian Foods
726 Kapahulu Ave.
(808) 737-2275
SILVER
Highway Inn
94-226 Leoku St., Waipahu
(808) 677-4345
BRONZE
Helena's Hawaiian Food
1240 N. School St.
(808) 845-8044
FINALISTS
The Willows
(808) 952-9200
Young's Fish Market
(808) 841-4885
BEST ITALIAN RESTAURANT
GOLD
Assaggio's
1450 Ala Moana Blvd., #1259
(808) 942-3446
SILVER
Romano's Macaroni Grill
1450 Ala Moana Blvd. #4240
Ala Moana Center, Hookipa Terrace
(808) 356-8300
BRONZE
Paesano
2752 Woodlawn Drive
(808) 988-5923
FINALISTS
Auntie Pasto's
(808) 523-8855
Café Sistina
(808) 596-0061
BEST JAPANESE RESTAURANT
GOLD
Tanaka of Tokyo
1450 Ala Moana Blvd.
Ala Moana Center, Hookipa Terrace
(808) 945-3443
SILVER
Gyotaku Japanese Restaurant
1824 S. King St.
(808) 949-4584
BRONZE
Nobu Waikiki
2233 Helumoa Road
(808) 237-6999
FINALISTS
Yanagi Sushi
(808) 597-1525
Hakone
(808) 944-4494
BEST THAI RESTAURANT
GOLD
Phuket Thai Restaurant
1960 Kapiolani Blvd., Suite 109
(808) 942-8194
SILVER
Keo's in Waikiki
2028 Kuhio Ave.
(808) 951-9355
BRONZE
Mekong II
1726 S. King St.
(808) 941-6184
FINALISTS
Champa Thai
(808) 488-2881, multiple locations
Chiang Mai
(808) 941-1151
BEST SPICY
GOLD
Sorabol
805 Keeaumoku St.
(808) 947-3113
SILVER
Phuket Thai Restaurant
1960 Kapiolani Blvd., Suite 109
(808) 942-8194
BRONZE
Spices
2671 S. King St., Suite D
(808) 949-2679
FINALISTS
Cafe Maharani Indian Restaurant
(808) 951-7447
Green Door Café
(808) 533-0606
BEST DESSERTS
GOLD
Cheesecake Factory
2301 Kalakaua Ave.
(808) 924-5001
SILVER
JJ's Bistro & French Pastry
3447 Waialae Ave.
(808) 739-0993
BRONZE
Roy's Restaurant
6600 Kalanianaole Highway
(808) 396-7697
FINALISTS
Alan Wong's Restaurant
(808) 949-2526
Cafe Laufer
(808) 735-7717
BEST RESTAURANT FOR 
A BIG GROUP
GOLD
Buca di Beppo
Ward Centre
1030 Auahi St.
(808) 591-0880
SILVER
The Willows
901 Hausten St.
(808) 952-9200
BRONZE
Prince Court
Hawaii Prince Hotel Waikiki
100 Holomoana St.
(808) 944-4494
FINALISTS
Sam Choy's
(808) 545-7979

Mediterranean Gourmet
(808) 826-9875
BEST RESTAURANT FOR 
BUSINESS LUNCH
GOLD
Mariposa
1450 Ala Moana Blvd., #2101
(808) 951-3420
SILVER
Pineapple Room
1450 Ala Moana Blvd.
Macy's, third floor
(808) 945-6573
BRONZE
Downtown @ HiSAM
Hawaii State Art Museum
250 S. Hotel St.
(808) 536-5900
FINALISTS
Kincaid's
(808) 591-2005
Indigo Eurasian Restaurant & Bar
(808) 521-2900
BEST BRUNCH
GOLD
Orchids
Halekulani Hotel
2199 Kalia Road
(808) 923-2311
SILVER
Prince Court
Hawaii Prince Hotel Waikiki
100 Holomoana St.
(808) 944-4494
BRONZE
Hoku's
The Kahala Hotel and Resort
5000 Kahala Ave.
(808) 739-8780
FINALISTS
Plumeria Beach House
(808) 739-8780
Mariposa
(808) 951-3420
BEST AMBIENCE
GOLD
Michel's
2895 Kalakaua Ave.
(808) 923-6552
SILVER
Orchids
Halekulani Hotel
2199 Kalia Road
(808) 923-2311
BRONZE
Hy's Steakhouse
2440 Kuhio Ave.
(808) 922-5555
FINALISTS
La Mer
(808) 923-2311
Chef Mavro
(808) 944-4714
BEST SERVICE
GOLD
Alan Wong's Restaurant
1857 S. King St., Third Floor
(808) 949-2526
SILVER
La Mer
Halekulani Hotel
2199 Kalia Road
(808) 923-2311
BRONZE
Chef Mavro
1969 S. King St.
(808) 944-4714
FINALISTS
Hoku's
(808) 739-8780
Ruth's Chris Steak House
(808) 599-3860
BEST LITTLE RESTAURANT YOU LOVE
GOLD
Le Bistro
5730 Kalanaianaole Highway, Hawaii Kai
(808) 373-7990
SILVER
Little Village Noodle House
1113 Smith St.
(808) 545-3008
BRONZE
Town
3435 Waialae Ave.
(808) 735-5900
FINALISTS
Olive Tree Café
(808)737-0303

Baci Bistro
(808) 262-7555


BEST HOTEL RESTAURANT
GOLD

Hoku's
The Kahala Hotel and Resort
5000 Kahala Ave.

(808) 739-8780
SILVER

La Mer

Halekulani Hotel

2199 Kalia Road

(808) 923-2311
BRONZE

Orchids

Halekulani Hotel

2199 Kalia Rd.

(808) 923-2311
FINALISTS

Mac 24/7
(808) 921-5564

Nobu Waikiki
(808) 237-6999