The Classic Hawaiian Restaurant that has a James Beard Award and a 'Bill Murray' Table
Here are all the reasons you should visit Helena's Hawaiian Food on Oʻahu.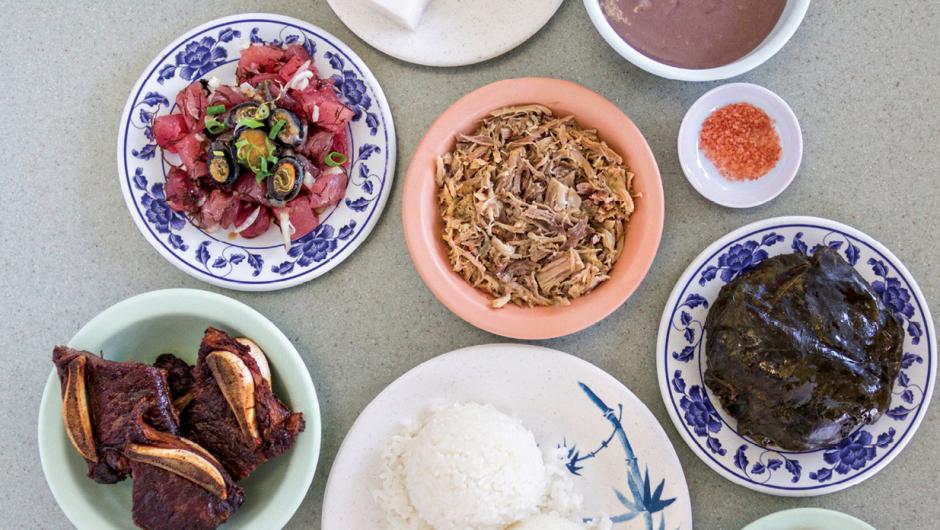 Helena's Hawaiian Food doesn't open for another hour, but the kitchen, at 9 a.m., is already bustling with activity.
Just beneath 250 pounds of its famous pipikaula (salted dried beef), hanging in long strips above the stoves, a pair of chefs stir massive aluminum stockpots filled with bubbling beef stew, squid lū'au, chicken long rice and more. The aromas are incredible: a wave of sweet and smoky beef, a bouquet of ginger, garlic and fresh fish, all washing over me. Behind the counter where hundreds of residents and visitors will queue up to order their favorite Helena's eats today, the cashier takes a break from readying Styrofoam cups at the soda fountain to cut pans of haupia into a grid of squares with a long knife. On a stainless steel table by the industrial fridge near the back, owner Craig Katsuyoshi preps fresh opihi (limpets) for the lunch crowd, the local delicacy filling a 3-gallon tub.
"This is the Bill Murray table," says Katsuyoshi, pointing toward a metal prep table in the back of the kitchen. "When Bill came to Helena's, we put him here. Sometimes when we get celebrities coming in for food, we offer them a seat back here so they can eat in peace. Then afterward, they go out and say hello to the customers if they like, and do their thing."
Helena's Hawaiian Food has long welcomed one and all. In many ways, the beloved nearly 70-year-old Kalihi restaurant is something of a celebrity in its own right, drawing diners from Hawai'i and around the world for its flavorful cuisine. Adorning the walls inside Helena's humble interiors are framed family photos, commendation plaques, artwork honoring the restaurant, newspaper clippings and magazine articles praising the menu, and numerous other awards.
The restaurant received its arguably most prominent honor, however, in 2000, when Helena's won an "American Classic" award for regional restaurants from the James Beard Foundation, then only the third Hawai'i restaurant to receive an award from the prestigious culinary organization. The little Kalihi neighborhood restaurant that every Honolulu Hawaiian food devotee loved was suddenly on the world food stage. For Katsuyoshi, the award was a good thing but, really, just gravy on an already loaded plate lunch.
"Notoriety doesn't matter to me. It's about the customers," says Katsuyoshi. "Over the years, I've seen grandparents bring their kids, and now those kids are fully grown and they're bringing their kids. It's about keeping [Helena's] serving with the same quality that my grandmother started with all those years ago."
Helen Chock, Katsuyoshi's grandmother, opened the first location of the restaurant in 1946 at the suggestion of her brother, naming it after herself and adding an "a" at the end of her name to make it sound, in her opinion, more Hawaiian. In the beginning, she saw her eatery as a way to put her children through college and earn a living. But Helena's Hawaiian Food quickly grew to become her life's passion.
It was rare in postwar 1940s for a woman to own and run her own business, but Chock did just that, handling both management of the restaurant and all the cooking herself. When Katsuyoshi graduated from college in 1990, Chock offered her grandson his first job, at Helena's. For two decades they were a solid team, improving and streamlining the restaurant for success, moving Helena's to its current location in 2001, when the lease on its original North King Street space ended, and changing very little, save for menu prices when rising food costs warranted it. (A Helena's menu from the 1950s features a 40-cent laulau.) Katsuyoshi received little pay for his hard work, but earned much respect from his grandmother.
"I always had what I needed. And if I was going to Vegas or something, my grandmother would ask, 'How much you need?' and give it to me," Katsuyoshi says. "But, for most of my income, she held onto it, which was smart. This way I couldn't have blown it all."
For years, Helena's recipes were kept solely in Chock's ample memory. If she was ill or couldn't come to work, Katsuyoshi couldn't cook. She finally allowed him to take notes in the years just before her 2007 passing. Grandson scribbled notes while grandmother worked the kitchen. When Chock passed away, Katsuyoshi was given the restaurant and all of his saved wages as his inheritance—his grandmother's final gift to him.
Says Katsuyoshi of his grandmother's lessons over the years, "There was so much I didn't understand. It was like The Karate Kid, 'Wax on, wax off,' and 'Why am I doing this?' But she was the master teaching the student. Now I know how to run the restaurant and take care of things like they need to be."
At 10 a.m., Katsuyoshi opens Helena's for another nonstop day of business. A dozen or so hungry patrons quickly file in and find tables in the smallish dining area. Helena's staff, made up of family and family friends, takes care of diners, while Katsuyoshi's wife, Kaleilani, takes and clears takeout orders and his mom (Helen Chock's daughter), Elaine, works the cash register.
A young couple steps up to the counter and asks what they should order. Elaine describes the menu to them enthusiastically, taking time to explain what laulau, kālua pig and poi are. She asks where they're from. They reply, "San Diego."
"Wonderful!" says Elaine. "Good to have you. How did you hear about Helena's?"
"From everyone," the couple says, laughing. "Everyone says to come here."
Just another day at Helena's.
"Most times the restaurant will be packed until closing," says Katsuyoshi. "We cook the food the same way [as always], but, over the past couple of decades, we've continued to get busier and busier."
The restaurant's collection of culinary honors and Helena's seemingly perennial popularity with cable food network producers as a must-visit O'ahu eatery have played very large roles in its more recent boost in customers.
"But time plays a big role, too," Katsuyoshi says. "If I started a restaurant in 1990 instead [of working at Helena's], that restaurant wouldn't be where Helena's is today."
Watching still more lunch patrons—though, sadly, not Bill Murray—gathering outside Helena's, waiting patiently in the hot sun for a table, I believe Katsuyoshi may be correct. I'm also crazy hungry for pipikaula.
This article, "Hawaiian Classic," originally appeared in the July/August 2015 issue of HAWAI'I Magazine, SUGAR AND HAWAII'S MULTICULTURAL REVOLUTION.