The Eddie Aikau Big Wave Invitational is Back and Better Than Ever
For the first time in its history, Oahu's premier big-wave surfing contest has invited four women into its main lineup.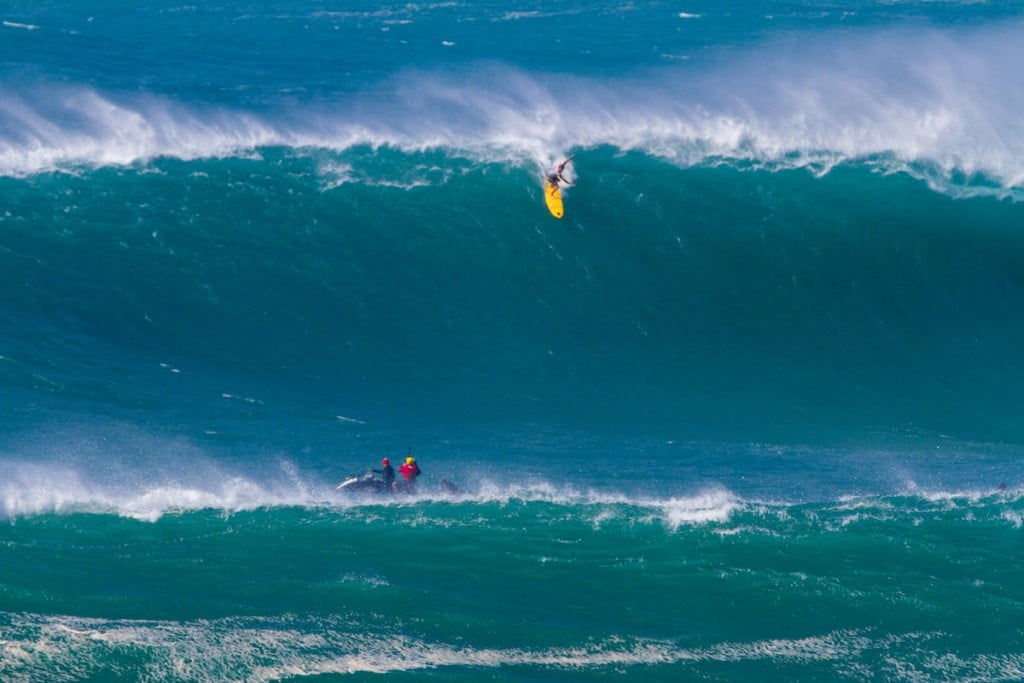 It's been a tumultuous few years for The Eddie Aikau Big Wave Invitational, often referred to as The Eddie, one of surfing's top big wave contests held at the iconic and historic Waimea Bay. After losing its main sponsor of over 30 years, Quiksilver, in 2017, the contest organizers had to find new financial backing for the coveted event. Fortunately, local businesses such as Kona Brewing Company, Hawaiian Airlines and L&L Hawaiian Barbecue have stepped up to sponsor the contest, and although 2018 was a no-go for The Eddie—wave heights must reach 30 to 40 feet for contest to run—2019 is shaping up to be the event's best, and biggest, year.
The Eddie, which is now in its 34th year, has broken its own record by inviting four of the best female big wave chargers—Keala Kennelly, Paige Alms, Emi Erickson and Andrea Moller—into the main lineup. In 2016, contest organizers invited Kennelly to be an alternative surfer, meaning she would surf if a competitor in the main roster was unable to compete; however, this year these four wahine (women) will be paddling out with the kane (men). Five female alternatives—Bianca Valenti, Raquel Heckert, Justine Dupont, Silvia Nabuco and Laura Enever—were also invited to participate.
"The Eddie Aikau Foundation is excited to have the support of our generous sponsors who have joined us in celebrating and honoring the life and legacy of our brother, Eddie," said Solomon Aikau, the younger brother of Eddie Aikau in a news release. "This year we honor not only the equality of women in the sport but some of the longtime surfers in the industry."
The starting roster of surfers this year will also include some of the legends in the sport, which makes sense as The Eddie itself is dedicated to legendary lifeguard and waterman Eddie Aikau. Derek Ho, Garrett McNamara, Jeff Clark, Mike Ho, Mike Parsons, Peter Mel and Tom Carroll, all of whom are big wave surfing legends in their own right, will be in the water for The Eddie's first round of surfing. This is, of course, if the contest starts at all. The Eddie has only ever run nine times in its history—the last time in 2016—and event organizers are hoping to see ideal wind conditions and XXL waves during its three month holding period, which starts on December 1, 2019 and ends on February 29, 2020.
For more information, visit The Eddie Aikau Big Wave Invitational's website.