The first Waipio Kalo Festival to celebrate taro heritage on Hawaii Island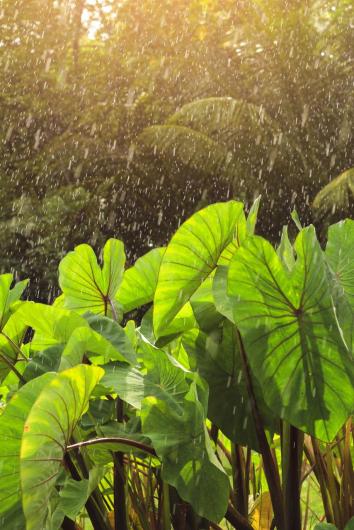 A new Hawaii Island festival will celebrate kalo (taro) overlooking Hawaii Island's northerly Waipio Valley where it has been cultivated for generations. The first Waipio Kalo Festival, will take place at Koaekea near the Waipio Valley lookout from 9 a.m. to 4 p.m. on Saturday, June 4.
Though at first blush a community festival celebrating popular Hawaii crop, the Waipio Kalo Festival promises to be an immersive cultural event with something for all visitors. Informational exhibits will impart the moolelo (stories) of the valley's significance to the Hawaiian people; food competitions vendors and booths will showcase the many unique ways to prepare all parts of the plant; and cultural activities will impart the traditions of kui kalo (poi pounding), lau hala (hala leaf) and lau niu (coconut leaf) weaving and lei making. There will even be a Taro Team Relay, an obstacle course simulating activities typical in taro farming.
Much of the festival entertainment, including several halau hula (hula troupes) are "backyard home grown Waipio," says Mahealani Maikui, secretary of Ha Ola O Waipio Valley, the local nonprofit organizing the festival with a grant from the Office of Hawaiian Affairs.
Visitors won't be able to taste entries in the kalo cooking competition, but local vendors will serve locally made poi, uala (sweet potato), poke, lomi salmon, hoio (fern shoot) salad and other Hawaiian dishes.
Waipio, a deep and fertile valley surrounded by 2,000-foot-high cliffs, has been an agricultural center for centuries. Some estimates say that at its peak, the valley was home to 10,000 Hawaiians. By the time of Captain Cook's arrival in the late 1700s, that number was closer to 2,500. The valley floor has hosted epic battles, two spring-fed fishponds, several significant heiau (temples) and even puuhonua of Pakaalana, a place of refuge. But the remote valley has weathered floods, devastating tsunami and a changing Hawaii; today, just over a dozen resilient families still call the valley home. The families farm kalo in flooded loi (paddies) and their products are sold throughout the state.
Potted taro at the festival will showcase some of the diversity of kalo species in Hawaii, including those favored by Waipio taro farmers. University of Hawaii researchers recognize 84 varieties of the crop. Some, with white spots or purple veins on their signature teardrop shaped leaves, share Hawaiian names with reef fish and birds of similar coloring, a reminder of the Native Hawaiian's close relationship and familiarity with the land. Kalo is so revered, it's possible its varieties were actually named first: In the Hawaiian creation story, kalo is known as the brother of mankind. Before the Sky Father, Wakea, and the daughter of the Earth Mother, Hoʻohokukalani, gave birth to Haloa, the first Hawaiian, they had a stillborn son; from his grave grew the heart-shaped kalo plant.
The festival comes at a tenuous time for Waipio Valley residents. In January, the Bishop Museum announced plans to sell its holdings—547 acres or about 50 percent of the valley—on which many of the farms lease space. "Nothing has happened yet," says Maikui of the Waipio farmers. "The first man, Haloa, it was his kuleana (responsibility) to malama (care for) the taro and a lot of the farmers today carry that on personally. This [festival] is to honor him and that connection as well as to honor the kupuna (elders) who have farmed before."