The Hawaii artist painting incredible iceberg murals to combat climate change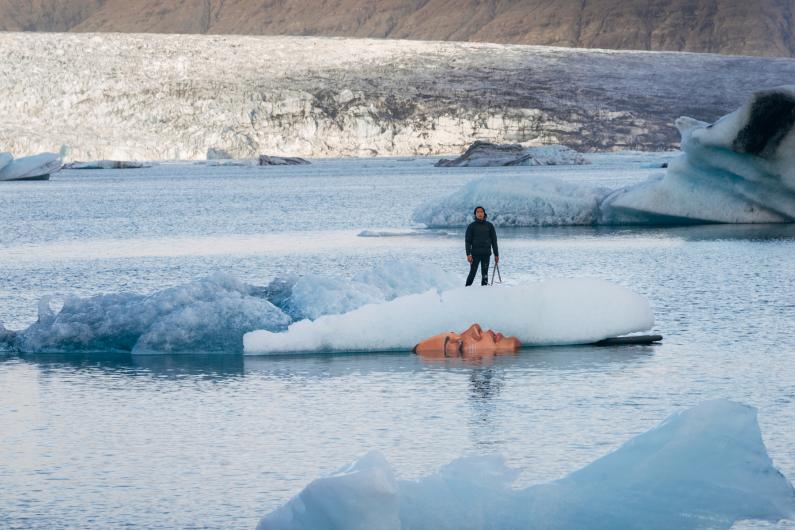 Time is ticking. For Hawaii-born artist Sean Yoro this couldn't be more true, for his ephemeral artwork and the issues of climate change he's shining a haunting spotlight on. The idea led him from his base in New York City to northern Iceland where he's created his most ambitious, political and powerful undertaking yet.
His latest mural series, titled "Aʻo ʻAna" (Hawaiian for "The Warning"), features his signature female portraits breaching the water's surface in an unspecified locale, except this time they're on an iceberg from a nearby glacier melting at a rapid speed.
"Being a surfer and growing up in Hawaii definitely influenced the values I hold dear, especially protecting our lands," Yoro says. "I needed to use icebergs in order to really get my message across and literally show the interaction and idea of what is going on with our world."
By the time of this reading, they've already vanished—a profound reminder of the effect Earth's rising sea level is having on our environment. Yoro estimates the paintings he spent roughly 30 hours to complete only lasted for about one or two weeks.
Yoro, who goes by the street alias Hula, has been making a name for himself recently as a portrait artist who uses a stand-up paddleboard to reach his remote outdoor canvases. He exercised that same practice for "Aʻo ʻAna," but there were a few major differences, particularly the speed of the project and a few physical challenges.
"Anyone who knows me well, knows I keep a small sketchbook in my pocket at all times because I always get my ideas through random everyday thoughts," Yoro says. "I'll work on refining the idea until it becomes a fully organized piece ready to be created. With the iceberg project, I thought of the idea to bring awareness to what is going on with climate change."
The iceberg project was atypical in that there was less time to incubate on the idea—it just felt too urgent. Given the time-sensitivity of the topic and the icebergs he was looking to paint against, from the moment he scribbled the idea in his notebook to executing it with his brush, he and his team found themselves leaving for Iceland within a matter of weeks.
For Yoro the biggest technical challenge was to stay warm (and not just for a Hawaii boy, either; the northern part of Iceland can hit lows of anywhere between −13 to −22 °F), which involved wearing a thick wetsuit and gloves that challenged his dexterity and took time to get used to.
He also had to paint in the dark of night to remain hidden (there are legal issues involved with painting on what's considered public property), and unlike the stationary canvases he's accustomed to, the icebergs constantly moved with the tides requiring the creative placement of "ice screws" into thin sheets of acrylic and rope to keep himself anchored.
Yoro is currently working out of NYC, but even in an urban environment his art gravitates toward and manifests in various bodies of water. For not just Yoro the Artist but himself as a person, the ocean has always been a place of comfort and relief and that hasn't changed even if he might see less of the warm Pacific than he did growing up in Kahaluu on Oahu's east side.