The HAWAII Magazine Guide to Visiting Kailua, Oahu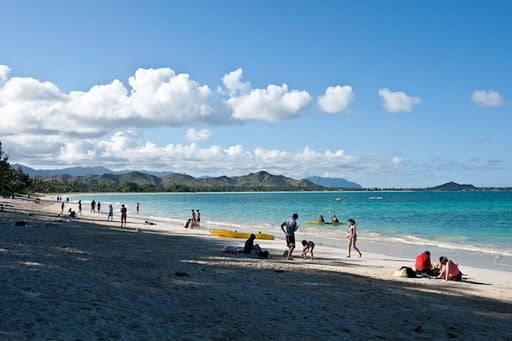 HAWAII Magazine's May/June 2010 cover feature takes you to Oahu's relaxed beach town of Kailua, which boasts two of the best beaches not simply in Hawaii, but in the world.
Kailua Beach Park is a 2 1/2 mile white sand crescent, with restrooms, picnic tables, a concession stand and lifeguards. Next door, Lanikai Beach has fewer amenities—only street parking and access between house lots—but for many, it's the most beautiful beach they've ever seen, with the Mokulua Islands just offshore.
Check out our feature Relaxed and Beachy – Kailua, Oahu in the new issue of HAWAII Magazine, in bookstores and on newsstands nationwide now. When you're done, you'll also want to see more photos from our sunrise-to-sunset visit to Kailua right here on HawaiiMagazine.com.
For now, however, we provide you with guide for your next visit to one of Hawaii's great small towns: HAWAII Magazine's Guide To Visiting Kailua, Oahu:
How to get to Kailua
By car: It's about a half hour drive to Kailua from Waikiki. Along the way, you'll pass (and perhaps want to stop at) the Queen Emma Summer Palace and the Nuuanu Pali Lookout, which affords a sweeping view of Kailua and the Windward side of Oahu.
By bus: There's regular city bus service from Honolulu to Kailua and back. From Waikiki, you'll have to transfer either downtown or at Ala Moana Shopping Center. Leave about an hour for the trip. For directions and bus schedules, click here.
By hotel pickup: Many of the activities centers in Kailua also offer hotel pickup in Waikiki as part of their ocean recreation packages. Check with one of the ocean recreation specialists below.
Kailua ocean adventures
One look at protected Kailua Bay and you may wish to get out on the water. The beaches are a favorite recreation area for good reason.
A number of Kailua companies offer tours and rentals to help you get out in the water from Kailua or Lanikai Beaches. If you wish, you can kayak out to the offshore Mokulua Islands, with or without a guide.
Twogood Kayaks & Canoes
345 Hahani Street, (808) 262-5656
Offers kayak and snorkeling tours; kayak, snorkel equipement and boogie board rentals
Kailua Sailboards & Kayaks
130 Kailua Road, (808) 262-2555
Offers kayak tours and rentals; windsurfing, snorkeling, surfboard, stand-up paddleboard and boogie board rentals and instruction, also bike rentals.
Hawaiian Water Sports
354 Hahani Street, (808) 262-5483
Offers kiteboarding, windsurfing, surfing, stand-up paddleboard, bodyboarding, kayaking, and snorkeling lessons, tours and rentals.
Seeing Kailua by land
Segway Of Hawaii-Kailua
130 Kailua Road, (808) 262-5511
Offers tours of Kailua and Lanikai Beaches, plus historic and cultural tours, on Segway personal transporters.
The Bike Shop
270 Kuulei Road
, (808) 261-1553
For bike rentals
Staying in Kailua
Kailua has no hotels, but it has many b&bs and vacation rentals, some of them unlicensed, a source of tension in some residential neighborhoods. Most are privately rented, so there is no centralized listing. You'll just have to browse on the Web.

Where to eat in Kailua
Kailua has dozens of restaurants, so finding sustenance should not be a problem.Here are a few of our favorites:
Buzz's Lanikai
413 Kawailoa Rd., (808) 261-4661
A classic beachside steak house, open for lunch and dinner.
Boots & Kimo's Homestyle Kitchen
119 Hekili Street, (808) 263-7929
Breakfast and lunch. Don't miss the pancakes with macadamia nut syrup. A promised new location may reduce the waiting time for a table.
Baci Bistro
30 Aulike St., (808) 262-7555
Gracious Italian lunch and dinner in an enclosed atrium.
Lucy's Grill & Bar
33 Aulike St., (808) 230-8188
A bustling neighborhood bistro with sophisticated food and drink. Dinner only.
Formaggio Grill
305 Hahani Street, (808) 263-2633
A casual atmosphere with a hearty Mediterranean fare and nearly 50 wines by the glass. Lunch, late lunch and dinner.