The HAWAII Magazine Guide to Visiting Molokai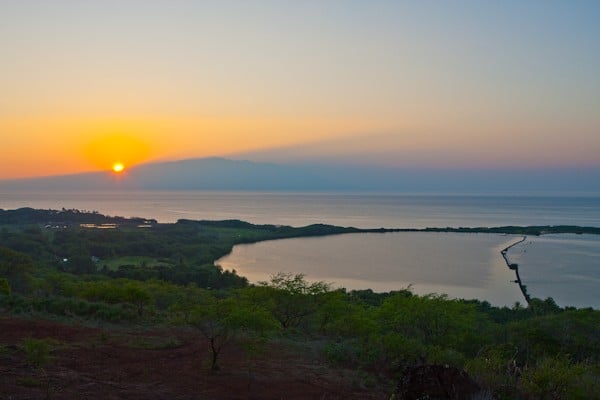 In the March/April 2010 issue of HAWAII Magazine, we bring you a feature article on "Discovering Molokai."
Despite its unspoiled beauty, not many people have seen Molokai. Even many seasoned Hawaii travelers have never been there. But the few who love Molokai, really love it, despite, or perhaps because of, its resistence to development and its limited tourism infrastructure.
We had a guide on our latest trip to Molokai, none other than Hawaiian singing star, Raiatea Helm, who grew up on the island and still has family there.
We thought, in turn, that we should provide a guide here on HawaiiMagazine.com for anyone thinking of visiting what's called the Friendly Isle.
Here, and on the next few pages, we present HAWAII Magazine's Guide to Visiting Molokai:
Getting There
Most people fly in and out of Molokai Airport. The planes that make this trip are smaller than the jets that service the major islands.
Island Air flies DASH-8s, a turboprop jet that seats 37, with direct flights to Molokai from Maui, Oahu and Lanai. You can, of course, fly from Big Island or Kauai, you'll need to stop once. [800-652-6541]
Mokulele Airlines flies nine-passenger Cessna Grand Caravans, with direct service from Maui and Oahu, and one-stop service from the Big Island and Kauai. Mokulele also offers charter flights, including one direct to the Kalaupapa peninsula. [866-260-7070]
You can book a Molokai flight through the larger interisland carriers, Hawaiian Airlines [800-367-5320] and Go! [888-435-9462], but Hawaiian's Molokai flights are on Island Air and Go's are on Mokulele.
Interisland airfares vary considerably, depending on the flight and how far in advance you book, so you may wish to do some comparison shopping.
You get to Molokai from Lahaina, Maui twice daily by ferry. The Molokai Ferry offers a number of tour and car rental packages for daytrippers from Maui.
Rental cars
Alamo Car Rentals is located at Molokai Airport [888-826-6893].
Island Kine Car Rentals will meet you at the airport and take you to their facility in Kaunakakai [877-553-5242].
We found renting a four-wheel drive helpful, but not absolutely necessary since Molokai's main roads are in good repair.
Where to Stay
Molokai has one hotel, the Hotel Molokai, located on a small beach outside the main town of Kaunakakai. The hotel has 53 recently renovated rooms, located in two-story bungalows, five of which are oceanfront. The hotel has neither elevators nor air conditioning, though the bungalows are situated to catch the cooling tradewinds.
The hotel's oceanside Hula Shores restaurant is one of Molokai's major gathering places, with entertainment nightly, especially on Friday night when Na Kupuna, the elders of Molokai, gather for a local style evening of music and hula. [Kamehameha V Highway, Mile Marker 2, Kaunakakai, (808) 553-5347]
Other than that there are condos, bed and breakfasts and house rentals available. Your best source of information is the Molokai Visitors Association [800-800-6367].
We had a good experience at a well-maintained condo project called Molokai Shores, just outside Kaunakai on four acres of oceanfront property. Individual units vary, however. [Highway 450, Kaunakakai, HI 96748, 800-992-4023]
Where to Eat
Molokai is not a famed dining destination. In addition to the Hula Shores at Hotel Molokai, we'd recommend Paddlers' Inn [10 Mohala St, Kaunakakai, (808) 553-5256] and the rustic Kualapuu Cookhouse [102 Farrington Road, Kualapuu, (808) 567-9655].
For breakfast or a quick meal, there's Kanemitsu Bakery & Restaurant, which is also famous for selling hot fresh-baked Molokai bread with fixings, from a back alley door starting at 9 p.m. most evenings [79 Ala Malama St., Kaunakakai, (808) 553-5855].
If you'd like to eat where many locals eat, there's Molokai Drive In [15 Kamoi St., Kaunakakai, (808) 553-5655].
What to See and Do
• Hit the Beach
Make sure to visit the west end beaches, especially Papohaku Beach Park, an often deserted three-mile stretch of beach.
• Mail a Coconut
Postmaster Gary Lam at the Hoolehua Post Office will give you a coconut and lend you marking pens, all so you can decorate it and send it to someone through the U.S. Mail (roughly $10 for a Mainland delivery). [US Post Office, 69-2 Puupeelu Ave., Hoolehua, (808) 567-6144].
• Get a "Mocha Momma"
Stop by Coffees of Hawaii for a Mocha Momma, a sinfully rich ice cream-chocolate-coffee-and-whipped cream confection. You can also take either a walking tour or mule-drawn wagon tour of the 500-acre coffee plantation. [1630 Farrington Ave., Kualapuu, (808) 567-9490].
• Get Back to the Farm
Visit the fields of Kumu Farms, which grows fresh herbs and Sunrise papayas, and sample the wares from their charmingly decorated country produce stand. Try their macadamia nut pesto, the best we've had. [Molokai Ag Park, Hua Ai Road, Kualapuu, 808-351-3326].

• Experience a real Hawaiian Fishpond
Raymond Leimana Naki lives in an open air hale on the edge of Kahina Pohaku, an ancient Hawaiian fishpond. Naki dresses in a traditional malo, will call you by the Hawaiian version of your name, teach you not only to throw a fish net, but also about the spiritual depths of Hawaiian culture.
Naki charges nothing, though he does ask visitors contribute "whatever their heart tells them" toward his fishpond project. [No address, no phone, but you'll recognize Kahina Pokahu about the 9-and-a-half mile marker on Highway 450. No place else looks quite the same with its coconut stack pillars and its outrigger canoe.]
• See Kalaupapa
No place on Molokai is more compelling than the once isolated Kalaupapa peninsula, where Father Damien (now Saint Damien) once ministered to the exiled sufferers of Hansen's disease. The area is now a National Historic Park.
You can gaze down at Kalaupapa from atop the world's tallest sea cliffs at Palaau State Park at the end of Highway 470.

To visit Kalaupapa itself, you must have a permit, since visitation is limited to protect the remaining patients, who stay there by choice. If you show up without a permit, you will be denied entry.
The easiest way to get a permit is to book with Damien Tours [808-567-6171], the only tour service operated by patients. The company will handle the permit process for you.
Outside of chartering a plane to land at the small airport, you have only two choices in getting to the 4-1/2-square mile Kalaupapa peninsula.
First, you can hike down (and, of course, back up) the 3-mile trail that descends the 1,700-foot sea cliffs, with 26 switchbacks.
Or, second, you can arrive by mule. The Molokai Mule Ride will take you down the trail and back up. The sure-footed mules know the way, you're just along for the ride. The roundtrip ride takes 7-1/2 hours including the Damien Tour at the bottom. [290 Puukapele Ave., Hoolehua, (808) 567-6088]