The impressive Four Seasons Lanai airport lounge in Honolulu
Here's how to get into this posh little lounge that's easy to miss.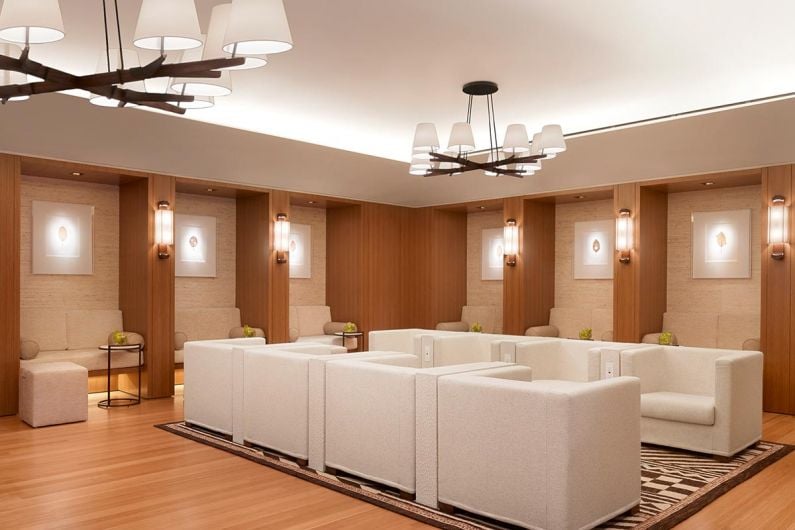 If you didn't know what you were looking for, you'd miss it completely. I'm talking about the Four Seasons Resort Lanai's guest lounge in the Daniel K. Inouye International Airport in Honolulu. The luxuriously posh lounge is tucked between gates 24 and 25 in the Oahu airport, adjacent to a large, colorful mural.
The lounge is for guests staying at the Four Seasons Resort Lanai. It's a mini oasis in the airport and the perfect place to begin your trip to Lanai, before your vacation officially begins.
Once inside, you'll be greeted by name by a Lanai ambassador. Relax on the comfy, oversize chairs, or in one of the several nooks lining the room, giving you space and privacy. While you wait for your flight, you can order juice, soda, cocktails, as well as light snacks—all complimentary.
The staff at the lounge will also complete room registration for you at the resort, as well as help you book any island activities, such as a massage, ATV tour, sunset sail, or dinner reservations.
Sure, the flight from Oahu to Lanai is only 20 minutes, but visit this lounge beforehand and you'll be well on your way for a blissed-out vacation.
The lounge is open from 8:30 a.m. to 7:30 p.m. For more information, contact (808) 565-2291, fourseasons.com/lanai.