The incredible story of John Young
Stranded by his shipmates on the Big Island, John Young wound up one of Kamehameha the Great's most trusted advisers.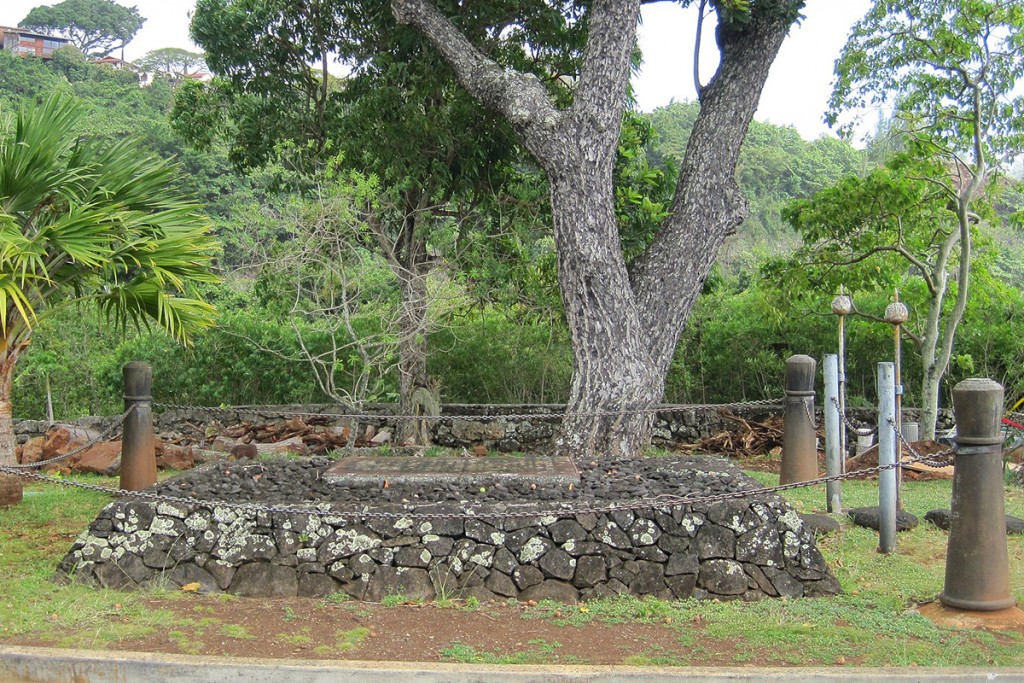 One of the most historic places on the Big Island of Hawaii's South Kohala Coast is Puukohola National Historic Site, a heiau (temple) built by King Kamehameha the Great in 1791 to honor the war god Kukailimoku.
The 22,400-square-foot heiau was constructed in less than a year by thousands of Hawaiians hauling stones from Pololu Valley some 15 miles over the Kohala Mountains. It looms as an impressive, yet somewhat dark reminder of Kamehameha's decades-long push to unite the Islands under one rule. Its history includes the murder of the king's rival, his cousin and ruler of the east side of the Big Island, Keoua Kuahuula—who was lured to the new heiau with the promise of a peace treaty, then captured along with his party and offered in sacrifice.
These days, however, the heiau is a quieter place. Overlooking the small harbor town of Kawaihae, Puukohola Heiau—its name translates as "temple on the hill of a whale"—offers breathtaking views of the Pacific Ocean and four of the island's mountains, including Mauna Kea and Mauna Loa. Its near-complete quiet is interrupted only by trade winds whipping through the dry scrubland surrounding the site.
Across a busy road from the Puukohola National Historic Site's visitor center lie unassuming ruins that you could pass by unless you were looking for them. This is all that remains of the house of John Young, and this is the story of a man who started as a British seaman and ended up a trusted member of the Hawaiian aristocracy.
In one day, John Young's life completely changed.
On that day in March 1790, Young's ship, The Eleanora, sailed out of South Kona's Kealakekua Bay without him. It's still uncertain whether Young was left behind accidentally, or whether Kamehameha had hatched a plan to recruit him by force.
Kamehameha may have detained Young so news would not leak out about a fatal skirmish with another vessel, The Fair American, also owned by Young's employer.
Young would become a major player in Hawaii's history. His skill with muskets and cannons gave Kamehameha the firepower he needed to unify the Hawaiian Islands. Young was at Kamehameha's side during pivotal battles—including the Battle of Nuuanu, in which the king won the island of Oahu.
He also served as chief diplomat with important visitors and as the king's business agent with visiting traders. He was made royal governor of Hawaii Island, which gave him rule when Kamehameha was traveling, and was with the king when Puukohola Heiau was constructed.
He also sailed with Kamehameha on The Fair American, which the king had seized and made the flagship of his canoe war fleet.
Young lived to age 91, outliving Kamehameha the Great, who died in 1819, and served under two of the king's sons. When American missionaries arrived in 1820, Young advised King Kamehameha II to allow them to stay. Through his long climb from stranded merchant seaman to Hawaiian high chief, Young kept a home for his wives and family at Kawaihae near Puukohola Heiau.
The area surrounding Puukohola contains numerous historical sites, including two additional heiau and the grounds of Kamehameha's official residence at Kawaihae. But only two sites were included in the 1972 Act of Congress that created Puukohola National Historic Site: Puukohola Heiau and Young's homestead.
While the heiau is in relatively stable condition today, little remains of Young's homestead, across Highway 270 from the site's visitor center and headquarters. Researchers believe the site once contained three European-style buildings—constructed with stone set in mud mortar—and two or three Hawaiian structures. The compound fell into disrepair after Young's death in 1835.
Young's home was built to look like an 18th-century English stone cottage. But given the limits of the materials available, including mud mortar, the buildings have been severely damaged by prolonged exposure to the elements. Though built in one of the driest areas in Hawaii, the homestead has been most damaged by rain.
"The house had been abandoned," said Glenn David Mathews, COO of San Francisco-based ARG Conservation Services. "When water gets in, baked adobe mud once again becomes watery mud, and the water caused the most damage where there once had been a roof. The plaster on the side of the walls still keeps the water off."
Published accounts from the 1800s report that Young's house—which measured about 21 feet by 34 feet—was originally covered with white limestone. Hawaii has no natural limestone, but Young found a solution.
"He took seashells and coral and put them in a furnace and burned them down to make lime," said Mathews.
The house seems to have been occupied until about 1850. A photograph from the late 1800s shows it intact, though already without its roof.
In 2005, Mathews and ARG were contracted to stabilize the homestead. Unfortunately, they had to return to repair damage caused by two large earthquakes centered off the South Kohala coast in October 2006.
"After all that earlier work, the earthquake damage was sad," said Mathews. "In 2005, Young's house was bigger, and there was a lot more plaster. Still, we are happy we didn't lose it all. The earthquake could have leveled it."
In his 1999 biography of John Young, the late historian Emmett Cahill speculated on why Young, who had a choice of land and sites for his home, might have chosen Kawaihae for his permanent residence.
Wrote Cahill: "He pined for the sea. Faced with the reality of life on land, the seaman in him wanted more than a far-away look at the sea he loved—he wanted to be close to it, to look down at it, and to the distant watery horizon between the sky and sea. He longed for the smell of salt air. Kawaihae offered all that with its high ground only half a mile from the coast."
Upon his death, Young was buried as a high chief of Hawaii, though not in his beloved Kawaihae. Initially interred on the grounds of Oahu's Iolani Palace, Young's remains were moved to Mauna Ala, the Royal Mausoleum of Hawaii, just outside of Honolulu, in 1866.
Young's granddaughter by his second wife, a niece of Kamehameha's, would eventually reign as Hawaii's beloved Queen Emma.
A visitor center operated by the National Park Service is located at Puukohola National Historic Site. An interpretive trail begins at the visitor center and leads to Puukohola, however entry to the public is not allowed, since there are believed to still be bones buried in the site. John Young's house, across the street from the visitor center, is not open to tours and is best seen from the road.