The June Jones effect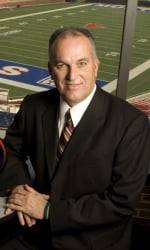 Honolulu wasn't the only city feeling the effects when head football coach June Jones departed for Southern Methodist University.

In Honolulu, the dailies speculated when University of Hawaii athletic director Herman Frazier would get the boot for letting Jones get away. The Honolulu Advertiser even provided regular updateson Frazier's job status throughout the day.

Meanwhile, a couple of other papers on the Mainland had their own Jones-related news to report.

The San Jose Mercury News reported that San Jose State University coach Dick Tomey is rumored to be a candidate for both UH positions. Tomey coached the UH Warriors to a 63-46 record between 1977 and 1986.

And here's a Dallas Morning News sports column on the SMU campus's reaction to Jones's hiring. After ending its current season with a dismal 1-11 record, the school — to no one's surprise — is really excited to have the guy.

The SMU athletic department has even given up a chunk of its Web site to the June Jones love fest.