The Kona Coffee Cultural Festival is brewing November 9-18, 2018
Toast the roast with 10 days of coffee events in Big Island's Kona District.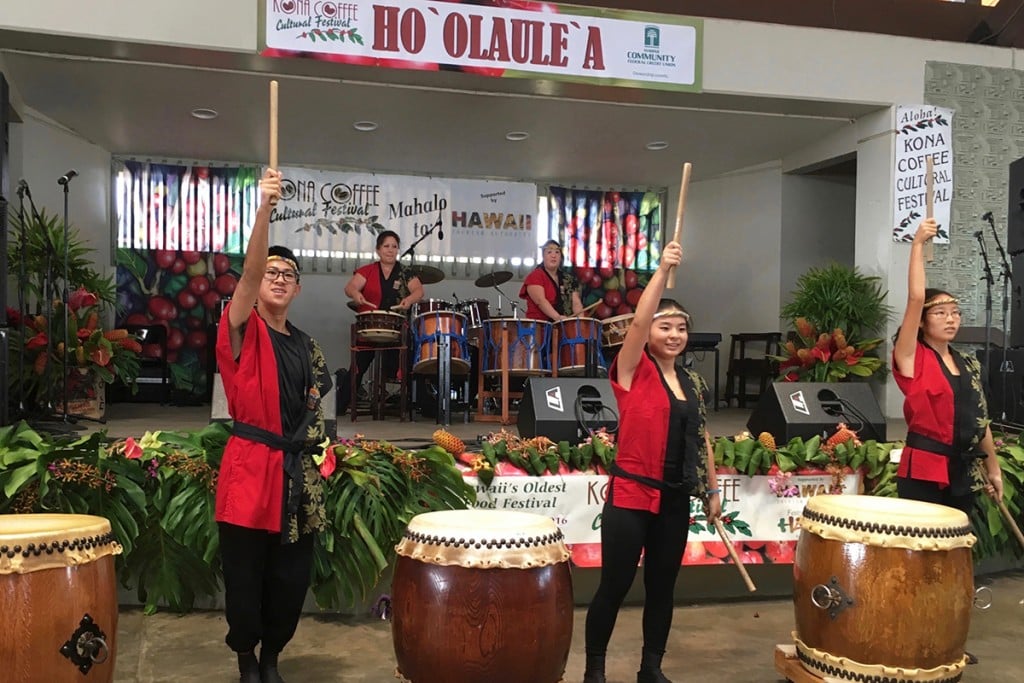 The 48th Annual Kona Coffee Cultural Festival toasts the roast with 10 days of coffee events from Friday, November 9 through Sunday, November 18.
The Kona Coffee Cultural Festival is a unique and enriching experience that ensures the story of Kona coffee's cultural heritage continues to be shared with residents and visitors. The cultural heritage of Kona's coffee industry is built on the multigenerational farmers, mainly of Japanese descent who established coffee plantations in the Kona District, along with the Native Hawaiian host culture who had earlier ties to growing coffee in Kona.
In 1828, Reverend Samuel Ruggles brought coffee cuttings from Oahu to Hawaii Island to see if the plants would thrive in Kona's volcanic soil. By 1841, coffee farms were established in Kona and forever changed the local landscape, setting Kona on a new economic journey that continues today.
Kona's annual coffee harvest that has sustained this agricultural community for nearly 200 years is celebrated every November. The award-winning Kona Coffee Cultural Festival is recognized as the oldest and one of the most successful food festivals in Hawaii.
The Festival features nearly 50 events over a 10-day period where locals and coffee-loving visitors gather to celebrate the harvest.
Inspired Art
Works of art inspire all of us and, with a few well-placed brush strokes and color choices, our eyes open just a bit larger with wonder. One of the great things about art inspired by Kona coffee is the abundance of it in all kinds of art forms found during the Kona Coffee Cultural Festival.
Lighting Up the Evening
As the sun sets over historic Kailua Village, the Kona Coffee Cultural Festival Lantern Parade lights the way along Alii Drive with its glowing procession of light, music and color. The Lantern Parade kicks off the Festival's first Friday on November 9 at 6 p.m., and everyone's welcome to join the fun.
The Festival recognizes the 150th anniversary celebration of the gannenmono, the first Japanese to settle in Hawaii, and is honored to have Kaea and Lily Kahelelani Lyons serve as Grand Marshals. Halau Kaeaikahelelani kumu hula (teachers of hula) trace their Japanese ancestry back five generations to their great-great grandfather Tokujiro Sato, a gannenmono who arrived in Hawaii aboard the first ship Scioto.
Foodie Alert
Coffee lovers everywhere awaken their senses with the fresh-brewed aroma of Kona coffee. Adding Kona coffee in food preparation adds a whole new dimension and becomes a platform for chefs and foodies. Attend the KTA Super Stores Recipe Contest, happening Sunday, November 11, and watch amateurs, professionals, culinary students from Hawaii Community College Palamanui and keiki polish their skills while presenting tasty dishes.
Cupping Kona's Best
Cupping, a formal coffee judging scored by industry professionals, evaluates single estate farms and large farm coffee entries in a blind tasting, including an exacting sniff, slurp and taste test, for each entry.
At the helm of this year's Kona Coffee Cupping Competition are Brian Webb and Brit Horn of Pacific Coffee Research, a certified Specialty Coffee Association training campus in South Kona. Their state-of-the-art cupping laboratory, with its consistent and controlled environment crucial for formally evaluating coffee, serves as the venue for the panel of judges who will grade about 100 farm entries. After two days of marathon tasting sessions, the top 10 farm entries advance to the finals on Thursday, November 15.
A Heritage Celebration
Artisans, musical performers and cultural practitioners gather for a daylong heritage celebration, on Saturday, November 17, honoring Kona's coffee history through art, music, food and a large serving of community spirit. Find exciting booths filled with unique made-in-Hawaii items, talk with Kona coffee farmers with fresh brewed coffee available to taste and purchase. A variety of tasty ethnic foods and treats will satisfy everyone's tastes. But that's not all. You can also make a lei, weave lauhala pan roast coffee, learn ohe kapala (bamboo stamping) and practice Japanese calligraphy, plus visit the historical displays that bring Kona's coffee history to life including a replica of a coffee hoshidana.
A souvenir festival button is your ticket for attendance to most events and can be purchased for $3 at all events and many retail and farm locations throughout the Kona area.
For a complete event listing of the 48th Annual Kona Coffee Cultural Festival or for more information, visit konacoffeefest.com. Follow the festival on social media @konacoffeefest.