The Mamaki Movement: How Locals are Using This Endemic Plant
Shaka Tea spotlights Hawaii's endemic mamaki plant as a holistic and environmental powerhouse.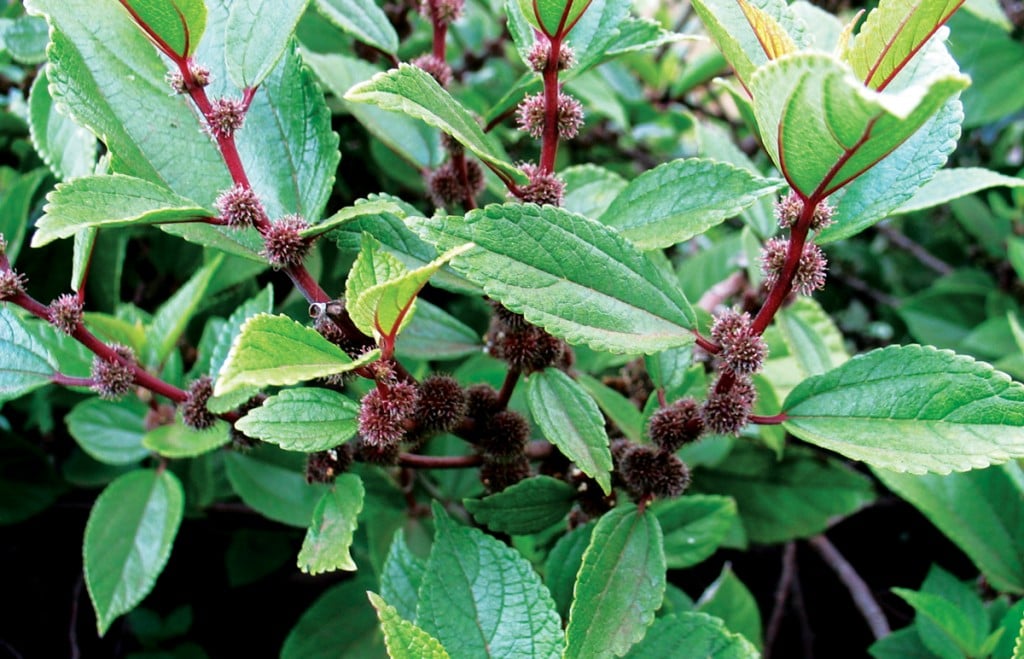 As avid tea drinkers, Bella Hughes and Harrison Rice were longtime fans of mamaki; while they were living in Abu Dhabi in the United Arab Emirates, they frequently had the dried leaves shipped to them for a nostalgic taste of the islands. Their shared love of the native tea plant prompted the husband-and-wife team to brew homemade concoctions sweetened with tropical fruit purees, including mango from India and passionfruit from the UAE. The result was a refreshing, natural, caffeine-free wellness elixir that was Hughes' beverage of choice throughout her second pregnancy.
The couple moved back to Hawaii in 2016 and established Shaka Tea, perfecting their recipes and pouring their life savings into 18,000 bottles in three signature flavors: Pineapple Mint, Guava Gingerblossom and Mango Hibiscus. While Shaka Tea is bottled in California, it incorporates only Hawaii-grown mamaki. Revered for its impressive health benefits, the low-lying shrub is an endemic plant commonly used in traditional laau lapaau (medicine) for its healing properties. According to university studies, the antioxidant-rich tea is full of macro and micro minerals and boasts more metabolism-boosting catechins than its green tea counterpart. Not only has mamaki been proven to be beneficial for the body, but the regenerative crop offers added value to the environment by restoring nitrogen into the soil.
For Honolulu-born Hughes, the true measure of success is not commercial, but hinges on Shaka Tea's ability to nourish the community and environment.  In an effort to do so, the couple established Shaka Forest Farms to further their relationships with island farms committed to mamaki cultivation and sustainable agriculture. Shaka Forest Farms, operating as a separate business, planted its first mamaki in Volcano on Hawaii Island in 2017, with the hopes of establishing a hui to work together and grow plants through agroforestry farming. Hughes is also a co-founder and the president of Mamaki Association, a non-profit established earlier this year that strives to grow the mamaki industry by running professional development workshops throughout the year for growers and raising awareness on all the benefits and usages of mamaki. It held its inaugural conference in April with 90 attendees. Shaka Forest Farms and the Mamaki Association aim to take the plant from its humble history from tutu's home garden to a thriving cash crop accessible to everyone and enriching the land it grows upon. "Mamaki has such a unique, distinct history, coupled with health benefits and clear economic advantages for the community," Hughes says. With a long list of statewide retailers including Foodland, Longs and Costco as well as high-end shops like Dean and Deluca, the demand for mamaki is rising and the movement is indeed thriving. Thanks to local farmers and tea purveyors like Hughes and Rice, the global consciousness of mamaki has just begun.