The only full circle island helicopter tour of Oahu
Paradise Helicopters' Oahu Circle Island Experience showcases the island's urban and country scenery, and a remote waterfall you can only view by air.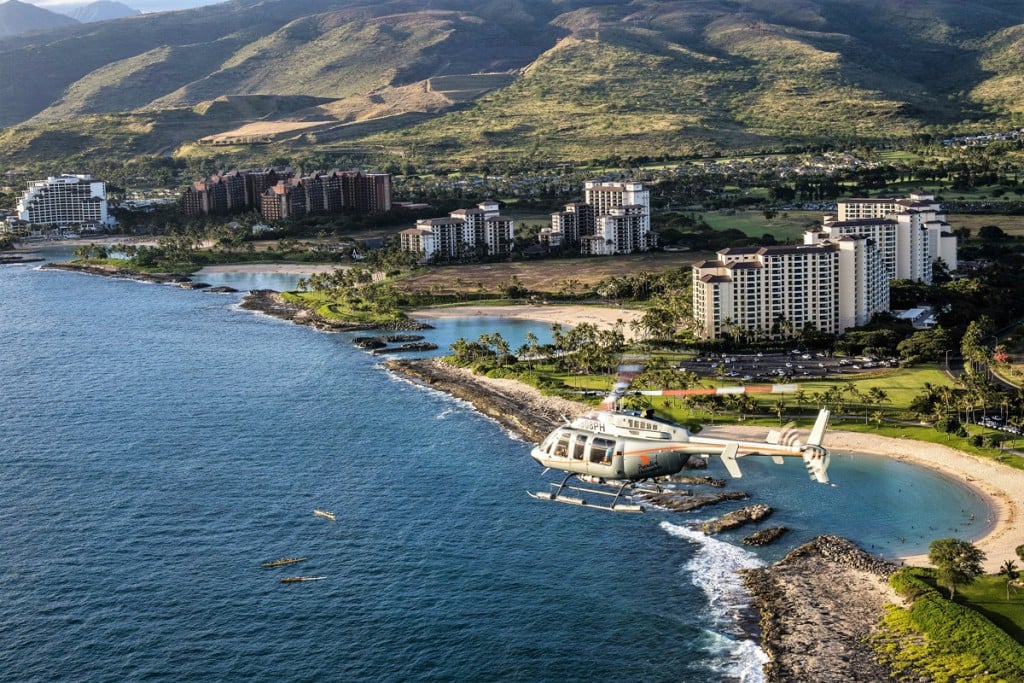 Believe it—it's possible to do the entire island of Oahu in a morning. (That's if the thought of heights doesn't make you skittish.) Tour operator Paradise Helicopters launched a new helicopter tour, Oahu Circle Island Experience, and its self-explanatory title carries a notable esteem: It's the only full circle tour of Oahu by helicopter.
All of Oahu's most famous landmarks are covered, from Pearl Harbor and the World War II Arizona Memorial to Waikiki and Hanauma Bay, finishing with a scenic ride over the North Shore and lesser-visited communities of Waianae and Nanakuli on the west side.
On a calm weekday morning, I found myself strapped into a Bell 407 helicopter, accommodating four other passengers. Visibility was near perfect as we took off at Kalaeloa Airport on the leeward side of the island and began smoothly soaring east toward Honolulu. Our pilot offered interesting history and tidbits about various sights along the way: how Diamond Head received its sparkling nickname, how many steps it takes to scale Koko Head Crater on the Koko Crater Railway Trail, and highlighting the venues of famous film scenes (the little sandy cove that was the setting of the iconic kissing scene in "From Here To Eternity" elicited a few oohs and aahs).
Speaking of beaches, a helicopter tour is a great introduction to Oahu's array of beaches, popular and secluded. You'll probably leave with a handful of notes about which stretches to visit during your stay once you touch down (from up high, Keawaula Beach, also known as Yokohama, looked mighty inviting on this particular morning).
In addition to its scope, what sets the tour apart is an exclusive landing spot with an unexpectedly luxurious twist. Perched above Kaaawa Valley, Paradise has a unique agreement with Kualoa Ranch to land on a grassy, comfortable plot atop one of its ridges.
As you're taking in the panoramic vista many don't get to experience from this location—Mokolii (aka Chinaman's Hat), the Koolau Mountains sprawling toward Kailua punctuated by Mokapu Peninsula terminating in Kaneohe Bay—the pilot sets up a picnic of champagne, strawberries and snacks making this stopover all the more memorable (note: this feature is $100 more with an additional fee for the picnic), and above and beyond, you might say.
The most rarified moment of the tour arrives after this brief stop. We continued flying north, just past Punaluu, when we caught a long glimpse of Kaliuwaa, better known as Sacred Falls. The 1,100-foot waterfall was streaming a gorgeous cascade of water along the mountain's slopes accentuated by the morning light. At that moment, I was convinced without a doubt it's the most beautiful waterfall on Oahu. Because of its inaccessibility on foot (the trail leading to the pool has been closed to the public since 1999), Paradise's tour is the best way to view and admire it.
The Oahu Circle Island Experience is available year-round on Sundays, Tuesdays, Wednesdays, Fridays and Saturdays.
The tour is approximately 1 hour and 15 minutes (65 to 85 minutes of that is spent in the air, the remaining 25 minutes on the ground). If you're staying in the Ko Olina resort area on Oahu's west side, getting to Kalaeloa Airport is even easier. Paradise offers courtesy pickup shuttles from your hotel to the airport terminal.
---
Departs from Kalaeloa Airport, Oahu, 300 Midway St, Kapolei, Oahu, $419 per person, morning and early afternoon departures, paradisecopters.com.