The Reef Bar & Market Grill opens in place of the Shore Bird Restaurant
Everything you loved about the Shore Bird, with a few changes.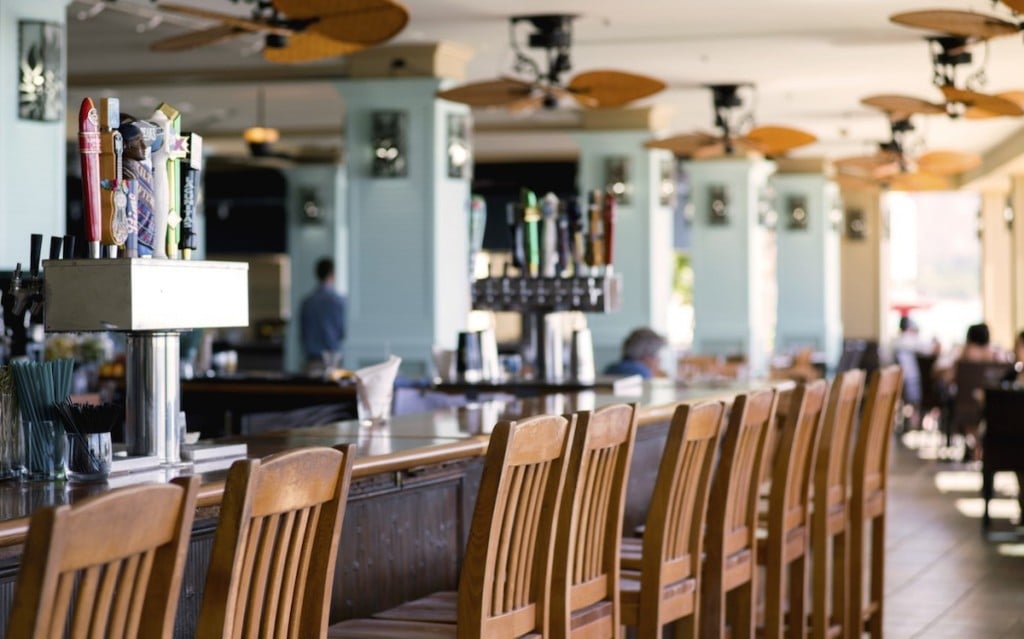 In early October, we learned along with all of you that the much-loved Shore Bird Restaurant in the Outrigger Reef Waikiki Beach Resort was closing. "Much-loved" is an understatement—we quickly received an outpouring of aloha from readers sharing their memories of the 38-year-old Waikiki fixture. On Nov. 1, the Reef Bar & Market Grill opened in its place, so we visited to see if new love could, in fact, help one to overcome lost love.
You'll be happy to know the restaurant has changed in mostly cosmetic ways. The green and white interior color scheme, with its tropical plantation accents, has been swapped out for a calming combination of pastel blue and brown, and a clean, modern look.
The station, where diners prepare their protein for grilling, is dressed up with wall panels that look like reclaimed two-by-fours, and a grocer's refrigeration cabinet displays the locally sourced steaks, filets and kebabs. The bar is in the same spot, the layout of the floor is just as I remember, and the familiar salad buffet and grilling station remain on the far side of the room.
On my visit, the host led me to a table on the makai (ocean side) wall, where a soft, briny breeze paired perfectly with my view of Waikiki and iconic Diamond Head. I often forget how arresting it is to see that silhouette, especially at sunset, when the catamarans are launching from the beach.
I ordered the Frozen Moʻo (the Hawaiian word for lizard). It's a blended piña colada-mojito mashup of Don Q Coconut Rum, lime, craft coconut cream and fresh mint—a sweet, creamy drink that goes down like a smoothie, its liquor coming through like the gentlest breeze. Though the Lava Lava sounded just as tasty—a deconstructed lava flow of Sailor Jerry Spiced Rum, coconut cream, Kula strawberries, apple banana and Kraken dark rum float over rocks—it would have to wait until next time.
Similar to the Shore Bird, if I wanted to do my own grilling, I could choose a protein from the cabinet and have one of the grill masters suggest a rub and a finishing sauce. If I'd rather have something made-to-order from the kitchen, I could do that as well; this isn't so much new, but the selection of made-to-order items has expanded to more than maki sushi and wraps.
I selected the sausage and shrimp kebabs: two skewers of Portuguese sausage, Kauai shrimp, onion and green pepper. I also ordered the mahimahi fish and chips and a side of grilled asparagus with garlic aioli from the kitchen, because New Year's resolutions were still a few days off.
I was half-finished with my salad when the fish and chips and asparagus arrived. The mahi was tender, and the house tartar sauce gave the fish an added umami boost. I was adrift in a food fugue when I remembered I had kebabs to grill.
One of the grill masters helped me pick out a pair of rubs for my kebabs—I went with smoked and spicy for one and green herb for the other, which he prepared for me on the spot. From there, I took my kebabs to the grill, where chef Joey Madera presented me with a grilling game plan. This would be a quick one, about five minutes, he said, unlike the massive rib-eye steaks and filet mignon.
Chef Joey had worked at the Shore Bird, and showed me his Shore Bird-branded trucker hat that he keeps tucked away at the grilling station. He said a lot of the folks who'd worked at the Shore Bird were still here, and he called over one of the servers to show me his Shore Bird bracelet. It was a great conversation piece, as the old restaurant had been a key part of many returning visitors' itineraries.
"The Shore Bird will forever live with me," chef Joey said. I appreciated him for saying that. In many ways, the Reef Bar & Market Grill is a reincarnation, an old soul in a new body, somehow feeling both familiar and new. And for those who never had the chance to visit the old Shore Bird Restaurant, the delicious flavors of the Reef Bar & Market Grill will surely bring people to its tables to create new memories.
Reef Bar & Market Grill, open daily from 7 am to 12 midnight, Outrigger Reef Waikiki Beach Resort, 2169 Kalia Rd., Honolulu, 808-924-7333, reefbarandmarketgrill.com