The view from Hawaii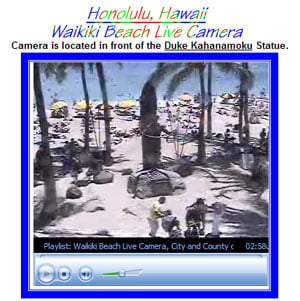 Wish you were here?
Can't blame you.
Here's almost the next best thing. We've collected links to a handful of Webcams around the state offering live views of our beaches and—well, pretty much just our beaches.
Want to see the sun set over Hanalei Bay on Kauai? Click the Sheraton Princeville's beach-roving camera below.
Got friends staying in Waikiki? Tell 'em to stand in front of the Duke Kahanamoku statue fronting Kuhio Beach and then give you a call, while you click the "Waikiki Beach" cam.
It's almost sunset here as I'm posting this. Click now and you won't miss it.
Kuhio Beach, Oahu: A view of the folks wading in the surf off Waikiki.
Click here.
Waikiki Beach, Oahu: More a view of the Duke Kahanamoku statue than a beach view, but, oh well.
Click here.
Waikiki Beach from the sky, Oahu: Point a camera at the top of the 31-story Sheraton Waikiki towards Diamond Head or the surf below, mix a mai tai, enjoy.
Click here.
Sunset Beach and North Shore of Oahu surf spots: Check the wave action at some of the best surf spots.
Click here.
Hanalei Bay, Kauai: The sunsets are terrific from this Webcam at the Sheraton Princeville Resort.
Click here.
Kaanapali Beach, Maui: The weather and ocean action on one of West Maui's best beaches, fronting the Sheraton Kaanapali Resort.
Click here.
Hilo Bay, Big Island: A so-so view of the bayfront. At least you'll be able to tell if it's a sunny or rainy day in Hilo town.
Click here.
The South Kohala Coast, Big Island: From the rooftop of the Mauna Lani Resort.
Click here.

Have a favorite Hawaii Webcam we missed? Leave us a comment below.