The winding road home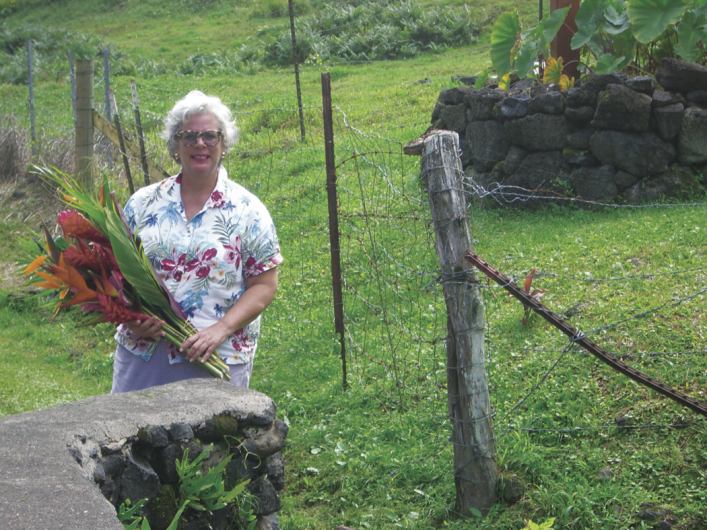 I live in Hana, the little Maui town protected from civilization by 56 one-lane bridges and 617 curves on a road that inspired the T-shirt slogan, "I Survived the Hana Highway".
To the 2,000 or so of us who live along the lane-and-a-half-wide asphalt strip that clings to the heart-stopping cliffs of East Maui, our beloved highway both defines us as a group of adventurous souls and saves our town from becoming like everywhere else.
It's not that Hana hasn't been discovered one of my neighbors is Oprah Winfrey, who owns land here. Every year, a million vacationers in 325,000 cars drive the 52 twisting miles from Kahului to Hana, many of them swearing "never again".
Locals like me learn to love that road. Almost everything we need to keep our houses, cars and bodies in running order is at the other end of the highway.
That's a good thing: It means it isn't here, cluttering up our rolling green pastures, chopping down our dripping rain forests and polluting our rich offshore fishing grounds.
Driving the highway all the time takes resilience to cope with landslides that block it, courage to pass house-size boulders that sometimes fall on it, and plenty of aloha spirit to endure the nose-to-tail tourist traffic that clogs it.
About once every 10 days, I "go to town." I leave Hana at 6:30 a.m., to avoid meeting daily gasoline and propane delivery trucks on blind curves. I take along a shovel and tow rope, a checklist of chores and a hankering for a good lunch in a restaurant other than the pair we've got here.
Leaning into the first curve, I roll down my windows. There's no radio signal, so I list to a CD, then dictate a thought into my little tape recorder. Inevitably, I soon switch off human noises to savor the passing symphony of tropical bird trills, clicking bamboo branches, rainwater rushing down a stream, the muted roar of the ocean hundreds of feet below my right tires.
Going to and from Hana isn't about getting here or there, it's about traversing a wilderness landscape not yet plowed up or paved over for the sake of progress. Only the road's too-narrow, shoulder-wrenching anachronism protects our fields of ginger blossoms, towering forests of eucalyptus and life-sustaining watershed.
Finally, I swing out of the last turn onto the wide, perfectly engineered straightaway leading to the traffic lights and shopping centers of Kahului. For the next 10 hours I race around, filling huge travel coolers at Safeway and Costco, keeping a dental appointment, getting the truck fixed and making an unscheduled stop at Starbuck's for a double-shot vanilla latte.
After filling up on $3.18 gas instead of Hana's $3.89 regular, I make sure my supplies are securely tied down, so they won't rattle on the return trip. I call home to say I'm on the way.
At the first set of curves, I breathe a sigh of relief to be heading away from too much noise, too many people. Hana folks crave black night skies lit only by stars, silences broken only by bellowing bulls and the constant awareness that we are surrounded by the scents and sounds of the natural world.
Tourists who drive the road are often disappointed when they arrive in Hana: "Is this all there is?" Those who live here never say that. For us, it's more than enough.
Don't miss another story from HAWAII Magazine
Sign up for our weekly E-Newsletter today!