The World's Only Fish Sommelier Works at a Restaurant in Hawaii
Ryan Houser at Mina's Fish House on Oahu helps match the right fish with the right guest in this unique restaurant role.
A fish what?
I had to read my email again.
When I heard about the world's first fish sommelier at Mina's Fish House, a line-to-table restaurant at the Four Seasons Resort Oahu at Ko Olina, I needed to know what that meant.
I knew what a sommelier was: a highly trained and knowledgeable wine professional who specializes in all aspects of wine service, including pairings with food.
But a fish sommelier?
The role was created by James Beard Award-winning chef Michael Mina, who opened Mina's Fish House a little over a year ago. The first fish sommelier was Jared Chang, an avid fisherman who was handpicked by Mina to offer guests a tableside education of Hawaiian fish and explain the restaurant's signature whole-fish preparations. Houser, Chang's longtime friend and fellow fisherman, took over as fish sommelier in December 2018.
"When I first heard about the job, I didn't even know what a sommelier was," says Houser, 25, who had never worked in a restaurant before this gig. "[Jared] told me I had to talk about the fish, explain the taste and texture. I had to make people want to eat it. It's a pretty unique job."
About half of the menu at Mina's Fish House features seafood, from the chef's signature ahi tartare ($26) topped with an ancho-chili-habanero sesame oil to the popular lobster pot pie ($95) with brandied truffle cream and baby root veggies. So it makes sense for the restaurant to have someone on staff to explain the various kinds of fish offered, with recommendations on preparations, to its patrons.
"Sometimes I'm at a table for an hour, just talking about fish," Houser says.
Born and raised in Mililani, Oahu, Houser started freediving when he was about 12, learning from a friend's dad off Kaena Point on Oahu. At first, he would jump into the water and just watch the fish and how they behaved. He started spearfishing seriously in high school, meeting one of his first dive partners in a driver's education class. He's worked at a local fishing shop for years, competed in freediving events and continues to fish whenever he can. It's beyond his passion; it's his life.
"As soon as I get into the water, all my troubles and worries disappear," Houser says. "If I don't catch fish, I don't care. It's an added bonus."
Houser's knowledge of fish—even fish found outside of Hawaiian waters—is impressive, and I could sit there for hours talking to him about everything from the best way to prepare tako, or octopus (freeze it first, then cook it in beer in a pressure cooker), to how to get the seaweed taste out of nenue, or rudderfish (gut the fish as soon as you catch it and cook with a lot of cilantro).
It started to make sense, this idea of a fish sommelier. Many diners—locals and visitors alike—may not know much about local fish or how best to eat them. Houser rattles off the names and preparations of other fish on the menu: kinmedai, or golden eye snapper, which is very sweet and mild tasting and he recommends getting it spice-crusted and deep fried; and the farm-raised Kona kampachi, or almaco jack, broiled with ginger, scallions and a Chinese black bean sauce.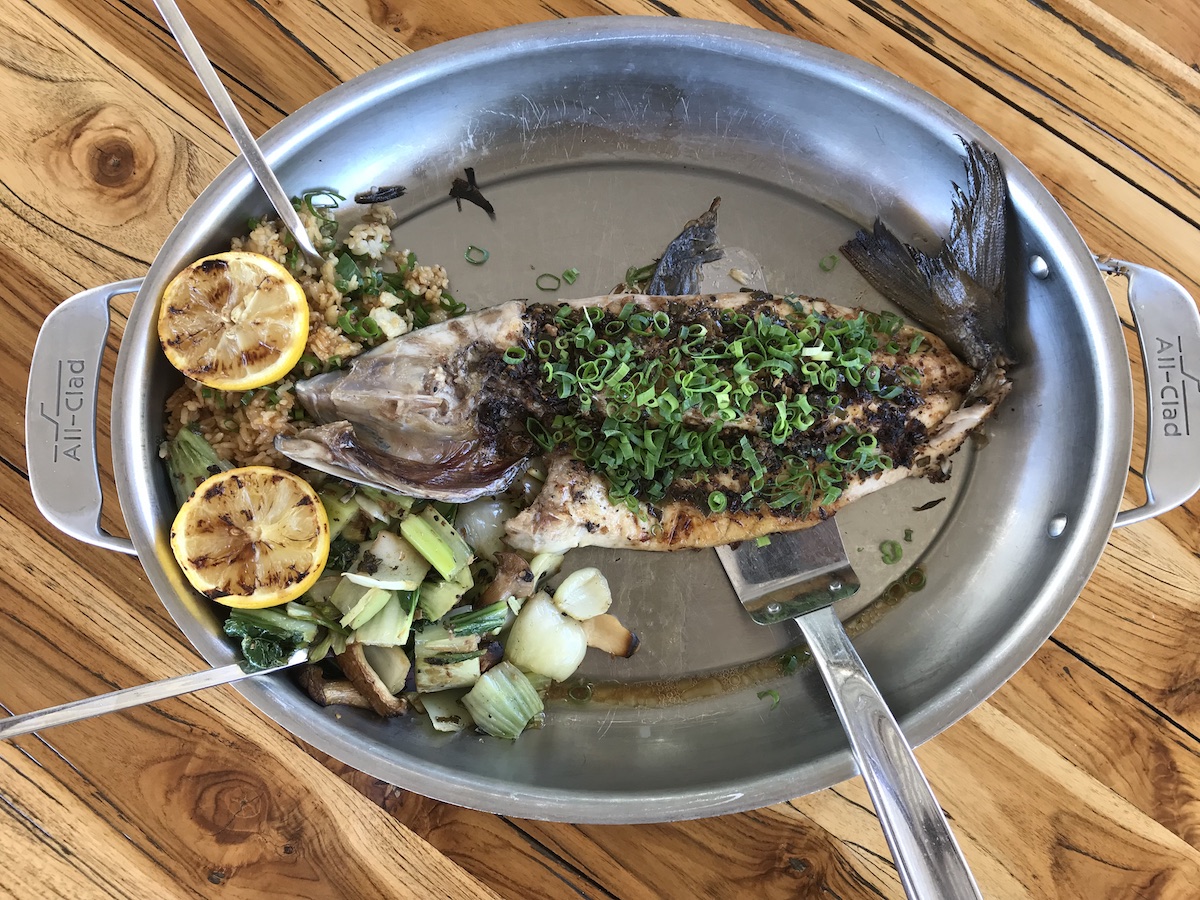 In fact, he considers the Kona kampachi dish, served with local bok choy, alii mushrooms and fried rice, to be the heart and soul of the restaurant.
"It really embodies the line-to-table vision here," Houser says.
So what does a fish sommelier do? Houser starts at 3 p.m, helping with dinner prep, which could be anything from folding napkins to polishing silverware. At the staff meeting before dinner service begins, he goes over whatever fish dishes are on the menu that night. Then he puts together what he calls his "presentation bowl," filled with the seafood that will be offered for dinner on a bed of crushed ice. Then, like a wine sommelier, he walks around the dining room, chatting with guests about their seafood preferences and making suggestions based on texture, preparation and taste. The goal is to expand diners' culinary horizons, encouraging them to venture beyond the typical mahimahi and ahi poke.
When guests order the whole-fish preparation of the catch of the day, Houser shows up to the table with the platter, cutting and serving the fish himself.
"All we want people to worry about is how fast they can eat it and when they want more," he says.
Mina's Fish House, 92-1001 Olani St., Kapolei, Oahu, (808) 679-0079, minasfishhouse.com