These entrepreneurs are truly dedicated to living aloha
A new lifestyle brand spreads a message of kindness, love and hope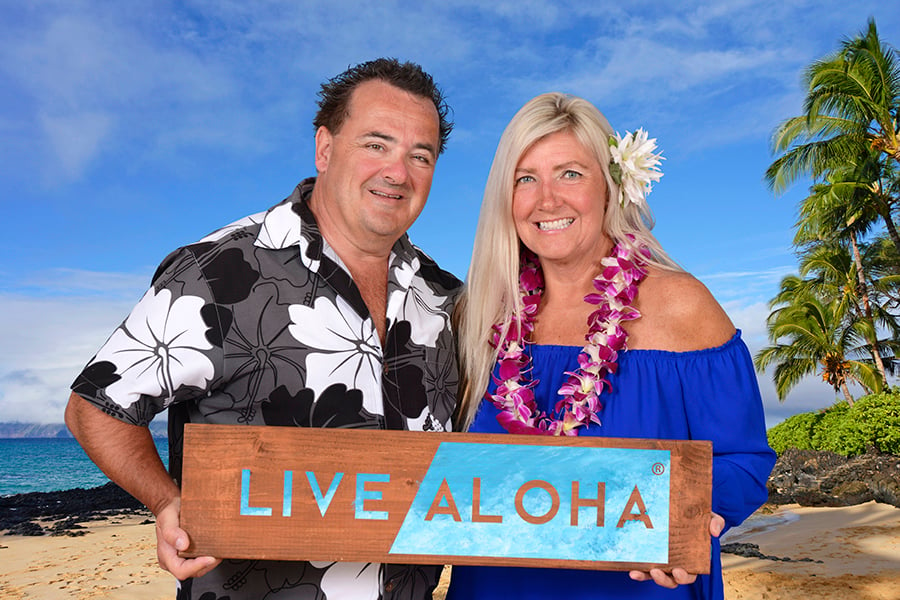 Caron and Rob Keens and Lorie Sapergia aren't superheroes. They are just three optimistic people who believe in the power of making their dreams come true, and inspiring others to do the same. The dream: To make the world a better place by inspiring people to "live aloha," wherever they are in the world.
Caron and Rob, who hail from Canada, have shared 34 years of experiences, from joy and abundance to heartache and setbacks. Through everything, they choose to live a life of optimism and wonder, with the belief that goodness prevails. They were instantly captivated by not only the beauty but the mana (energy) that exists in Hawaii. This mana, the kindness of the people and the breath-taking beauty of this magical place brought them back many times. They had the privilege of living and working in Hawaii for a year, making a commitment to submerge themselves into the culture to gain a deeper understanding of the people and history of Hawaii. It was then that they discovered the beauty of "living aloha."
Caron joined Toastmasters and Halau Kiuwailehua, a hula halau, or school, with locations in Kaneohe and Aiea on the Island of Oahu. The couple supported local businesses, met the hardworking owners and listened to their stories, and went where the locals went. Rob learned about business in Hawaii, and both of them gained knowledge and a greater understanding of Hawaiian culture and history.
Caron and Rob partnered with Caron's dynamic sister, Lorie, in 2014 to launch a lifestyle brand that would spread this beautiful and powerful message globally, through merchandise, stories, adventures and actions. Influenced by the mana of the islands and with a strong desire to honor the origin of the Hawaiian word "aloha," they took inspiration from the Hawaiian honu (turtle), the pineapple as a symbol of friendship and hospitality, and other Hawaiian motifs to create their designs.
Lorie, who has spent the last decade in the home improvement industry, has used her talents to transform customers' homes into a place of comfort and tranquility. An entrepreneur at heart, she has inspired many with her grace and generosity. She honors her own stories, experiences and personal growth which have propelled her to new heights of learning and promoting positive experiences in business. She shares in Caron and Rob's passion for spreading the message of "living aloha" to a global audience to create positive change in a world that needs it more than ever.
While in Hawaii, the team met Oahu graphic design and digital media teacher Darren Rey, and hit it off. Rey designed the now-iconic Live Aloha wood sign for them as a gift, and it has since been in countless photos with people from all over the world as a reminder to "live aloha" wherever you are.
There are plenty of reasons to be frustrated with the state of the world and life right now. There are many people focusing on what's wrong and what will go wrong, and living a fear-based life as a result of this. This mindset affects all facets of a personʻs experiences, thoughts, words and actions. Instead of giving in to pessimism, the Live Aloha brand is choosing to spread a movement based in optimism.
The three entrepreneurs understand that aloha is not only a word, it is a way of living. Aloha is a choice and an attitude of kindness, patience, compassion, respect, togetherness, affection, empathy, peace and love.
Aloha means we are able to recognize and appreciate the uniqueness and differences each of us bring into this world. It is that love, caring and spirituality that allows us to build on each other's strengths and join together on this magnificent journey we call "Life".
To share your story and read the stories of others across the globe who have joined in the movement to live aloha, visit livealoha.com.