These exclusive Hawaii-inspired beers from Kona Brewing Company do the planet good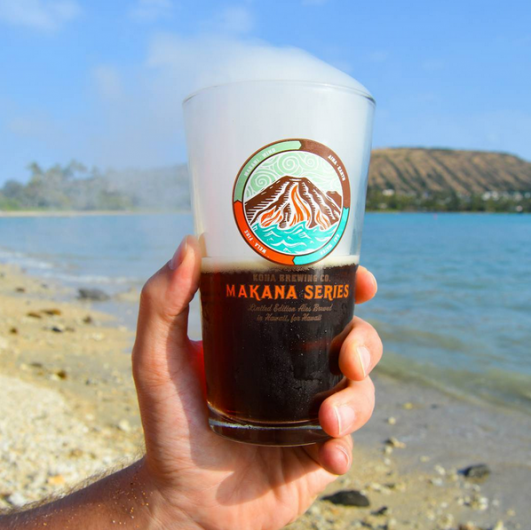 Kona Brewing Company has reprised its popular Makana Series from last year with seasonal, limited edition beers inspired by the four natural elements—aina (land/Earth), makani (wind), wela (fire) and kai (water)—in a campaign that cycles these flavors through the year.
Makana, which means "to give" in Hawaiian, fits into the initiative's overarching theme which is to donate a percentage of the proceeds to Hawaii non-profit organizations committed to preserving the Islands' natural environment. Last year the small-batch series raised more than $57,000.
The brew that's currently available is the second in its series and one of its most unique. The Wela Red Ale is inspired by the fire of Hawaii's volcanoes and made with cold-smoked Kiawe (Algaroba) wood to give it its smokey profile.
The Wela Red Ale is linked up with local non-profit Malama Maunalua, which focuses on conserving and restoring Oahu's Maunalua Bay.
Here's a breakdown of the remaining two you can expect to roll out in 2016:
Kai Golden Ale, made with deep-sea ocean water sourced off the Kona coast, helped bring to life the mission of Surfrider Foundation Hawaii, which is dedicated to the keeping oceans safe, clean and accessible
Makani Wheat Ale, inspired by wind and made with honey collected from bees that pollinate the flowers of koa trees, contributed to the Hawaiian Legacy Reforestation Initiative, dedicated to planting Koa Legacy Trees and other threatened native saplings and shrubs across the Hawaiian Islands
What makes these extra special is if you want to get a taste of them you need to be here in (or, hey, make a beer pilgrimage to!) Hawaii to get your hands on a pint—they're exclusive to the Islands. And, unlike those of our actual planet, this is a resource you'll want to deplete.
---
Each brew is available at both Kona Brewing Co. pubs in Honolulu and Kona, and 30 select bars and restaurants across the Islands, until supplies run out for three months at a time. More info on the Makana Series here.